PJ Powers and Hotline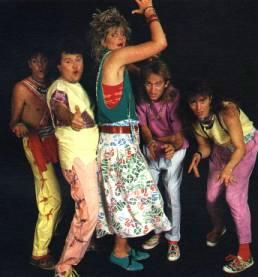 Discography:
Hotline:
PJ Powers:
Various Artists:
Concert In The Park (Live) (May 1985) WEA, CIP 1
includes 'Dance Mama' by Hotline
Anthems (1995) Gallo, CDRWC 5
includes 'World In Union 95' by Ladysmith Black Mambazo featuring PJ Powers
Reach Out And Touch EP (August 1998) PolyGram, SINTCD 008
includes 'Reach Out And Touch' by Artists For Peace
Rugby World Cup '99 (1999) Decca, STARCD 6512
includes 'World In Union' by Bryn Terfel & PJ Powers

Margaret Singana:


We Are Growing - Shaka Zulu (Soundtrack) (1986), PVB Music
includes 'Music For Africa'

Steve Kekana:


The English Album (1999) Gallo, CDRED 630
includes 2 duets from PJ and Steve; 'Feel So Strong' and 'We've Got Love'

The Rock Rebels:


Get This (2001) SAfm, CDVM(WL) 30
Musicians:
PJ Powers: Vocals

Hotline:

Alistair Coakley: Lead guitar
George van Dyk: Bass
Patrick van Rensburg: Drums
Geoff Sedgwick: Keyboards
Ron "Bones" Brettell: Keyboards
Eric Mann: Drums
Larry Rose: Drums
Guido Maibaum: Bass
Sheldon Thomas: Keyboards
Biography: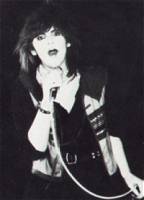 Long before PJ Powers, who was born Penelope Jane Dunlop in Durban on the 16 July 1960, became Thandeka ("the loved one") or achieved a UK chart hit with 'World In Union' (with Ladysmith Black Mambazo) in 1995, she was the lead singer for top South African rock band Hotline, who formed in Johannesburg in 1980. PJ Powers came from an all-girl group from Durban called Pantha.
Pantha was formed in 1979. We had a fairly good run but being an all girl group in the shadow of Clout,we never managed to secure a record deal. PJ Powers was the fronting singer then known as Penelope Jane Dunlop.
-- Debbi Lonmon (Little Sister), July 1999
The band changed their style to afro-rock in 1983 and went onto even bigger things, like overseas tours. PJ Powers and Hotline released a greatest hits album in 1991.

Hotline disbanded in 1987.

This website is part of the
South African Rock Encyclopedia.


---
---