Various Artists
Concert In The Park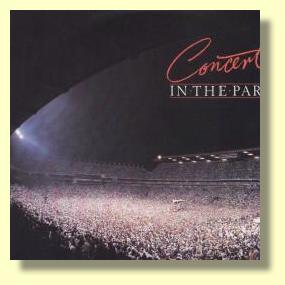 Tracks:
Hungry Child - Concert In The Park
Dance Mama - Hotline
Raising My Family - Steve Kekana
Weekend Special - Brenda and the Big Dudes
Live On - Pierre de Charmoy
Motla le Pula - Mara Louw
I'm Waiting - Harari featuring Sipho "Hotstix" Mabuse
See Yourself (Clowns) - EllaMental
Love Satisfaction - Supafrika
Junk Jive - éVoid
Oneness - Umoja
Through The Window - Feather Control
Scatterlings Of Africa - Juluka
Night Of The Long Knives - Face To Face
Hey Boy - Via Afrika
I'm Mobile - Street Kids
Taking A Fall - Petit Cheval
One Of Those Nights - Neville Nash
Inside Out - Blondie
Hamba Bekile - Margaret Singana
Situations - The Rockets
Breaking Hearts - All Night Radio
Checkmate - The Working Girls
Release information:
May 1985, WEA, CIP 1 (ZCI 1 - cassette)
Buy South African CDs from
Comments:

Concert held at Ellis Park Stadium, Johannesburg on the 12th January 1985 in aid of Operation Hunger.

All tracks recorded live except 'Hungry Child' recorded and mixed at The Workshop and Ovation Studios.'Hungry Child' was written by Rob Levitan of Bright Blue and donated in lieu of Bright Blue being unable to perform at the concert.

Lead vocals on 'Hungry Child' by Steve Kekana, Heather Mac, Johnny Clegg and Ronnie Joyce.
---
South Africa's Rock Classics

South Africa's Rock Legends