Reviews:
This classic debut album by Big Sky (Steve Louw and Big Sky were the support act for the 1998 http://SugarMan.org" target="_blank">Rodriguez tour of SA), originally released in 1990 and for a long time unavailable has now been re-issued with 2 bonus tracks. It is appropriate that this CD should be re-issued on the Epic label, because it is an epic and powerful album, featuring a mix of musical talents from both SA and LA. Mixed by Shelly Yakus (U2, Tom Petty, Dire Straits) and produced by Kevin Shirley (The Council, Springbok Nude Girls, Iron Maiden, Black Crowes), this album features performances from Robbie McIntosh (Pretenders, Paul McCartney), Don Laka, Rupert Mellor (McCully Workshop), Roy Bittan (Bruce Springsteen's E Street Band), Benmont Tench (Tom Petty's Heartbreakers), McCoy Mrubata, Steve Newman (Tananas) and Honest Rod Nagel (All Night Radio, Blues Broers) to name just a few.

But forget the name-dropping; this album is epic because of the superb songs. Tracks like 'Waiting For The Dawn' (with bagpipes by the Cape Town Highlanders), 'Slow Dancing' and the gospel-tinged 'Power In The Darkness' captivate the listener. This album also includes a great version of Tom Waits' 'Downtown' (with references to "the sugar-man"... hmmm). One of the bonus tracks is a re-recording of a track from All Night Radio's (Steve's first band) second album 'The Killing Floor' titled 'Here Comes The Night' which itself was a cover of the old 1965 Them hit song, which featured a young Van Morrison.
Brian Currin
---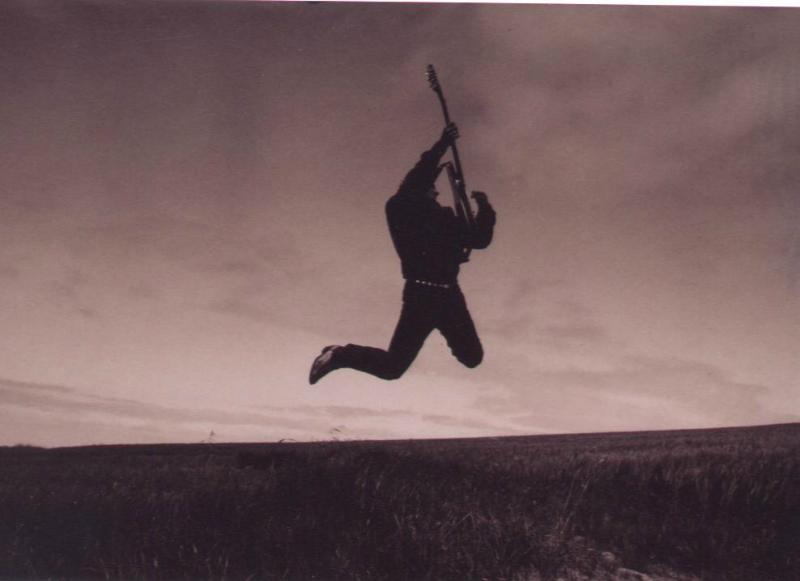 Waiting For The Dawn photoshoot
The Star TONIGHT! (26 September 1990)
New Record Releases by Glynis O'Hara
STEVE PRODUCES STUNNING NEW WORK
BIG SKY "Waiting For The Dawn" (GRC) - What a pleasure it is to put on a local rock record of quality. Here Steve Louw, formerly of All Night Radio, has got together a line-up that includes Don Laka (keyboards), McCoy Mrubata (Sax), Jimmy Mngwandi (bass) and Godla Mcinga (drums). Added to this are guitarist Robbie McIntosh (formerly of The Pretenders, now with Paul McCartney), keyboard player Benmont Tench (from Tom Petty's Heartbreakers) and Roy Bittan of Bruce Springsteen's band. They recorded a lot in Los Angeles, you see, so all these other okes popped in and just added their bits. Louw's strengths are downhome hard rocking and heartfelt ballads and it's here that the record really takes off - in the R 'n B stunner of "Blood Money" (with the help of the Atlantic City Horns) and in "Slow Dancing" and "Home to Stay". The last, built on piano, acoustic guitar and accordion alone, is truly beautiful, with a gloriously tear-jerking strings reprise. If you need a cry put this on - and then follow it up with Katie Webster's "Never Let Me Go" from "Two-Fisted Mama". You'll be a mess on the floor for sure.

The title, somewhat anthemic track, refers to the South African situation and includes the lines: "People suffer for so long now ... We're still waiting for the dawn / For the sea to wash the sins from our sands." Good stuff. And "Power In The Darkness" too, a hot Tom Robinson song, employs a ragged street choir to chant the chorus on a really good arrangement. Robinson was/is a gay/political rights musical campaigner in Britain and the lyrics go thusly: "Freedom to choose what to do with your body / Freedom to believe what you like / Freedom for brothers to love one another / Freedom for black and white." At times, Louw sounds very much like Lloyd Cole - not a bad thing at all. The weakest point is the cover of Tom Waits's "Downtown". The only way to follow that hellish growl is to completely re-invent the song - slow it down, speed it up, change the melody, sing in falsetto, anything. Only don't do a relatively straight down-the-line copy. It's OK, but only just. Otherwise, a fine album.
---
YOU (27 September 1990) NEW SOUNDS by Cornelis Bach
ALBUM OF THE WEEK - BIG SKY - WAITING FOR THE DAWN
Steve Louw, he of the monster breath with All Night Radio, has somehow transformed himself into Big Sky. There he stands, guitars at hand and a microphone strategically placed. He hops between Studios in distant parts of the globe, surrounding himself with musicians of the stature of Honest Rod Nagel, Nico Burger, Benmont Tench, Steve Newman and Waddy Wachtell. And it works. For the first time in his career Louw's music really shines through, thanks to his co-producers Kevin Shirley and Shelley Yakus. Big Sky sounds big, even to the point where one can forget about the vocals sometimes being a bit on the thin side. Obvious crowd-pleasers would be the title track, Slow Dancing, Home To Stay and Diamonds And Dirt, but to my mind the track that really declares Big Sky to be an ongoing concern is the rendition of Tom Waits' Downtown. With 'Waiting For The Dawn' Steve Louw really has come into his own.