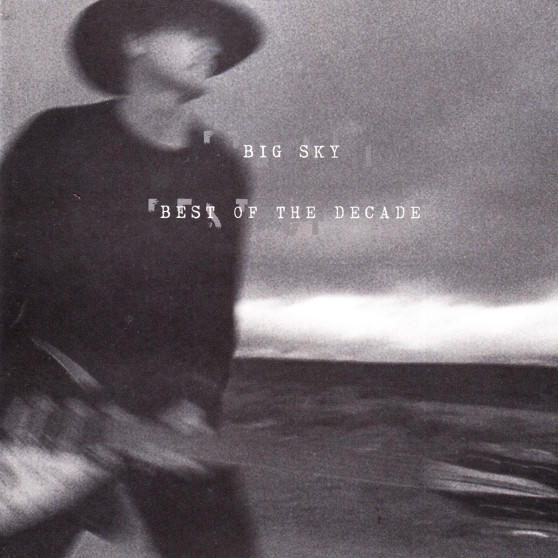 Big Sky - Best Of The Decade, October 1999
Tracks:
Destiny [3.20] 1999 recording
Mr Green [4.17] from Going Down With Mr Green
Run To Me [4.47] from Horizon
Waiting For The Dawn [5.20] from Waiting For The Dawn
Diamonds And Dirt [3.45] from Waiting For The Dawn
Skin Deep [4.00] 1999 recording
Hold Me [3.53] from Going Down With Mr Green
Wasted [4.00] from Going Down With Mr Green
Kathleen [2.57] from Horizon
Forever Love [3.30] from Waiting For The Dawn
Strange Room [3.32] from Horizon
Slow Dancing [6.03] from Waiting For The Dawn
Blue Eyes [2.48] from Horizon
All songs written by Steve Louw except 'Slow Dancing' and 'Skin Deep' written by Steve Louw and Kevin Shirley.
Musicians (on 1999 recordings):
Steve Louw: vocals, guitars
Anton Fig: drums
Pat Thrall: guitars
Mickey d'Michelle: bass
Eric Bazilian: guitar
Adam Holzman: Hammond organ
Kevin Shirley: dulcimer on 'Destiny'
Alex Foster: sax on 'Skin Deep'
Andy Kravitz: percussion on 'Skin Deep'
Big Sky - Waiting For The Dawn
Reviews:
BIG SKY - BEST OF THE DECADE
Several years ago, during a spellbinding two-hour set of near religious ecstasy at the House of Blues in New Orleans, I had the pleasure of acquainting myself with the music of Canadian singer-songwriter Bruce Cockburn.

What amazes me now as much as it did then, is how a cruel twist of fate has for decades denied Cockburn the fame he deserves. In another time and place, Canada's best kept musical secret could have been a Springsteen, a Mellencamp or a Jackson Browne.

Just as astonishing is the way big-time success has eluded our very own best kept rock secret, Steve Louw. Heaven knows, South Africa's premier singer-songwriter has paid his dues, from tireless gigging with All Night Radio - which he formed at Stellenbosch University in the early Eighties while he was studying law - to prolific movie soundtrack work and the elegant output of his all-star band Big Sky.

The lack of wider recognition would have been palatable had Steve's rocking 'n rolling been mediocre. But, as anyone who knows his distinctively relaxed style will attest, the man is a class act. The kind that lures collaborators of a similar pedigree.

Steve started keeping auspicious company in the studio way back in the early Eighties when a bunch of scratchy C60 demos impressed New York-based John Rollo enough to agree to produce All Night Radio's debut, The Heart's the Best Part. Having worked with Roberta Flack, Stevie Nicks, former E-Street Band guitarist Steve van Zandt and The Kinks, Rollo had what it took to capture on vinyl the raucous, raunchy essence of All Night Radio's famed live shows.

The next producer of note to work with Steve was South African born Kevin Shirley. In 1986, he produced All Night Radio's second album, The Killing Floor, before launching an international career that would find him producing Aerosmith, Silverchair, Black Crowes and a host of other hot global acts.

Two years later, Shirley teamed up again with Steve to produce Big Sky's debut, Waiting For the Dawn. A watershed album in the history of South African rock 'n roll, it spawned a trio of top 10 radio hits: Waiting For the Dawn, Diamonds and Dirt and the delectable Slow Dancing. Each one finds a place on this classy retrospective which was released to satisfy a growing demand for a Big Sky back catalogue that is in scarce supply.

Scan the credits, and you'll notice that Steve rock 'n rolls in the super league. Besides a star cast of South Africans, the musicians who took their three songs to the top of the charts included Tom Petty and the Heartbreakers keyboardist Benmont Tench, Chrissie Hynde and The Pretenders guitarist Robbie McIntosh, Linda Ronstadt guitarist Waddy Wachtell who also played for Keith Richard's Xpensive Winos and Eagles drummer Scott Crago.

Big Sky's second album, Horizon, a beautifully crafted, mostly acoustic set spawned two huge radio hits in One Cut With a Knife and Strange Room before edging out younger, hipper bands like Urban Creep and Squeal to win a South African Music Award for Best Rock Act. Both hits, plus four other songs from Horizon, are featured on this collection.

Steve's sequel, Going Down With Mr Green, maintained the same high standards of his previous albums.

The bitter irony is that playing in the big league hasn't opened the doors to the big time - yet. Listen to the pair of brand new songs that fit this retrospective like an old slipper and you'll discover that Steve Louw is not about to hang up his guitar.

Titled Destiny (penned for his wife Erna for their 11th wedding anniversary) and Skin Deep, both sparkling rock gems with Kevin Shirely behind the studio controls. Not one to make rash predictions, Shirley remarked during his recent recording of the new Springbok Nude Girls album that Destiny in particular is good enough to crack the American charts. Having been there several time, he should know.

After such a long haul, it would be sweet rock 'n roll justice if Steve got to thrill the heartland that has inspired his music through the years. God knows, he deserves it. The only bummer is then we'd have to share our best kept secret...
Mike Behr
---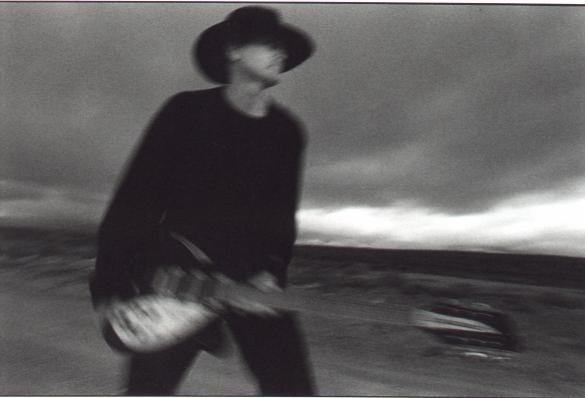 "Decade" photo shoot 1999
I have heard that Japan does not permit masters of certain crafts to leave the country for fear of losing them. The fact that Steve travels to the States and NYC in no way diminishes how I think of him as a rock master. Y'all won't lose him, though, because his heart is in South Africa.

There is no posturing, no rear-wagging and tongue-unfurling here, only unabashed good-feeling rock, heavy on melody; rock resonant with a clear and sharp electric guitar and strong drums.

This is mature rock, not rebel-without-a-clue anger-for-the-sake of-anger rock. So if you think Huck Phlegm and the Pissed-Off Kids is gobs of fun, this might well not be a CD for you.

However, if you have a couple of kids whom you adore, one with blue eyes, a forever love of your life (and a long-ago girlfriend named Kathleen), and a passion for melodic rock played with masterful finesse, then this is a CD to spin for the fun of it.

The closest Steve Louw gets to anger is a slow burn at best on the tune 'Mr. Green', where he laments our loss of inner-strength and its replacement by materialism.

Mostly he sings of people-things: relationships and love, side trips into disappointments, feeling wasted, and diamonds and dirt. All sung with open sincerity, all cleanly played on the electric guitar, without forgetting the pounding drums -- both really are nicely favored in the mix.

Not to diminish this CD's rock value, but it can be played softly for melodic rock background, or it can be cranked up to dominate the room and keep a small party chugging along. It can even make work pleasant. 'Best of the Decade' is not laid back -- don't think that -- but it does have a casual insouciance, an inspiring lift, that talks to you if you're at a certain responsible age of life.

See I sometimes think that female singers sing to me, and male singers sing for me. In this greatest hits CD, Steve seems to be coming from a place and time in his life where he sings for me, expressing in song what I haven't the musical skill to sing and play, though I have the life to feel.

I enjoy the rolling beauty and almost plaintive feel of Steve Louw's music. He's a masterful guitarist and assembles a great band -- not to mention having a friend like Kevin Shirley produce a number of the tracks for him in New York City.

To use a rock cliché in describing a work that is not clichéd, but rather is personal and musical: this CD has some infectious songs. I defy even the most hardened distortion lover from tapping along to songs like 'Blue Eyes', 'Run to Me', and 'Strange Room'.

If you enjoy the sort of work work I've described, and can't sustain anger and screaming for 56 minutes, you might could, as we say in Texas, check out Steve Louw and Big Sky's international rock with its heart in South Africa.
Kurt Shoemaker, October 2001
---
When Big Sky won the SAMA award for Best Rock Act in the mid-'90's, beating off a strong challenge from the younger turks of the SA rock scene (Urban Creep, Squeal), many folks' reaction was "Who?". A typical response towards an artist who has worked consistently since the early '80's to establish himself as one of SA's foremost rock musicians. Steve Louw began his career with All Night Radio before creating Big Sky in 1990. With no other fixed band personnel involved, Louw worked with an assortment of producers and musicians, usually international, to create his '90's body of work. He worked with Kevin Shirley on the first album, 'Waiting For The Dawn', and then used the legendary producer and arranger, Shelley Yakus, for his second, 'Horizon', which was the album that won the SAMA award. The third album, 'Going Down With Mr Green', completed his trilogy of exceptional '90's rock albums.

But despite the quality of the material on these three albums, Steve Louw remained SA Rock's "Invisible Man". He popped up with a full band as the support to Rodriguez on his 1998 SA tour and caught the attention of a host of SA rock fans who then went looking for some of these albums. Now Steve has released a compilation of the best tracks off these three albums, and 'Best Of The Decade' is a worthy title and damn fine album. Besides the older hits like 'Waiting For The Dawn', Diamonds And Dust', 'Slow Dancing', 'One Cut With A Knife', 'Run To Me', 'Wasted', and 'Strange Room', there are two new tracks - 'Destiny' and 'Skin Deep'. Steve Louw is a no-frills rocker with an ear for elegaic melodies and intelligent lyrics. He deserves far more attention then he has received and hopefully this strong collection will achieve just that.
Stephen Segerman, October 1999
---
YFM
Ok, he's no Carlos Santana but he plays some wicked tunes, Steve Louw is the man behind Big Sky and he's the man who's recognised in the forefront of South Africa's Rock 'n Roll. He's a class act and his distinctively relaxed style. He's almost too smooth and he unfortunately also fell victim to the South African soil that doesn't do much in marketing our local sounds abroad. Big Sky's second album, 'Horizon', won them a South African Music Award for Best Rock Act and that they are. Whether through mixing their sounds or sticking to acoustics they are just brilliant. In the song 'Slow dancing' he features Don Laka on piano and the collaboration is simply out of this world. In all honesty I've always loved his music but had never bothered to find out his name – call it inexcusable ignorance. You'll enjoy this – definitely the best of the last century.