Freedoms Children
Biography | Discography | Musical Family Tree | Reviews | Related
What say you, Ramsay MacKay?
What ever happened to Freedoms Children?
In your time, you had the best band in the land

Jonathan Handley from "Yeoville Canticle" by The Glee Club, 1996
Biography
One of the best rock bands the world never heard? It sounds like a familiar refrain doesn't it? Just another one of those "what if" stories by your average '60s rock aficionado bent on hyping their favourite obscure band. But in the case of South African acid-rock legends Freedom's Children, there is some justification in the hyperbole.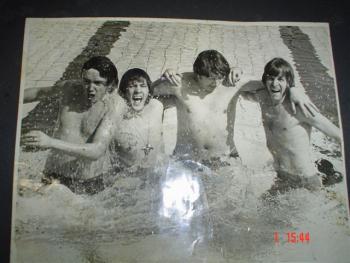 Summer 1967
left-to-right: Craig Ross,
Colin Pratley, Julian Laxton and Ken E Henson.
(Ramsay didn't want to be photographed).
Formed at the height of the hated apartheid era, Freedom's Children swiftly became South Africa's most innovative sons, incomparable to anyone both musically and politically during those turbulent years. Their explorative, sonic excursions pushed the musical envelope and broke down barriers, culminating in the groundbreaking Astra album, arguably one of the era's most overlooked recordings. The problem was no one was listening beyond South Africa.
When Freedom's Children tried to establish a profile in England during 1969, the group soon ran into problems. Thanks to British policy on the apartheid system, most of the band's members were refused work permits and could only play gigs illegally. All hope of establishing themselves on the burgeoning London rock scene was thwarted and with it any chance of launching the band on the international stage.
Arguably, it might have been an entirely different story if circumstances had been more favourable. At least, that's the view held by one influential person – the band's one-time manager Clive Calder, nowadays one of the most successful men in the international music business thanks to his companies Jive Records, Zomba Music Publishers, Zomba Management and Zomba books.
For those who are not familiar with his name, Calder's record label has spawned international hits with Tight Fit, A Flock of Seagulls and Billy Ocean, while his publishing represents the Stiff catalogue, Bruce Springsteen and The Stray Cats. He's also been mastermind behind the careers of Britney Spears and The Backstreet Boys. Calder, however, has never forgotten his South African roots and his work with Freedom's Children. A few years ago, he was quoting, saying the band "was then and probably still is today the only South African group that, given the right circumstances in the right geographical location, could have become an internationally successful rock band by just by being themselves and doing what they did."
Like all great artists, Freedom's Children's story is littered with its own share of conflicts and disappointments, perhaps more so. But now with the cloak of apartheid lifted and a growing interest among '60s aficionados of the hidden treasures to be found beyond British and American shores, perhaps the brilliance of Freedom's Children's music can finally be appreciated.
At the centre of the band's story and the man responsible for providing the creative spark that drove the group through its glory years was poet, songwriter and bass player Ramsay MacKay. One of South Africa's rock geniuses, Ramsay MacKay was actually born in the Scottish Highlands on 15 August 1945. Arriving in South Africa in 1953, aged 7, his family settled in Graskop in the Eastern Transvaal.
Taking up bass in his early teens, MacKay's first musical venture was Eshowe, Zululand band, The Stilettos. Changing name to The Beathovens in the early '60s, the group became one of the first South African bands to specialise in R&B. "I knew this guy whose father was American, he was a missionary," says MacKay from his home near Edinburgh where he records with his latest project, The Fumes. "He went back to America for his holidays when I was at boarding school, so I asked him to get me Chuck Berry and any other rhythm 'n' blues he could find. He brought Bo Diddley, Howlin Wolf, Muddy Waters. I really got to love that music and still do now. We started to play them in this band called The Beathovens and must have been one of the first bands in South Africa to do so".
From there, MacKay and fellow Beathovens, Angelo Minietti and Gary Demmer moved to Pretoria where they formed a new group, The Lehman Limited in October 1965, alongside future Freedom's Children sideman, keyboard player Nic Martens and self-confessed jazz addict, drummer Colin Pratley (b. 27 June 1946, Springs, South Africa).
Both musicians had previously played together in The Navarones, a Johannesburg group formed a year earlier, before going their separate ways in mid-1965. Before forming The Lehman Limited, Pratley also briefly drummed with The Upsetters, another local group led by British expats (and future members of Canadian underground legend, Influence), Andy Keiller and Louis McKelvey ( see Ugly Things magazine, issue 20), although Pratley left before that band got round to recording its lone single.
The Lehman Limited soon fizzled out and during the summer of 1966, MacKay and Pratley joined forces with another future Freedom's Children member, singer Mick Jade in The Seven Faces, a more experimental project, which despite its name only contained six musicians.
Once again, the band proved to be a transitory move. MacKay and Pratley then headed to the coast and Durban. "We were living on the beach," remembers MacKay. "We were living like bums. We were so close to just being nothing and then became something. It was so amazing what happened really. The chances of us doing it were really small because we came from the outside. We were still country hicks in the big city, well especially I was, having been brought up in the Eastern Transvaal and Zululand. We were living in the beach hut and sleeping in schools. We survived on our wits. I don't know how long it lasted for, I can't remember. I don't know how long we could have gone on but then we met Kenny. He was already quite well known."
The Kenny in question was future South African guitar legend, the late Ken E Henson (b. 28 March 1947, Durban) who had recently tasted some success with (no relation) The Leemen Limited. An established local act, The Leemen Limited's recording legacy comprised two singles for Trutone's Continental label – a cover of The Rolling Stones' "Under My Thumb" and Wilson Pickett and Steve Cropper's "In The Midnight Hour".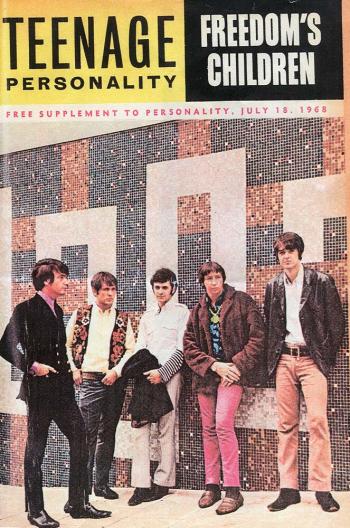 left-to-right: Craig Ross, Colin Pratley,
Harry Poulos, Julian Laxton and Ramsay MacKay
Henson was intrigued by MacKay and Pratley's musical ideas and in December 1966 he introduced his former pal from The Leemen Limited, blues singer and James Brown fanatic, Jimmy Thompson (b. Demetrius Thomopoulos, Greece), to contribute keyboards and vibes. Together the musicians created a new revolutionary group that drew its inspiration from The Mothers of Invention's "freak-outs". South Africa had never seen anything like it.
As MacKay explains, it was Henson who came up the band's reactionary name. In a conversation with the bass player, Henson made a reference to "freedom's sweet", after which MacKay added "children" and henceforth the band became known as Freedom's Children. "It was a combined effort," confirmed Henson, from his Durban home in 2006, on the genesis of the band's name. "I said, 'We should call it, Freedom's Sweet' and I think there was a British blues band around that time with the name so Ramsay said, 'What about 'Freedom's Children?'"
It was certainly a bold move considering the political climate at the time and was the first in a series of provocative moves that stoked the authorities' ire. "You don't call yourself Freedom's Children in South Africa without a good reason," says MacKay. "We were banned on most radio. Freedom's Children meant something back then."
"The name was deliberate," adds Pratley. "It was an expression of what we wanted to do with our music. The music [at the time] was very commercial and it had to be that way. There were a lot of good musicians but they weren't taking any chances, so we took the chances."
Initially, the band found work at the Le Macabre nightclub, housed in Durban's Butterworth Hotel, playing standard R&B numbers. Then in March 1967, the group announced that it would be holding a "freak-out" there, starting on Saturday, 4 March. As a way of attracting people to the happening, MacKay wrote an article for Durban's Natal Mercury, which was featured on the paper's Wednesday "In Set" teen page three days before the event.
The publicity describes Pratley as "a demon on the drums…[who] has instincts of barbaric savagery in his bass pedal actions. This often results in broken drums and loss of drummer while he takes a trip on a freak-out." Demetrius meanwhile "plays vibes, piano and also shines at 'Scotland the brave' on organ. He dabbles in drama, has a yen to be an actor, reads Shakespeare and does a tidy bit of dancing on stage."
It then goes on to describe Henson as "a torturer…of the guitar. He will go to any lengths to create weird sounds" and "paints vocal pictures of fairy tales and solitary men." As for MacKay, he is described as "a poet and owner of weird thoughts. Quote: We stand in corridors of time watching the processions of paper banner gods. Freedom is commercialised you can buy it…pay with death." Both Henson and MacKay are credited for writing most of the group's compositions, like the aptly titled, "Journey For Lost Souls".
As for the "freak-outs" themselves, the paper's reporter warns the public that, "the boys will be playing their wildest music. The name for it is 'psychedelic music' because it is accompanied by flashing lights, numerous voices gabbling in foreign languages, a simultaneous film show and anything else that will contribute to the chaos." He then goes on to say, rather ominously, that the happening would not go on all evening because, "apparently, human nature just couldn't stand it. But it will take up half an hour…and the boys will challenge anyone to stay watching longer than 20 minutes."
For MacKay, Le Macabre represented a high water mark in the group's musical development and was where Freedom's Children's music was at its most experimental, most original and strangest. "We played to pre-recorded sound effect tapes," he points out. "The show incorporated films, jelly projectors, dry ice and white sheets around the total area, including the audience so that the audience and the band was one thing, it was a happening."
According to MacKay, the band's use of strobe lights was possibly the first time they had been used outside California. "It was not bought. It was home-made and involved a guy who was almost part of the band actually twirling contacts on an open board mechanically to achieve the strobe effect, at some personal risks," he explains. "Due to the strobe lights and the intensity of volume people had epileptic fits. At this period in time, nobody knew that strobe lights gave people epileptic fits. This is how the band became notorious, because of society, the press, the police and even the Mayor of Durban who all tried to suppress what they thought was happening – that we were brainwashing the youth."
So intense were the shows that some people ended up being hospitalised. When it became clear that the strobe lights were causing epileptic fits, the band was forced to put warning signs up, as MacKay explains. "It became known as having a 'frothy' and was quite a cultural event as people started having 'frothies' without being epileptic, but probably just stoned."
Freedoms Children
While playing at Le Macabre one night, representatives from the South African Broadcasting Corporation dropped by (unofficially) and captured one of the band's "freakouts" for posterity. "When we were doing the freakouts, two guys from the SABC came and privately recorded us with this tape recorder and they took us back to the SABC and played it to us," remembers MacKay. "Man, it really blew my little mind. I don't know what happened to that tape. I didn't even think to ask for a copy."
Soon afterwards, Freedom's Children found work at another Durban club, Tiles where they played for a few weeks before moving on to the Scene 70. However, while the band clearly reveled in upsetting the establishment, its first record label, Troubadour, wasn't prepared to take the same risks, and according to MacKay was so scared of getting into trouble that it issued the group's early recordings under the name, Fleadom's Children. (Producer Billy Forrest later explained that the label was forced to change the name because government-funded radio stations refused to play their singles as Freedom's Children.)
Troubadour had signed Freedom's Children in the summer of 1967 and hooked the group up with Forrest, who, at the time, was South Africa's most successful male pop artist. However, Freedom's Children's line up had recently undergone a radical shake up with two new members joining the ranks to replace Jimmy Thompson, who left after a dispute to concentrate on running his own Greek restaurant.
To start with, the band added lead singer and electric pianist Craig Ross (b. 27 January 1946, Durban) from local band, The Gonks. Initially starting out as a drummer with another Durban band, The Clansmen in 1963, Ross found himself lead singer by default one night when the band's vocalist got food poisoning and was unable to perform. An instant success with fans and band alike, he gave up drumming to specialise in singing and in 1965 formed The Gonks, appearing on the singles, "You Can't Stop Me Loving You", "Nobody But Me" and "Hard Lovin".
Freedom's Children also decided to take on board a second lead guitarist in the form of Julian Laxton (b. 17 July 1944, Johannesburg). A prodigious talent, Laxton had started playing guitar at an early age, inspired, the legend goes, by American country guitarist/singer Merle Travis, who visited South Africa in the '50s and stayed with the Laxton family. Equally adept on the drums, Laxton began his career in the early '60s playing guitar with local bands, The Commanchees and The Avantis before moving to Durban to work with The Nevadas during 1962-1963. While there he helped piece together The Five of Them, who played professionally at Claridges Hotel.
Shortening their name to Them, the group recorded two singles for EMI's Parlophone label, "I Want To Be Rich" and "One Time Too Many" and then travelled to Johannesburg in late 1965. On arrival, Laxton ran into aspiring folk singers Mel Miller and Mel Green, who were in the process of recording their debut album. A mutual friend of the duo, David Sapire, suggested that they add a lead guitarist to "improve their sound" and duly recommended his brother – Julian Laxton! The re-named Mel, Mel and Julian recorded three albums for CBS before Laxton got itchy feet to play rock music again and took up the offer to join Freedom's Children.
As Henson recalls, "We started playing on that whole dual guitar thing. We were doing a lot of Yardbirds, Cream and Hendrix covers at that point as well. That was before Ramsay started writing prolifically."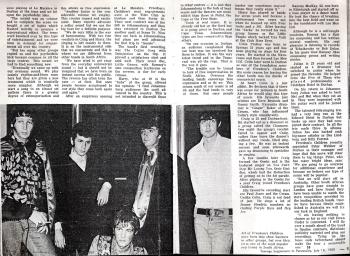 Freedoms Children
With Forrest handling production duties, Freedom's Children entered the studios that summer and proceeded to lay down four tracks in one session. Understandably, the label went with what it thought were the two strongest cuts for the band's debut single, issued towards the end of 1967. On the a-side was a raw cover of Tony Colton and Ray Smith's "The Coffee Song", which Cream had also recorded, initially for inclusion on their debut album Fresh Cream. Nestled on the flip, meanwhile, was the band's tribute to The Rolling Stones, a bristling version of "Satisfaction" with a heavy guitar work out courtesy of Laxton and Henson. A rare outing at the time, the single is now almost impossible to find but fortunately both sides have recently turned up as bonus tracks on Fresh Music's digitally remastered Astra CD.
Aficionados of the band, however, are still waiting to hear the two remaining tracks from that session, which were duly rounded up for the group's second Troubadour single, issued a few months later. Credited again to Fleadom's Children, the single comprises an outstanding version of The Yardbirds' "Mr, You're A Better Man Than I" (composed, incidentally, by Mike Hugg of fellow South African, Manfred Mann's group) backed by a cover of The Fleur De Lys' "Mud In Your Eye". While the a-side was a relatively well known number (and later covered by dozens of bands, most notably The Sons of Adam in California), the flip seemed an unusual choice, especially as The Fleur De Lys were hardly household names.
According to South African rock journalist Tertius Louw, the connection was probably made through Forrest, who'd recorded a cover of Gordon Haskell's "Lazy Life" as a single using the pseudonym Quentin E Klopjeager. Henson provided the guitar on the recording, which also saw backing from The Gonks. The Fleur De Lys of course often supported South African singer Sharon Tandy who was resident in London during the mid-'60s and knew Forrest well.
By this point, the band had moved on from Durban's Scene 70 and travelled to Johannesburg to play the 505 Club where, according to MacKay, they worked for over a year, playing six nights a week. "[505] was the big gig," adds Pratley. "Everyone needed to play there. It was an underground club in Hillbrow, which was a very cosmopolitan area."
Drugs had started to enter the picture and later became as inseparable from the band's music as the politics – grass, black bombs, purple hearts, LSD, were all essential ingredients in creating the band's music. Nevertheless, MacKay is quick to put the band's drug use into context. "Something subliminal happened to kids in the '50s and '60s that was precursor to the drugs," he explains. "Drugs was not just about drugs. In the beginning Freedom's Children took no drugs [and] what we saw on the drugs was what we were aware of anyway…that the world was (and still is) run by squares who relied on fear and authority to stifle any way of seeing the world differently.
"The '60s drug scene is much more related to people who took drugs in the 19 th century, starting with the Romantic Movement in poetry and thinking and moving on to the Symbolists in France – people such as Verlaine, Rimbaud and Bauderlaire," he continues. "One cannot understand the '60s without knowing that drugs only played a part in what was naturally coming out of our brains. Drugs made a metaphor of which the reality was already in that generation."
While the group was forging ahead into new musical territory, behind the scenes one of Freedom Children's founding members was on the way out. "I was with the band for about 18 months and had to leave due to domestic problems," explains Henson looking back on his sudden departure in spring '68. After a brief respite, Henson signed up with beat group, The Bats for a six-week stint and then formed the jazz group, The Sounds. "I was going to stay with [The Bats] permanently," he says. "But they already asked Pete Clifford to join and he arrived back from England." It didn't matter, by 1969 Henson had put together a much more ambitious project, South Africa's second legendary band, Abstract Truth (who deserve a feature in themselves).
Eschewing the two-guitar approach, Freedom's Children duly recruited 19-year-old Marc Poulos (aka Harry Poulos) on organ and vocals. A hugely gifted multi-instrumentalist, Harry Poulos had played in a number of Durban bands during the early '60s before turning professional and teaming up with Four Jacks and a Jill (formerly The Zombies) in May 1966. During his time with the band, he added keyboards to the single "House With The White Washed Gables". The group's poppy sound, however, proved too restricting for such an imaginative and versatile musician and in June 1967, Poulos left to form Little People, who backed soul singer Una Valli at the Club Nine Eyes. When Little People folded, Poulos briefly found work with the band Privilege.
Freedom's Children stayed on in Johannesburg and recorded the Harold Spiro/Phil Waldman composition, "Little Games", which had been covered in the UK by The Yardbirds the previous year, with new producer John Nowell. The track would resurface in April 1968 as the b-side of Freedom's Children's debut single for EMI subsidiary, Parlophone Records. (It has also been included on Fresh Music's remastered Astra CD).
While "Little Games" was a competent enough performance, it was hardly representative of the band's rapidly evolving sound. To see where Freedom's Children were heading, listeners had to flip the record over to hear Ramsay MacKay and Harry Poulos' "Kafkasque", one of the first songs that turned up on Freedom's Children's debut album, Battle Hymn of the Broken Horde, released later that year.
By the time the single had reached the shops, however, Craig Ross had split from the group, his girlfriend having given him a"me or the band" ultimatum. Dropping out of the scene briefly, he subsequently worked with a succession of bands, including The Third Eye, The Pack, a reformed Gonks, Jigsaw and Parish News. Today he lives in Durban and designs kitchens (and occasionally sings in clubs).
"Craig was a good singer and performer," says MacKay of his former colleague, "and the band took up a more rock 'n' pop 'n' soul kind of sound. This was quite a bit different from our psychedelic beginnings. We also had two guitars so it was a much denser sound. The people who followed the band at this time began calling us 'Freedoms' and as far as I know they still do.
"At that time we were playing 4 x 45 minute sets six nights a week for months on end. It became a way of life. You've got four hours a night to work on it. It's a lot different from playing one 40 minute show every now and then".
Soon after Ross's departure Laxton and the band parted. With the guitarist joining John E Sharpe's band, The Crystal Drive, Freedom's Children now consisted of Ramsay MacKay, Colin Pratley, Harry Poulos and sax player Mike Faure, who was recruited from Johannesburg group, The Square Set.

"I had jammed casually with Freedom's Children on a number of occasions," remembers Faure on his entrance into the group. "Then on 27 June 1968, I received a telegram from Harry Poulos, who had been asked by Freedom's Children to contact me, re: joining the band.

"I enjoyed working with the band, even though we were from different places musically. I was from more of a soul, funk, blues, R&B background, which was pretty far removed from their established style, though there were places where it came together quite well, especially with Harry's organ style."

The new set up, however, was short lived and soon afterwards the band split into two camps with Poulos and Faure forming a new group called The Laughing Convention with former Ronnie Singer Sound drummer Jeremy Dreyer and bass player Henry De Wet.

"Harry and I came up with the name in our Jo'burg flat, by placing little slips of paper in two hats," notes Faure. One hat for adjectives or verbs, one for nouns. My words were nouns. 'Laughing' and 'Convention' were the first words drawn from each hat, and so it was."

Faure says that he and Harry left Freedom's Children mainly because the group was "calling it a day". He regrets that no recordings were made but points out that the band was pretty much winding down by then anyway. The Laughing Convention later started a two-month contract at the Blow-up club in Cape Town on 1 December 1968 but the band's tenure was cut short when Poulos left for England in early 1969 (more of which later).

MacKay meanwhile provides another explanation for the split. "We actually left the band because we got tired of it. We weren't happy with the sax player and the organ. [Also] it was getting very heavy with the politics. We looked pretty radical for the time and got searched all the time. We just wanted to play somewhere we didn't have to worry about all that."
With this thought in mind, MacKay and Pratley made plans to relocate to London that summer and establish a new version of Freedom's Children overseas. Before setting off for England in late 1968, the pair started recording tracks with John Nowell, "a strange guy" according to MacKay, who, together with executives at EMI, would raise eyebrows a few months later over the handling of the Battle Hymn of the Broken Hearted Horde album.
From the outset, MacKay and Pratley found themselves at loggerheads with the producer and only got as far as recording the backing tracks with help from former Dusty Springfield guitarist Pete Clifford and keyboard player Nic Martens (fresh from a stint with The Neil McDermott Group). MacKay, who'd written most of the songs for the project on his own or with Poulos, also found time to record the talking parts between the tracks. Soon afterwards, "we came to London and sort of forgot about it," he admits.
Colin Pratley picks up the story. "We recorded some tracks and we told EMI in South Africa that we were going (to England) and there was no way we were going to wait around. We never got to hear the finished product until the album had been sent to England."
In their absence, Nowell, following EMI's instructions, set to work putting the final touches to the album, changing words here and there on some songs and also adding brass to several tracks. EMI also made the controversial decision to place two Pepsi promotions on the end of each side of the album. "I think the record company said something about 'Well, we've got to get promotion to pay for it because we won't pay for the cover," says MacKay. "I don't think I knew that they were actually going to put it on the record. I don't know how we came to record Battle Hymn. We were about to leave for London and found ourselves laying down tracks for a record. Freedom's Children then consisted of Colin Pratley and I. As it did in the beginning."
Since no vocals had been laid down before MacKay and Pratley's departure, EMI also instructed Nowell to bring in several singers to complete the tracks. Steve Trend was one of the singers hired, while female backing vocals were provided courtesy of Stevie Van Kerken. The remaining tracks featured former It's a Secret lead singer Dennis Robertson and some other singers, one of whom MacKay thinks might be Peter Vee but the other remains unknown.
With all this fiddling, one could be forgiven in thinking that the whole project might have ended up an unmitigated disaster. But even with its obvious flaws, Battle Hymn of The Broken Hearted Horde stands up surprisingly well even if isn't what MacKay and Pratley had initially envisaged.
Looking back, MacKay describes the album as a ghost because neither he nor Pratley were present to oversee the making of the album. "On some tracks we are not playing at all. On others we left very basic tracks and no guide vocals. Some of the songs are very different to what was planned. The fact is we recorded an album but we were not there. The whole thing was really put together by John Nowell. It's sort of accurate to how things had become in South Africa for us... very confused. We had to move on and take quite a chance by going to London. It was very heavy back then. We had had enough. It's a pity about Battle Hymn. That we were not there".
On listening to the album today, Battle Hymn of The Broken Horde sounds remarkably fresh and contains some beautiful period music, which ranges from hard rock workouts like "Judas Queen" and "Eclipse" to more pastoral pieces like "Season" and "Boundsgreen Fair". The album's eventual release in spring 1969 went virtually unnoticed, as did a new single, which coupled "Judas Queen" with the non-LP and ultra rare track "Fare-Thee-Well". Perhaps this wasn't such a surprise bearing in mind that Freedom's Children were no longer an active unit on the South African music scene.
Over in England, Ramsay MacKay and Colin Pratley decided to continue with the Freedom's Children name and, after finding their feet, decided to bury the hatchet with Laxton and also encouraged Poulos to rejoin. The former members left their respective groups and flew to London around February 1969 to stay at MacKay and Pratley's digs in West Kensington. As MacKay points out, it was not a particularly good time to be a South African in the UK. The musicians came up against a lot of prejudice during their stay, which must have seen quite ironic in light of the band's anti-apartheid stance back home.
More problematic was the difficulty in getting work. Because most of the band couldn't gain work permits, Freedom's Children were unable to get consistent gigs and had to work illegally. Nevertheless, one early performance found the group opening for Pink Floyd at the Country Club in Belsize Park. "All I remember about Pink Floyd is seeing Roger Waters' tonsils as he screamed 'Careful with the axe Eugene'," says MacKay.
What he does vividly remember is an audition to back American soul singer Geno Washington at London's famous jazz club, Ronnie Scott's. "He was just telling us, 'play funky man, play funky'. He had a bottle of whisky and a roast chicken, I remember this clearly. He was telling us to play funky and we were this acid-freak group. We were looking at each thinking, 'What the hell is funky?' I think that the singer's manager gave us our taxi fare home."
In the early months of 1969, the band received some rare publicity when US trade magazine Billboard ran a brief article on EMI South Africa in its 1 March issue. "The Freedom's Children project is one of the most ambitious to be undertaken by a local group," the review said. "The album revolves around a central theme and each track is introduced by spoken verse." The snippet added that the album was being released in the UK where Freedom's Children are now appearing.
Indeed, by the time the magazine appeared, Freedom's Children had picked up further sporadic gigs, including another show at the Country Club in Belsize Park on 6 April with Van Der Graaf Generator. "I remember [them] coming up to us after we played and saying they liked our sound as it was different," remembers MacKay.
The show, however, proved to be one of Pratley's last with the band. Faced with visa problems, the drummer begrudgingly returned to South Africa leaving the others to draft in a succession of inferior replacements – three Englishmen, including a one-eyed drummer from Liverpool, and 19-year-old South African Terry Acres, who today owns Prosound, a huge sounds systems company in South Africa. "Colin was a very good drummer," says MacKay on the dilemma of replacing such an integral member. "He had a certain style, a way of playing so it was very hard to find someone to play like him."
Acres was hardly a stranger to the band having taken drumming lessons from Pratley in Springs during the mid '60s and also followed Freedom's Children during its early days. He had left South Africa during 1969 with the intention of studying in the UK when he crossed paths with the group again. "In London Julian knew a mutual acquaintance in John Kongos. That's where we caught up and they needed a drummer," he recalls. "I was only with them for a few months and probably only because I had a brand new premier drum kit. Certainly my drumming talents were not up to the band's standards."
With Acres on board, the remaining musicians, joined by English flautist Robin Clapham who was also a member during this period, recorded a demo for EMI in a studio around Tottenham Court Road. Those recordings offer a tantalising glimpse of the band's next project. "We recorded this one 15-minute piece of music, which probably had a couple of songs in it but we played it as one thing," says MacKay. "Some of these [songs] were re-recorded when we got back to South Africa and became part of Astra."
Julian Laxton went further in explaining the genesis of the album in an interview with Raymond Joseph in 2004. "We had lots of time to practice," he recalled. "…I had invented a gizmo, which was the beginning of my black box [a modified echo box]. …I got some interest from a company that was keen to develop it further and produce a prototype. In return they gave us a place to stay and some music equipment, which is how we came to start working on Astra. It took about eight months of experimenting and hard practice to get it right."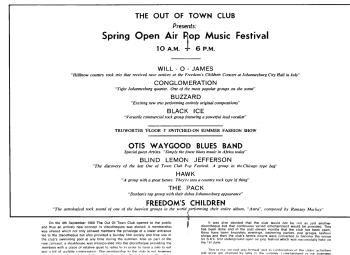 Freedoms Children at Spring Open Air Pop Festival
By the end of 1969, Freedom's Children had acquired a manager, a shady "Mafia type" character who put the band up in a flat above a nightclub in Dunstable, a commuter town some forty miles north west of London. "We did do quite a few gigs actually but in weird places," remembers MacKay. "Places that you wouldn't put a rock 'n' roll band. It was like he didn't know. He was going on about trying to break into rock 'n' roll but he didn't know what it was."
It was through the manager, however, that the group came into contact with South African singer Emil Dean Zoghby, who was resident in the UK at the time and later wrote the music for, and played in, the rock opera, Catch My Soul. MacKay has clear memories of the singer dropping in to see the band at rehearsals to offer encouragement and feedback on the songs.
During the band's countryside retreat that winter, MacKay also remembers the musicians dropping acid together. For the sensitive Harry Poulos, the trip appears to have been a turning point and MacKay describes his colleague a changed man after the experience. "Acid back then was very strong – it was quite an unsettling experience," he explains. "South Africa is an extreme country because of the total cruelty and then everyone normalises it. That could drive you crazy on its own, and if you took acid on top of it…"
When the musicians returned to Cape Town by boat in early 1970, Harry Poulos' erratic behaviour became a cause for concern. Soon afterwards, the troubled musician abandoned the group, and following a brief stint with former member, Ken E Henson's Abstract Truth, he joined The Otis Waygood Blues Band, assisting with the albums Otis Waygood and Ten Light Claps and A Scream. Events sadly took a tragic turn when Poulos died after jumping off a building, another casualty of the psychedelic era.
The enigmatic musician was always going to be difficult to replace but fortunately Freedom's Children came up trumps with the late Brian Davidson, an amazing singer, who according to Laxton was a bit like Robert Plant in that he used his voice like a musical instrument. Recruited from soul band Coloured Rain during a talent-scouting mission in Cape Town, Davidson's powerful voice was the perfect mouthpiece for the band's astral rock. (In an interesting aside, Brian Davidson and Colin Pratley are rumoured to have collaborated on an album with Pete Clifford in 1969 called King of The Axe-Grown Maker under the name Grunganc Flerc.)
With Pratley back in the group's ranks (following a brief stint in The Third Eye alongside Craig Ross), it was time to get down to business. Catching a flight from Cape Town to Johannesburg, the band went immediately from the airport to see Clive Calder, formerly a bass player with local bands, Birds of a Feather and Calder's Collection among others, but now working as an A&R man for EMI. "I took my suitcase, and it had all my writing, all of my songs on tape that I had done in London," recalls MacKay on the personal disaster that unfolded. "I left the suitcase in the office as he wanted to show me the studio and when we came back it was gone. It really hit me hard. I lost all of these songs, so I had to start from the beginning again."
Fortunately, some of the material that MacKay had written in England – "The Homecoming", "The Kid He Came From Nazareth", "Tribal Fence" and "Medals of Bravery" were already well rehearsed and fully arranged, and it didn't take long for Davidson and Pratley to learn their parts. Abetted by Calder as executive producer and part-time member Nic Martens, who was invited to engineer the album, Freedom's Children entered EMI's Johannesburg studio that spring and began work on Astra.
Looking back on the sessions, MacKay credits Calder for allowing the band the licence to experiment. "He just gave us total freedom, which in those days in EMI was a miracle and he did that which is quite an amazing thing to do. Also, he was sort of a rebel. He was always well dressed and well groomed but he loved it when we caused havoc, when we played loud."
Nic Martens meanwhile had a more hands-on role, working with the band to produce the record. As it turned out, he'd just returned to South Africa following a brief spell in England where he'd spent several months hanging out at EMI's Abbey Road soaking up the atmosphere and picking up recording techniques.
Another influential figure was classically trained pianist, Gerald Nel. "He was older than us and used to be a ballet dancer," remembers MacKay. "He was a very good pianist and he plays a lot on Astra. He was there for the whole album but nobody ever mentions him. He really enjoyed himself. It was something totally unusual and unexpected for him."
Over the years, conflicting stories have emerged over Astra's recording with most members, including Martens, claiming it took as little as three days from recording to final mix. "What many are unaware of, is that Astra was recorded from a Friday night, to the Monday morning," he told Raymond Joseph in 2004.
While Pratley and Laxton also concur with Martens' recollections about the album being recorded over a weekend, MacKay remembers things very differently. "I think it's a big myth that we recorded it in one weekend. As far I remember anyway. It was exhilarating to make but quite a lot of hard work is in it. Some parts were written in the studio as the whole theme of it was developing. Also there was a lot of sound experimenting going on."
One is inclined to believe MacKay's take on events considering the complexity of the tracks and the recording process, but whatever the truth, Astra remains a startlingly piece of work and dare I say it, a seminal album from that era. With MacKay's social-philosophical songs providing a template to launch from, the whole group works as a collective to push the musical envelope and create an inspired and highly original piece of music.
As the band's musical backbone, Pratley and MacKay's playing is superb throughout and the listener is immediately struck at how telepathic the two musicians are in their musical interactions. Pratley's intricate and pulsating African drum rhythms sets the geographical and political tone for the album, and helps to create an atmosphere that reflects perfectly the turmoil which characterised the apartheid era while MacKay's solid melodic bass lines add vigour to the heady mix.
Martens' contributions are equally distinctive; both mean and menacing and chillingly hypnotic, his keyboard weaves throughout, accentuating the overall sense of isolation, fear and repression. Davidson's voice meanwhile adds another instrument to the mix. Sounding at times slightly reminiscent of Jethro Tull's Ian Anderson and Spooky Tooth's Mike Harrison, his singing is superb throughout. At times his voice soars majestically while at others it growls with anger at the injustice of the political situation home and abroad.
Then there's Laxton's sonic explorations, enhanced by his "black box", which is, in fact, an echo box that has been modified to give a bigger choice of echoes. His blistering fretwork is also noteworthy, particularly on "Tribal Fence" where he punctures the often-dark atmosphere with stabbing solos of breathtaking beauty. "Everybody who was there had to be there," insists MacKay on the personal chemistry behind the recording. "Without one it couldn't have sounded like that because everyone is adding so much to it."
The idea for Laxton's modified echo box emerged one night when he was sleeping. "I dreamt of putting a cardboard tube over a radio with a microphone inside the tube, which moved up and down," he remembers. "I woke up and actually built this contraption and put the microphone through a tape recorder so I could hear the effect. It was amazing, it was 'phasing' or phlanging to a degree."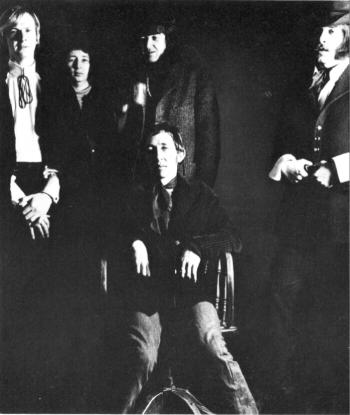 Astra 1970
Left-to-right: Nic Martens,
Julian Laxton, Ramsay MacKay,
Brian Davidson (seated) and Colin Pratley
It was only once Freedom's Children were back in South Africa in early 1970 that Laxton finally realised his dream. "I got an old echolette echo chamber, which I modified with extra record and playback heads as well as speeding up the capston about 20 times," he says. "One set of heads on the machine was attached to a device that moved the second playback head back and forwards. The speed of the machine could also be varied with [and] created that weird space ship sound."
MacKay also remembers the group's use of the studio's echo plate, which he recalls had a very big hollow sound. "It's in a room all on its own and we went in to it and kicked it to get the bomb explosions."
Crammed with sense-riveting sound effects, Astra kicks off in dramatic fashion with "Aileen", one of the oldest songs that MacKay brought to the band. Dating back to the La Macabre period, the original Freedom's Children had even got as far as rehearsing the song but never played it live. "That's why it's so short," explains MacKay. "It's just a mood thing."
"You see where Astra really comes from, is we had this flat in West Kensington. When the Americans landed on the moon…we took all our beds and put them in a semicircle around this little black and white TV," explains MacKay on the inspiration behind his writing for the album. "Anyway, we took this acid and when they landed on the moon we were tripping. It was such an experience, I shall never forget it and that's what Astra appeared out of.
"It has no concept as such. It takes the experience of the moon landing and works from there through to 1970. The songs are all individual in their own right but they seem to fit into what happened on the album as a whole. We were really there when we recorded it. The '60s was a different planet from the Invasion of the Body Snatchers we're on now".
As MacKay explains, a number of the songs on Astra also explore other topical issues, both at home and abroad. "Medals of Bravery" is a case in point and is a thinly veiled comment on the futility of the Vietnam War and how it robbed the generation of its youth. "I think in the middle with the really heavy metal part, where the voice is very high, it says, 'America, utopia, you taught me how' then it goes into this really slow, beautiful part," he recalls. 'Wear your medals of bravery' is like the old men reap the young men. That's what the song is about."
Closer to home, "Tribal Fence" and "Gentle Beast", with its line "there's a traitor in your midst" are political statements about life in South Africa under apartheid. "When I was a kid in the bush, people had to drive some way in the night to see a movie," explains MacKay on the significance of the chanting used in "Gentle Beast". "On the drive back in the backseat of my father's car my imagination would wander depending on what film had been shown. I remember one film about the Mau Mau in Kenya. Very scary when you are 10 or 12 years old and everybody is telling you to watch out for the blacks . 'B' movies are very poetic to a kid. Dracula is a very white man in the third world. I guess we were colonised by American and British movies, but we were in the middle of Africa. These things crept into the songs a decade later. Politics and voodoo sort of made sense."
Another politically charged song is "The Kid He Came From Nazareth", which was partially recorded when Calder heard the finished album and censored the use of "Nazareth". In the end, Davidson went back in the studio and re-sang the line, changing "Nazareth" to "Hazareth".
MacKay picks up the story. "The point of the song is Jesus is an outlaw. Because the apartheid government was very Calvinist Christian, the Old Testament, you know, and its greatest ally was Israel. I thought, 'The Kid He Came From Nazareth', with all the religious connotations of what was going on in Israel and what was going on in South Africa. This Kid became a symbol because he said love your neighbour not just yourselves.

"I wanted to portray Jesus as an outlaw," he continues. "I can't remember all the words but it says somewhere: 'When he came down from Nazareth he was a hellhound on the run'. The idea of Jesus to me seemed to be somebody who would be against the contraptions that society makes of life. I am not a believer but there's more to the story than the churches can teach you."
The album closes with "Afterward" which according to MacKay is "after it's all over, the previous part of the record and our parts in it. Short versions of all the songs are played in a different style and they end with musically what has already happened, I don't know if this makes sense. I think Astra's got a lot of emotion in it and it still comes back to me even now ...there was a great atmosphere in the studio and when we listened to the whole thing back after the mix and all the edits and stuff the sun was coming up...it felt quite surreal".
Over the years, rock fans and critics have tended to see Astra as a concept album about Christ, but MacKay dismisses this. "As I've said it's not a concept album as such and it's only got one song about Jesus Christ on it," he concludes. "It's got this idea of space but yet within this huge vast infinity of space and planets, there's this little ball, where these fuckers are telling one lot of fuckers to live on this side of the fucking fence."
Soon after Astra's release Ramsay MacKay quit the group abruptly. "I had fallen for a girl and moved back to Durban," he recalls. "It seems stupid now and I guess it was, but that's what happened".
Over the next few months, he found work with Ken E Henson's band Abstract Truth, although no recordings were made. With MacKay gone, Freedom's Children added former October Country bass player Barry Irwin and the entire band (minus Davidson) returned to the studio to play on three tracks on Dickie Loader's A Breath of Fresh Air album, released in late 1970.
Irwin's recruitment, however, presented its own unique problems thanks to the colour of the musician's skin. Travelling around the country in a VW Kombi and living off R1 a day each, Pratley remembers the group's new bass player having to sleep in the Kombi because hotels refused to let him stay. At concerts in really political towns, he even had to wear a T-shirt over his head because of his colour!
Galactic Vibes 1971
Left-to-right: Colin Pratley, Julian Laxton (seated),
Barry Irwin, Brian Davidson
The band ventured back into the studio during 1971 to record Galactic Vibes but despite some strong moments, including the dazzling "That Did It" with Davidson's demented vocals and Laxton's Led Zeppelin-inspired guitar break, the new album paled in comparison with its predecessor. Soon afterwards, Pratley and Davidson broke away and headed to Durban where they joined forces with MacKay and Henson to form yet another version of Freedom's Children.
Left to his own devices, Julian Laxton briefly hooked up with the multi-racial Afro-rock band Hawk, who toured England in 1973, appearing at the Reading Festival and recording an album for Charisma as Joburg Hawk (MacKay penned most of the band's material, incidentally). From there, he consolidated his reputation as an engineer and producer and went on to record a string of solo albums over the next 30 years. Today, he runs his own club in Johannesburg, playing blues-rock.
The new Freedom's Children line up, meanwhile, soon ran afoul of the authorities, as MacKay explains. "Nobody ever mentions that we played with black jazz musicians called Molombo Jazzmen, and that we played with them when it was against the law to be onstage with a black person. We played to a packed Durban City Hall with skeleton masks on and our hands painted white under florescent lighting. This was the first time a black and a white band had played on stage. We were at the forefront of the political situation. We were hounded by the police."
Not surprisingly, the group soon imploded and during the '70s and '80s the individual members carved out careers in widely differing musical fields. While Brian Davidson kept a relatively low profile, briefly returning to the spotlight with The Lancaster Band in 1978 and then The Council, Ramsay MacKay became hugely active in the Afro-rock field, playing bass with The Paul Clingman Band and penning the socio-political rock opera Orang Outang. In 1982, he released a long-awaited solo album Suburbs of Ur on the Principal label before relocating to London where blues legend Alexis Korner expressed an interest in recording his material.
Ken E Henson also moved to England and in 1972 briefly worked with US country-rock band Daddy Longlegs before doing session work for Leo Sayer and Roger Daltrey. During the mid-'70s, he returned to South Africa and joined Collinson McBrian, where he was reunited with MacKay and Pratley (the latter fresh from the latest Freedom's Children line up featuring future Yes member, Trevor Rabin alongside Davidson and Martens – the group even recorded a single, "State of Fear").
The trio joined forces yet again in 1977 for an album on Warner Brothers that was commissioned by the South African Council of Churches called Let Us Become Men. The following year the trio collaborated on a further project, under the guise of Harambee, which means "spirit of togetherness" in one of the African languages, and recorded the album Giving A Little Away.
Throughout the late '70s and early '80s, Henson performed as one half of South Africa's most sought-after pub duo, Finch & Henson who reunited on numerous occasions, most notably in 2005. Sadly, he died on 24 May 2007 after suffering from emphysema.
Colin Pratley, who has become a master of the African drum, joined forces with violin maestro Dave Tarr in 1980 and recorded a lone album as Wildebeest. He then laid low for a decade before emerging in 1990 for a Christian album entitled A New Day. A collaborative effort with Ken E Henson, the record appeared, rather mischievously, under the Freedom's Children banner.
In fact, it wasn't the last time the band's name was used for a recording. In 1996, Ramsay MacKay flew back to South Africa to collaborate on an album with Brian Davidson and Ken E Henson. Assisted by three new members, the new Freedom's Children album, entitled Mummies (Back From The Dead) remains unreleased to this day.
Davidson subsequently fronted his own group, which re-recorded MacKay's "1999" from Galactic Vibes. Sadly, it was his last recording. After playing with The Live Wire Blues Band, the singer left South Africa in 2000 to teach English in Thailand and on 4 December 2002 died (many suspect murdered) in mysterious circumstances.
Despite Davidson's passing, there are some that still believe there is a future in the band, especially after Fresh Music's CD release of Astra effectively opened Freedom's Children's music up to an international audience. Colin Pratley, who today runs a shelter for Aids babies in Durban with his wife, feels that the album has stood the test of time and would welcome a reunion with Laxton and MacKay to play the album live again in its entirety. "It's just an amazing album," he says. "I can actually hear Astra made perhaps with the band members and the London Philharmonic. I would love to do that [with the] African drums. It would be an amazing concert."
Ramsay MacKay, however, is not convinced that such a project will ever reach fruition. With his latest band, The Fumes, he has little time for the past and is saving his sharp social-political comments for the conflict raging in the Middle East. In many ways though, it's a return to the themes explored on "The Kid He Came From Nazareth".
Special thanks to Ramsay MacKay for the great insights in to the band's music. Thank you also to Ken E Henson, Colin Pratley, Julian Laxton, Craig Ross, Mike Faure and Terry Acres for taking the time to contribute to this article and to Tertius Louw for the use of photographs and for his invaluable editorial input. Freedom's Children CDs are currently available through Fresh Music in South Africa, visit: Fresh Music
Nick Warburton, 2006. Updated November 2007.
This article originally appeared in Ugly Things magazine in its summer 2007 issue and appears on this website by kind permission of the author.
---
Discography
Albums
Collaborations
A Breath Of Fresh Air - Dickie Loader (1970) Freedoms Children back Dickie on 3 tracks: The Eagle Has Landed, Sing A Simple Song, The End
Ourang-Outang - Freedom's Children with Malombo Jazz Makers (2020) recorded 1971
Unreleased
Mummies (Back From The Dead) recorded 1996
Various Artists Compilations (selected)
Singles
The Coffee Song (1967)

a-side: The Coffee Song (Tony Colton/ Ray Smith) cover of the Cream song; unreleased on an album, bonus track on 2005 CD re-issue of Astra.
b-side: (I Can't Get No) Satisfaction (Jagger/ Richard) cover of the Stones classic; unreleased on an album, bonus track on 2005 CD re-issue of Astra.
Credited to Fleadom's Children.
Label: Troubadour, TRS-E-9087
Produced by Billy Forrest


You're A Better Man Than I (1967) not released

a-side: You're A Better Man Than I cover of The Yardbirds song; unreleased on an album
b-side: Mud In Your Eye cover of a Fleur de Lys song; unreleased on an album
Credited to Fleadom's Children. Recorded for the Troubadour label, produced by Billy Forrest.



With Forrest handling production duties, Freedom's Children entered the studios that summer (in 1967) and proceeded to lay down four tracks in one session. Understandably, the label went with what it thought were the two strongest cuts for the band's debut single, issued towards the end of 1967. On the a-side was a raw cover of Tony Colton and Ray Smith's "The Coffee Song", which Cream had also recorded, initially for inclusion on their debut album "Fresh Cream". Nestled on the flip, meanwhile, was the band's tribute to The Rolling Stones, a bristling version of "Satisfaction" with a heavy guitar workout courtesy of Laxton and Henson. A rare outing at the time, the single is now almost impossible to find but fortunately both sides have recently turned up as bonus tracks on Fresh Music's digitally remastered Astra CD.

Aficionados of the band, however, are still waiting to hear the two remaining tracks from that session, which were duly rounded up for the group's second Troubadour single, issued a few months later. Credited again to Fleadom's Children, the single comprises an outstanding version of The Yardbirds' "Mr, You're A Better Man Than I" (composed, incidentally, by Mike Hugg of fellow South African, Manfred Mann's group) backed by a cover of The Fleur De Lys' "Mud In Your Eye". While the a-side was a relatively well known number (and later covered by dozens of bands, most notably The Sons of Adam in California), the flip seemed an unusual choice, especially as The Fleur De Lys were hardly household names.

Nick Warburton, 2007

I remember recording all four tracks but whether the second single was ever released slips my mind. Gallo Archive would have it because Trutone bought Troubadour around 1970 and that purchase included the entire Troubadour Catalogue.

Billy Forrest, 27 March 2012

Kafkasque (1968)

a-side: Kafkasque (Ramsay MacKay/ Harry Poulos) from Battle Hymn of the Broken Hearted Horde
b-side: Little Games (Harold Spiro/ Phil Walman) cover of The Yardbirds song; unreleased on an album, bonus track on 2005 CD re-issue of Astra.
Label: Parlophone SPD 458


Eclipse (1968)

a-side: Eclipse (MacKay/ Poulos) from Battle Hymn of the Broken Hearted Horde
b-side: My Death (Kafkasque, 2nd Movement) (MacKay/ Poulos) unreleased on an album, bonus track on 2008 CD re-issue of Battle Hymn of the Broken Hearted Horde
Label: Parlophone SPD 469
Produced by John S. Norwell


Judas Queen (1968)

a-side: Judas Queen (Ramsay MacKay) from Battle Hymn of the Broken Hearted Horde
b-side: Fare-Thee-Well (Ramsay MacKay) alternate version of "Ten Years Ago" from Battle Hymn of the Broken Hearted Horde
Label: Parlophone SPD 483


1999 (1970)

a-side: 1999 (Ramsay MacKay) from Galactic Vibes
b-side: Medals of Bravery (Ramsay MacKay) from Astra
Label: Parlophone SPD 3022
Produced by Clive Calder


The Homecoming (1971)

a-side: The Homecoming (MacKay) edited, full version on Astra
b-side: Sea Horse (Laxton/Davidson) from Galactic Vibes
Label: Parlophone SPD 3030
State Of Fear (1973) no info available except that Trevor Rabin played on this
---
Reviews and Interviews
It's Psychedelic Baby, 29th April 2012
Freedom's Children are the most important South African progressive rock band. Locals call them the Pink Floyd of South Africa.
Read the full Freedom's Children interview.
---
Freedoms Children
(taken from the Afterglow website with kind permission of Matthias Bock, 2001)
Picture the late 1960s, South Africa. A country isolated from the rest of the world because of their racist government, shunned by almost everybody. The last place you would expect to be hit by the late 60s teenage rebellion, drugs & music scene. And a trade ban that makes it difficult for anything to leave this country except for gold and diamonds so much "needed" by the West (OK, no treatise on business and ethics today).

...difficult for anything to leave... and be heard of about in the world...

This was the sad fate of a rock band who evidently were musical genuises of their time, but had the misfortune to live and perform in a place shunned and ignored by the world, which explains why their recordings are so rare and expensive while still being known only to a handful of record collectors.

However, they were no neighbourhood rock band somewhere in Durban, South Africa. They were a band approaching superstar status after their second LP "Astra", playing live on New Year's Day (probably 1971) to an attendance of 10,000 people, as the sleeve notes to their last album "Galactic Vibes" tell us.

They left behind a legacy of three full-length albums. Remember, this was thirty years ago, when most promising bands did not record more than two or three 45s before vanishing into oblivion! I know little of the details like exactly when their LPs were released and under which catalogue numbers - until about two years ago, I did not even know that they made an album before "Astra". So, although it is a little wanting, here is their discography:

Battle Hymn for the Broken Hearted Horde (1968), Astra (1970), Galactic Vibes (1972). They also released a number 45s, but I know nothing about them.

There are no legit reissues of these recordings that I have heard of. "Battle Hymn" so far has only made it to a vinyl repro in 1995 (with a print run of 300), "Astra" was reissued on CD twice (In England in 1993, and on the German label TRC in the same year), whereas "Galactic Vibes" has been reissued both on vinyl (300 copies only) and on CD in recent years. If you entertain thoughts of trying to locate one of the "Astra" CDs, get the TRC reissue. The other release has been carelessly remastered from a very deteriorated LP, resulting in a rather distorted sound throughout the whole album.

Both "Battle Hymn" and "Astra" are concept albums, telling a story, or sharing a common theme between all of the songs. As I still have to lend a careful ear to "Battle Hymn", I will not elaborate on it. "Astra" revolves around the life of Jesus, although I have heard of a few people misinterpreting it as a very bad experience of the Vietnam war... "Galactic Vibes" looks and sounds like a kind of good-bye album for the stalwart fans, containing a 16-minute live version of their song "The Homecoming" which also is on the "Astra" LP, and a number of odds and ends that do not sound as if they were intended to be on the same album.
---
Haslop's Hitstory
(as heard on The Bruce Millar Show on SAfm, 28 August 2002)
FREEDOM'S CHILDREN
by Richard Haslop
A few years ago I was at the Austin Record Convention in Texas. While drifting around the vast Palmer Auditorium, listening to thousands of people speaking American, I suddenly heard a South African accent. It came from a guy - who told me he had moved some years before from Johannesburg to Houston - who ran a stall that specialized in psychedelic and prog-rock albums on vinyl. But occupying pride of place, propped up right at the front of his table, was a CD copy of Astra by Freedom's Children. I thought it must be a bootleg, as the album had not yet been released on CD in South Africa.
I have subsequently learned - courtesy of the excellent SA Rock Digest website, which was extraordinarily useful in the compilation of this Hitstory - that there were 1993 CD reissues in Germany and the UK, so I guess he might have had some of those. Anyway, he was asking a fairly fearsome price, and seemed satisfied that he'd sell all of his copies quite soon.
Now, I imagine that the majority of listeners, even in South Africa, don't know who Freedom's Children were, so I can do no better than quote, as their web page does, a couple of lines from ex-Radio Rat Jonathan Handley's Yeoville Canticle, which is featured (twice) on the Glee Club album, Lexicon For A Lunatic: "What say you Ramsay Mackay? What ever happened to Freedom's Children? In your time you had the best band in the land."
There are still those, in fact, who believe that Freedom's Children was South Africa's greatest ever rock group.
Freedom's Children was formed in Durban in 1966 by Scottish-born bass player Ramsay Mackay, guitarist Ken E Henson, who had been playing in Leemen Limited, and drummer Colin Pratley, who had come down from Springs. Mackay, from Eshowe, had been playing in a group called Seven Faces.
Oddly, according to Nic Martens, who would go on to play keyboards in Freedom's Children, another group, also calling itself Lehman Limited (spelling its name differently), and including himself, Mackay and Pratley, had existed in Pretoria the previous year. Martens says that he was unaware of Henson's band of almost the same name, and Ken E Henson has told me that he was unaware of the other band.
Anyway, Freedom's Children - Martens says the name was his idea - was formed, but without Martens. The original keyboard player was Jimmy Thompson. Martens joined the Noel McDermott Band, and then John E. Sharpe's Blues Band, where he played with Julian Laxton, who had been one third of folk trio Mel, Mel & Julian.
The original version of Freedom's Children recorded two singles, The Coffee Song backed with a cover of the Rolling Stones' Satisfaction, and a cover of the Yardbirds' You're A Better Man Than I, backed with Mud In Your Eye. The next Freedom's Children line-up would also feature a Yardbirds song, Little Games, on a single.
Henson left the band in 1968, going on to form the semi-legendary Abstract Truth with Mike Dickman and Pete Measroch, and was replaced on guitar by Julian Laxton. Among others who spent a short time with - if perhaps not in- the band at this stage were keyboard players Craig Ross and Harry Poulos, who had been with Four Jacks & A Jill, and saxman Mike Faure.
The group's first album came out that year, though it seems that the release of Battle Hymn Of The Broken Hearted Horde caused concern among the band members, at least one of whom was upset that it had been released at all. Bizarrely, it included a Pepsi Cola advert among the late psychedelia/early prog-rock of the rest of the record.
Martens plays on the album, along with Mackay, Pratley, Laxton and a few guests, among whom, though not yet a member of the band, was vocalist Brian Davidson.
South Africa has always been a small and relatively insignificant rock 'n' roll country, so Freedom's Children, like so many others, went to the UK. But the group could not get work permits to play over there, so they came back and went into the studio to prepare for the recording of their next - and best known - album, Astra.
Martens had gone to the UK himself in early 1970 in search of studio engineering work. He had encountered similar work permit problems, but had spent a few months hanging out at EMI's Abbey Road studios soaking in the atmosphere and learning a huge amount about recording. On his return he went looking for work at EMI studios in South Africa, and encountered Mackay and Pratley, who persuaded him to play keyboards on and engineer the new Freedom's Children album.
He had exactly one week to learn the songs, which were then recorded, on fairly rudimentary equipment, between a Friday night and the following Monday morning. Since Martens had two jobs to do, he got no sleep at all.
Astra was released in 1970 and has become one of SA rock's best-loved albums. By this time Brian Davidson was doing all the singing - though Mackay performs the recitation at the end - and Gerard Nel also played keyboards. It is apparently the only South African album to have been released in all possible formats, including 8-track tape and CD.
It featured a song called The Kid He Came From Hazareth. This was originally The Kid He Came From Nazareth, but the old SABC called it blasphemous, and refused to playlist it. However, they would do so, they said, if the necessary changes were made, both to the song's title and lyrics. So they were, with the band actually re-recording the song to include the word "Hazareth". The song was later recorded by the group Wildebeest as Russian And Chips. Mackay once said about their gigs, that, "Some guys from the Dutch Reformed Church, the mayor & police came to see us, they said we were deranging the minds of our audiences."
During 1970 Freedom's Children also played on three tracks of a Dickie Loader album in one of South African music's most unlikely collaborations.
Ramsay Mackay then left the band, to be replaced on bass by Barry Irwin, which caused a new set of problems. According to Pratley, "What I can remember about those days vividly was being sent on a nation wide tour in a VW Kombi. EMI paid us R1 a day each ... Barry Irwin was never allowed into hotels and had to sleep in the Kombi and, at some concerts in really politically sensitive towns, had to wear a T-shirt over his head. Barry wasn't white like us."
This line-up recorded the third and last Freedom's Children album, Galactic Vibes, which included strings and a long Colin Pratley drum solo, recorded live from a time when Mackay was still with the band. The last two albums were produced by Clive Calder, who has just caused an enormous stir in the music industry worldwide by selling the remainder of his Zomba record company to BMG for an astonishing three billion dollars. He has said that, "In my opinion Freedom's Children was then and probably still is today the only SA rock group that, given the right circumstances in the right geographical location, could have become an internationally successful rock band just by being themselves and doing what they did."
There have been some attempts at resurrecting the band over the years, one of which, in 1973, featured Trevor Rabin and Ronnie Robot; and a Ken E Henson/Colin Pratley Christian album entitled A New Day was released in 1990 under the Freedom's Children name. In 1996 Henson, Davidson, Mackay and three others recorded Mummies (Back From The Dead), but it remains unreleased.
Let's give Julian Laxton the last word. "I felt that we were doing something different," he said recently."I still do."
---
---