Rabbitt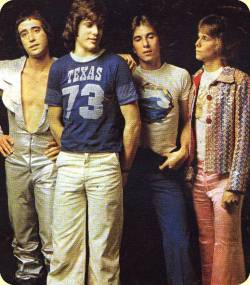 Discography:
Singles and EPs:

Locomotive Breath [3.00] (Ian Anderson, prod. Patric van Blerk, arr. Fransua Roos)/
And The Planets Danced (1972) MAP, MP.513 Springbok #18 in January 1973


Backdoor Of My Heart/
Share The Loving Things (1973) JoBurg Records


Hallelujah Sunrise/
Hidden Feelings (1973) JoBurg Records


Yesterday's Papers/
B-side unknown (1974) JoBurg Records


Charlie/
Looking For The Man (1975) JoBurg Records, TJS35 Springbok #14 in June 1976


Hard Ride/
Baby's Leaving (1976) JoBurg Records, TJS46


Hold On To Love/
Working For The People (1976) JoBurg Records, TJS49


Sugar Pie/
Dingley's Bookshop (1976) JoBurg Records, TJS51


Eventides/
Charlie (1977) Victor, VIP-2526 (Japan)


Everybody's Cheating/
Gift Of Love (1977) Victor, VIP-2561 (Japan)


Hold On To Love/
Working For The People (1977) Capricorn, CPS 0281 (USA)


Rock 'n' Roll, Volume 2 (4-track EP, 1977) Capricorn, 2206 201 (Brazil)
tracks:

Something's Going Wrong With My Baby, Lifeline, Locomotive Breath, Eventides




Morning Light/
Auld Lang Syne Rock (1977) JoBurg Records, TJS57 Springbok #15 in September 1977


Morning Light (4-track EP, 1977) JoBurg Records, TJS57
tracks: Morning Light, A Love You Song, Brand New Love, When You're Without Her


Gettin' Thru To You (Teenage Love)/
Hello And Welcome Home (1977) JoBurg Records, TJS64
Springbok #15 in December 1977


1972-1978 Limited Souvenir Edition (4-track EP, 1978) JoBurg Records, TJM73
tracks:

Rock 'n' Roll Parts One & Two, I Was Eleven, Locomotive Breath, Goodbye And So-Long

Albums:

Boys Will Be Boys! (1975) JoBurg Records, TJL13008
A Croak And A Grunt In The Night (1977) JoBurg Records, TJL13014
Rock Rabbitt without Trevor (1978) JoBurg Records, TJC(X)13025
Revival - Greatest Hits (compilation, 1987) PVB Music, PVBR1007A
The Collection (1992) ON records, RABCD1
The Hits (1996) Gallo, CDRED 602


Guest Appearances:

Mind Games - Mike Makhalemele (1990) PVB Music, PVBC 6

Solo works:

St Cloux - Neil Cloud (1978) Epic, DNW 2111
Time To Love - Disco Rock Machine (Trevor Rabin) RPM, RPM 1123
See webpages below for Trevor Rabin and Duncan Faure discographies.
Musicians:
Trevor Rabin (born 13 January 1954): Vocals, guitars, keyboards
Duncan Faure (born 16 December 1957): Vocals, guitars, keyboards
Ronnie Robot (Ronald Friedman) (born 5 October 1954): Bass
Neil Cloud (born 3 September 1955): Drums
Family Trees:
Biography: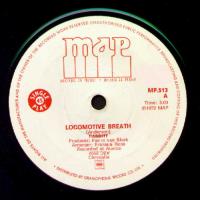 Who can forget the halcyon days of the mid 70's music scene? Duncan, Neil, Ronnie, Trevor.Any South African rock fan bom in the late 50's or 60's knows who they were... Rabbitt. Spawned from a band called "Conglomeration" formed by three teenagers - Trevor, Ronnie, and Neil in 1969, they recorded their first single in 1972, a cover of Jethro Tull's "Locomotive Breath" It was an instant hit and stayed on the charts for 14 weeks! The group however, disbanded for two and a half years, only reforming in 1974.

The Producer, Patric van Blerk, approached me in '74 and we put together a deal based on the success of "Locomotive Breath". I don't think either of us realised what we had on our hands. It was already evident from their limited live performances that the group was beginning to attract a large and faithful following - especially female!!!

What was further evident was that Rabbitt was not just a South African clone of an overseas rock group, but was a truly original voice, with Trevor providing an ever-increasing number of original songs to the band's repertoire.

1975 saw Rabbitt expand with the addition of the multi-talented Duncan Faure and this proved a vital factor, giving the band the extra dimension they had been looking for. Later that year after many hours of rehearsals, Rabbitt, finally went into the Studio to record their first album"Boys Will Be Boys".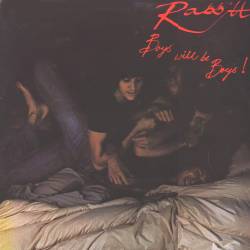 With the exception of "Locomotive Breath", there was nary a cover in sight. The album combined the best elements of hard-driving rock with a lyrical awareness that was stunning in its simplicity and broad appeal, Trevor's astounding guitar work and lead uocals, backed by the rock-solid Ronnie Robot bass and powerhouse Neil Cloud drumming, supplemented by Duncan's vocals and keyboards created a sensation.

Rabbitt mania was just starting. The media quickly jumped on the bandwagon and before we knew it, Rabbitt had exploded. Rabbitt hysteria was rife wherever the band played and "Boys Will Be Boys" soon went gold - unprecedented for a South African rock band.

By 1976 there was huge overseas interest and the album was released in the United States, Japan, Germany, France and UK and many other territories. There was constant talk of an American and European tour and negotiations were well under way with Don Arden, then ELO's Manager, and one of the most successful around.

At this time, the Group went into the newly built SATBEL Studio to record their second album"A Croak And A Grunt In The Night".

A major tour of Southern Africa followed, culminating in a series of sold out concerts at the late lamented Coloseum in Johannesburg.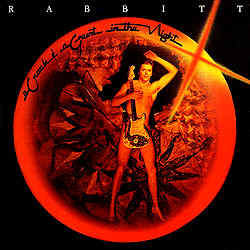 The release of "Croak And A Grunt" was a major media event and the album went Gold on release - a first for the South African record industry. Sadly, outside forces were starting to exert enormous pressures on the group and cracks were beginning to appear. The often announced UK & US tours never materialised - political pressures were already starting and the various musicians unions and political groups nixed the whole tour scenario.

After the highs of the South African tour and the unprecedented success of both albums, Rabbitt were left wilh no foreseeable further goals - only the foreign disappointments. The impetus was gone and with more and more outsiders trying to grab a piece of the action, the pressure finally told and although the group staggered on until early 77, it finally disintegrated and the members went their own ways.

What made Rabbitt so special? First and foremost, they all had incredible talent. Following the band's demise, Neil went on a world tour with pop superstar Peter Frampton. Trevor went on to greater heights both with his burgeoning solo career and as a superstar member of supergroup "Yes". Duncan joined the internationally famous "Bay City Rollers" and has subsequently pursued a career as a songwriter; his latest success being a song on the "Madonna" album. Ronnie has made a successful career producing many hit selling South African artists.

Apart from the talent, another factor was of course the one thing all the media loves - sex appeal - and this the band had by the ton - proven by all the fan mail and concert hysteria.The third factor was the Rabbitt team - the band, the producer and the record company. The combination was unstoppable.

Since 1977 there have been repeated calls to re-release Rabbitt. Time has not dulled the quality of either the songs or the playing and the group's originality stands out like a beacon. The advent and acceptance of the compact disc format coupled with its outstanding quality seemed to suit the material and style and now seems the right time.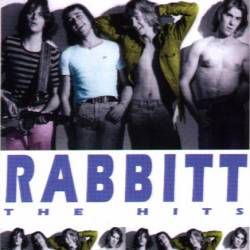 Ronnie Robot sat down and compiled what I believe is the "Best of Rabbitt" and if your favourite is not here - blame him. Ronnie and Peter Thwaites (who engineered "Croak And A Grunt") then remastered the original tapes and enhanced them for CD.

Listen, wallow in nostalgia and marvel at the phenomenon that was Rabbitt.

ROBIN TAYLOR - 1991
From the liner notes of "The Collection".
Allan Faull
In 1977, Patric van Blerk contacted Allan Faull (later of Falling Mirror) with the news that Trevor Rabin was leaving Rabbitt and Allan was the unanimous choice as his replacement in the super-successful and wildly idolized teen pop band. To the amazement of all, Allan turned them down. This outrageous and inexplicable slight to the country's top band became headline news and Allan found the story and his picture all over the front pages of the SA newspapers.
-- Stephen Segerman, February 2001
Mike Makhalemele
There is an album (vinyl only) by Mike Makhalemele that is worth searching out. It is called Mind Games - A Jazz Celebration Of John Lennon, and has on its cover, a photograph of John Lennon with his arm around an un-named South African, posing in front of Table Mountain. The album was produced by Trevor Rabin and Patric van Blerk, and finds Mike performing his own interpretations of three of the ex-Beatle's solo numbers - 'Mind Games', 'Mother', and 'Imagine' - accompanied by Trevor Rabin, Ronnie Robot, and Neil Cloud from Rabbitt.
-- Stephen Segerman, Amuzine, 15 May 2000
Webpages:
---


South Africa's Rock Legends
South Africa's Rock Classics