Rabbitt
Boys Will Be Boys!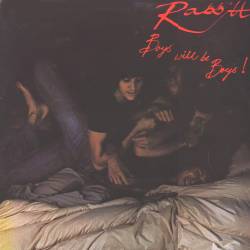 Orginal cover

Fresh Music
Something's Going Wrong With My Baby (Rabin) [4.45]
Savage (Rabin) [4.43]
Lifeline (Rabin/Van Blerk) [6.00]
Locomotive Breath (Ian Anderson) [3.35]
Hard Ride (Rabin) [4.05]
Baby's Leaving (Rabin) [2.20]
Eventides (Rabin) [2.34]
Looking For The Man (Rabin/Van Blerk) [4.00]
Death Of Tulio (Rabin) [0.22]
Charlie (Rabin/Van Blerk) [2.35]

Bonus tracks on 2006 CD re-issue:
Brand New Love (Rabin) [3.38]
Auld Lang Syne Rock (Traditional) [1.18]
&nbsp
Musicians:
Trevor Rabin: Vocals, guitars, keyboards, producer, arranger
Neil Cloud: Drums, percussion
Duncan Faure: Keyboards, lead vocals on 'Hard Ride'
Ronnie Robot: Bass


Patric van Blerk: Producer
Julian Laxton: Producer, engineer
Strings by Pro Arte, led by Bram Verhoef
Solo violin on 'Hard Ride' by Godfrey Rabin (Trevor's father)
Release information:
South Africa: 1975, Jo'Burg Records, TJL 13008
USA: 1975, Jet Records, 2310463
Germany: 1989, Line Music GmbH. (CD)
USA: 1989, Jet Records, 900859 (CD)
UK: 2004, Voiceprint, VP312CD (CD)
USA: August 2004, United States Of Distribution, 423 (CD)
South Africa: September 2006, RetroFresh, freshcd 153 (CD)
(USA CD release info supplied by Bobby Truscott)
| | |
| --- | --- |
| | |
| US release, front cover | SA release, back cover |
Comments:
Locomotive Breath
Rabbitt covered the Jethro Tull classic 'Locomotive Breath' in 1972 and released itas a single. It was number 96 in the LM Radio Top Hits of 1972. I guess you could say it was a runaway smash!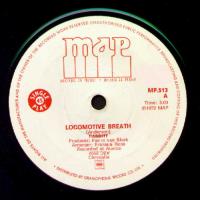 Patric van Blerk engaged Trevor on a session to play guitar on a version of Jethro Tull's 'Locomotive Breath' he had wanted to do. The recording session had Errol Friedman playing guitar (Ronnie Robot's brother), Fransua Roos on keyboards (who did the arrangement), Lou "Moose" Forer (from Suck) on bassand Cedric Samson on drums. The single was put out under Rabbitt and took off into the charts (it made the LM top ten).
-- The History Of Contemporary Music Of South Africa (1994, Toga)
The lyrics were "cleaned-up" for the SA censors: "his woman and his best friend" were now "travellingto the sun" and "the all-time winner" had got him by..."the hands"!

When Rabbitt re-recorded this track in 1975 for the 'Boys Will Be Boys!' album, the originalJethro Tull lyrics returned; a brave move at the time!

Rabbittmania
This is great rock album, but unfortunately the "rabbitt-mania" that followedthe boys appearances on the then brand-new medium of TV, meant that serious rock music-lovers ignored the band because they "only attracted 14-year old groupies".I was sixteen and liked "14-year old groupies" so it was cool!

What a pity, though for some, to miss out on such rock classicsas 'Hard Ride', 'Lifeline', 'Savage', etc.

Charlie
'Charlie', was a huge radio hit, but did very little to win over the rock fans.

"As dogs go you're groovy
not as predictable as some
but you're not as paranoid as Lady Marmalade
and really much more fun"

I knew Rabbitt, and so far as I know, Charlie wasTrevor's dog, but I'm not certain of this.
-- Mandy Vose, September 1999
I co-produced this track with Patric van Blerk and Charlie is not a'dog'. He is actually Patric's close friend and partner [Charles Coetzee]. 'Lady Marmalade',lyrics from the song, is their persian cat.
-- Julian Laxton, November 1999
Awards
'Boys Will Be Boys' became a gold record (25 000 copies sold) faster than any other South African record.

Rabbitt won a Sarie award, the South African equivalent of a Grammy award, for Best Contemporary Pop Music.
Engineer Julian Laxton, producer Patric van Blerk, and Trevor himself all received Saries. Trevor's was for best arranger.

Nearly all these great tracks (and others) can be found on Rabbitt - The Hits CD released by Gallo in 1996.
Review:
Kurt Shoemaker, Texas, May 2001

If I had heard Rabbitt's 'Boys Will Be Boys' before hearing Rabbitt's 'The Hits' the boys would have lived up to my expectations for a rockin' band. Before I bought 'The Hits' I had heard 'Charlie' and knew that they had covered 'Locomotive Breath', so after all the praise sung about Rabbit I expected some power pop of higher proof than on 'The Hits'.

'The Hits' is a nice CD at a nice price, but the rocking content is somewhat diluted by slower, sentimental numbers. Ballads are all well and good, but if 'Boys Will Be Boys' is typical of their other albums, Rabbitt would be better served by a reissue program of LPs on CD. I expected something rockier and 'The Hits' is a tad on the glossy side.

However, 'Boys Will Be Boys' rocks. It is not raw rock, but rather has the polished production I associate with their sound (at times reminiscent of 10cc). 'Boys Will Be Boys' should be a listener's introduction to Rabbitt, to be followed by 'The Hits'. It has creative songs and wonderful musicianship.

Six of the ten songs from 'Boys Will Be Boys' are on 'The Hits', but their impact there is diluted by the number of wistful, pretty songs on 'The Hits'. In their original line-up, the songs on 'Boys Will Be Boys' add up to a nice rocking album with a few slower interludes that set apart the up-tempo numbers.

The four songs on 'Boys Will Be Boys' that are not on 'The Hits' mostly git up and go. Songs like 'Something's Going Wrong with My Baby' and 'Looking for the Man' add jump to the album. Overall, 'Boys Will Be Boys' is like a 33 minute rocking live set that also has a few slow numbers thrown in for close dancing.

Don't get me wrong, Rabbitt's 'The Hits' is essential to my South African music collection -- just as 'Boys Will Be Boys' is essential music, too. This album rules, ok?
Webpage:
---
South Africa's Rock Classics
South Africa's Rock Legends