Neil Cloud
St Cloux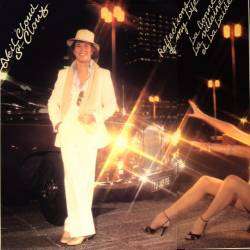 Tracks:
a. Reflections (The Good, The Bad And The Ugly) Of My Life (Campbell/McAleese/Morricone) [11.23]
b. Finale (Campbell/McAleese/Morricone) [6.35]
Time Of The Season (Rod Argent) [6.26]
Hungry For Your Love (Cloud/Gordon) [4.54]
Do You Remember (Cloud) [3.55]
Musicians:
Neil Cloud: Drums, percussion, vocals
Johnny Boshoff: Bass, keyboards, string and brass arrangements
Lionel Martin: Keyboards
René Veldsman: Vocals
Malcolm"Funk" Watson: Guitars
Erwin Keiles: Acoustic, rhythm and synthesized guitars
John Galanakis: Synthesizers
Ashley Kelly: Bass
Israela Weisser: Violin
Chris Boyle, Lofty Schultz, Hansel van Brugham, Eric Norgate and John Davies: Brass
Release information:
1978, Epic, DNW 2111
Comments:
Neil Cloud was the drummer for SA superstars Rabbitt and after their break-up,he recorded this innovative rock/dance album. My copy is on transparent yellow vinyl... looks very cool!

The whole of side one of the LP is an interesting mix of the Marmalade's 1970 UK #3 hit 'Reflections Of My Life' and Ennio Morricone's theme from the Clint Eastwood movie "The Good, The Bad And The Ugly". An extract from this track was played on the radio (Radio 5, I would guess). The full 17 minutes-plus track was released on the 1999 Gallo compilation CD 'Disco Fever' compiled by Derek Smith.

'Time Of The Season' is a cover of the Rod Argent-composed Zombies hit (US #3) from 1969 and was released as a single by Neil Cloud in 1978. This track is also available on the Disco Fever CD.


Webpage:
---
South Africa's Rock Legends
South Africa's Rock Classics