The Julian Laxton Collection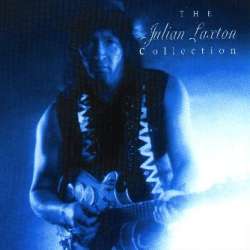 Tracks:
Blue Water [7.12]
from Celebration
Invent Yourself [6.00] theme song from "Okavango"
The Bridge [4.26]
Celebrate [6.01] listed as Celebrate The Rain
from Celebration
Johannesburg [4.16]
from Celebration
Make A Stand For Love [4.28] theme from "Rising Storm"
Down The Line [4.00]
The Thin Red Line [7.41] a theme from "Hold My Hand, I'm Dying"
Fooled Around And Fell In Love [4.50] a cover of the Elvin Bishop US#3 hit from 1976)
We Are Growing [6.00] with Margaret Singana from Shaka Zulu TV series in 1986; reached number 1 in Holland in 1989
All I Need Is You [5.31]
from Celebration
Man To Man [8.46]
from Celebration
One Nine Six O (1960) [3.55]
from Celebration
Musicians:
Release information:
1994, Gallo, CDGMP 40458 S
Buy Julian Laxton MP3s at:


Rhythm Online Music Store
Sleeve Notes:
Julian Laxton has been active in the music industry for many years. He made a name for himself as a guitarist with such bands as "Mel, Mel and Julian", "Freedoms Children", "Hawk" and "Julian Laxton Band" from which he penned such hit songs as 'Celebrate The Rain', 'Blue Waters' and 'Johannesburg'.

He has also been active in the production side of the music industry and has won a "Sari" award for best recording engineer. He has also produced artists such as "Rabbitt", "Stingray", "Margaret Singana", Mango Groove", "The Stockley Sisters", "Lucky Dube" and many others.

He has also actively been writing many radio, T.V. and cinema commercials (Jingles) and has won two bronze awards in New York and a Lurie award for 'Best Music' for a Coca Cola Commercial.

For the past five years he has written music scores for film and T.V. such as:-
Main title theme for "Shaka Zulu". "Hold My Hand, I'm Dying", "Jewel of the Gods", "Quiet Thunder", "Panga", "Final Alliance", "Purgatory, "The Evil Below", "Headhunter", "Rising Storm", "Crime Lords" and "Okavango".

Julian has just finished a very well acclaimed five month stint playing guitar in a show called "THE LEGEND OF CLAPTON" which was dedicated to Eric Clapton's long and successful career. He is currently doing odd gigs with his Blues band called "Julian Laxton and Friends" and will be soon writing some material for a new album.
Webpages:
---


South Africa's Rock Classics
South Africa's Rock Legends