Via Afrika
Afro-rock band formed in Johannesburg in 1983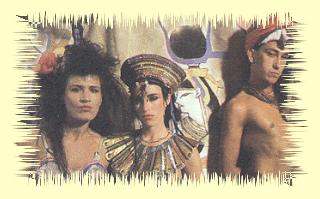 Discography:
Singles
Hey Boy (1983) EMI


Vice In Bombay 12" single (1983)
EMI, 12EMIL (C) 11225:
1.Vice in Bombay (Veldsman/ Cooper) (4:11)
2.Vice in Bombay - Dub (Veldsman/ Cooper) (4:28)
3.Via Afrika (American Mix) (Veldsman/ Rowe/ Crouse) (6:09)
4.Hey Boy - Dub (American Mix) (R Veldsman) (5:22)




4 For Africa [1985] EMI, 12EMIL(C) 11236:
Vice In Bombay (also included a song each from Ella Mental, Tribe After Tribe and Angie Peach)




Revenge - Lukas Luislang [1985] EMI Records, 12 EMIL (C) 11243
1. Revenge
2. Revenge Trapped


Albums
Via Afrika (1983) EMI
A Scent Of Scandal (1984) Via Afrika
Musicians:
René Veldsman: vocals
Spider Wider (Kitty Cooper): vocals, percussion
Lukas Luislang (Crous): keyboards (died April 2002)
Michele Rowe: dancer and percussionist
Biography:
taken from the sleeve notes of the CD re-issue of their first album
The Via Afrika odyssey, part one (1982-1983)
Looking back at South Africa's post-punk musical landscape of the 1980s, one is tempted to casually dismiss the decade as a bizarre and often unpalatable period because of the often intensely disturbing sociopolitical undertow. Out of these uneasy and often dim times, however, sprang some of the most compelling, original and enduringly evocative and thought-provoking contemporary music to have been conceived in South Africa. Some of this alluring music is encapsulated here in Via Afrika's eponymous debut album of 1983.
René, now living again in her native Cape Town since the demise of Via Afrika, recalls the band's genesis and early development: "Via Afrika erupted on to the South African music scene in the early 1980s. Looking back, I still believe that Via Afrika's music was conceived by some of South Africa's most creative and underestimated minds of the time. All involved were – and still are – artists in their own right. Via Afrika was a living force that encapsulated sex, politics, magic and imagination – a freedom of expression that was us. We didn't make Via Afrika happen. It happened to us."
During 1982 and 1983, Kensington Mansions, an apartment block on Noord Street in central Johannesburg, became the musical and spiritual home of Via Afrika – René Veldsman, Lukas Crouse and Michele Rowe. It was here that René, Lukas and Michele rehearsed, ideated and generally experimented with style and art in their quest to create a sound that would remain distinctly fresh, original and indisputably Via Afrikan. It was here, too, that this, the first album, was written and planned for studio production.
Looking back, there is little doubting that Via Afrika was uniquely outstanding in many aspects. Viewing René, Lukas and Michele beyond their hypnotic music, their tantalising costumes and bodily adornments and their hedonistic and, sometimes, erotic dance routines, there was that special otherworldliness about them. Asked about the inspiration behind the band's songwriting, René says:
" … A glamorous protest against government policy, homophobia, the constraints on freedom of expression and, generally, the rules in place during the apartheid years. We wanted our music to be a visual experience of textures, cultures and language – a celebration of the wonders of being African and the realisation of this privilege.
"Our work was ahead of its time, but in later years we were recognised for our work with a United Nations award presented by Beyers Naude in New York City. Our style of music was strictly South African – no boundaries, just a unique sound that grew from a free-thinking group of musicians and artists."
Within a year of the band's formation and, by now, well seasoned playing extensive club and concert gigs to a growing base of urban neophytes desperate to appreciate a novel, yet enduring, South African rock fusion music, Via Afrika entered RPM Studios in downtown Johannesburg to record the first of two albums.
"Picture us: Via Afrika arriving in full war drag as if about to perform to a full stadium," René recalls. "Friends of the band would also be there, ready and equipped for a night of total hedonism. Richard Mitchell, our engineer – although a very serious and regular man – was very much a part of the hub. He would prepare the studio. Anything could happen, and he'd be ready, finger poised on the record button.
"I remember Richard calling "rolling" on the talk-back microphone. The track started playing, but not a note was sung, the room was filled with breathing, strange throaty sounds and foot stomping. Richard kept recording and this track was kept as a buzz track for our hit song, Hey Boy. 3 am: all but Richard and I would be awake, everyone else asleep on sofas, waiting to go home.
"Richard and I would labour on till the sun came up. Like alchemists, we were having the time of our lives. For us, time meant nothing. The backroom work on the album played a large part of the album's success."
René continues: " Hey Boy, Animaal and Afrika the Tiger were recorded at a small studio called Midnight Flyer (Kensington, Johannesburg) and later rerecorded at RPM Studios. We released these three songs on 250 cassettes, which we sold along with T-shirts at our shows to finance our tours.
"The tracks Chiggi Chiggi and De Tango were recorded at Sonovision Studios in Plein Street, Johannesburg. The Sonovision sessions were engineered by John Calverwell. It wasn't hard to get people interested in working with us because it was the most exciting music happening – and everyone felt it. On that session, Roger Smith joined us on the recording of De Tango, which was totally impromptu and featured on the album.
René's reflections over artistic freedom in the South African music business are not unique. Some of the other original rock musicians of the time bemoaned the lack of artistic freedom and, in some instances, a high degree of artistic meddling. Sometimes there was only one way to terminate a wholly unworkable contract – and that was to dissolve a band and therefore, sadly, its unique brand of music. Media support, too, was often a contentious issue with original bands. It was, generally, easier for disc jockeys and music writers to acclaim the latest album of an internationally reputable and "safe" rock band than it was to pay even a modicum of homage to original and indigenous rock recordings.
"Our first album, Via Afrika, was the most pirated music around at that time," says René. "We took this as a compliment. We were not money-mad – we liked the stuff and needed it for the equipment, sound, clothes and the fun it bought us. We didn't make much money out of record sales – maybe five, six or seven grand.
"It seems unimportant right now. I don't know what the record company made because that sort of information was guarded jealously by big-company lawyers. It was easy to pull the wool over our eyes of any musician of that time in South Africa. But, sadly, it killed something for our next album, Scent of Scandal, which had some really great tracks on it, but it didn't have as much impact on fans as our first album.
"Our first album is something we Via Afrikans and fans, alike, were all very proud of."
Shifting to the media, she continues: "Roger Smith filmed the very first Via Afrika film footage in Cape Town. He shot some classic footage and the film was finished, but sadly never made the air. Director Dan Roberts filmed the promotional video for our hit song, Hey Boy, but it was only aired briefly.
"The Hey Boy video featured the newly joined band member, Spider (Kitty Cooper), who in fact never appeared on the album, but joined the band and performed in all of the concerts to promote this record. She became a part of the success of this album and Via Afrika.
"We were banned on radio – something to do with the lyrics of Hey Boy. They, the broadcasting authorities, didn't understand! The music was happening and it was changing. It's so funny to think back that the people in power really thought they had it welded."
Despite enduring their share of trials and tribulations – and lacking the inspiration and drive to write and record what could easily have been an excellent third album, Via Afrika was a band that always seemed to be glowing with pleasure, excitement, vitality and joy.
Whether their aural tones softened or intensified, there was an intrinsic sense of hedonistic celebration and an uncompromising artistic stab at so many of the prevalent holy cows of South African life at the time. Here, arguably, was the ultimate "good times" party band with a lot of sociopolitical conscience and streetwise savvy. René, Lukas and Michele dared to be different and, on a good, late-night club date in downtown Johannesburg, they were wholly unbridled in their quest to take South African music in a direction no one else had previously attempted.
Their daring, free spirit of experimentation and artistic permissiveness is, perhaps, their greatest legacy. On this note, it is perhaps fitting that the final say goes to René:
"I have a vision. One day we'll all meet and write the ultimate song together. If not, I'm sure I speak for everyone that was there, that deep down we'd all like to do it all over again."
- Michael Waddacor and René Veldsman, September 2000
---