History Of Contemporary Music Of South Africa
a book by Garth Chilvers and Tom Jasiukowicz,
published by TOGA Publishing in 1994.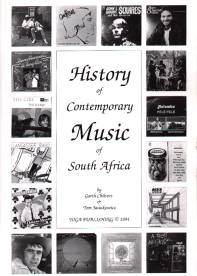 This book (which is now out of print) contains 172 pages of South African artist biographies, discographies and photos.

This book covers a diversity of artists, from Charles Jacobie to Suck and is a companion book to the 'Best Of SA Pop' series of CDs.


"...a book that anybody with a passing interest in the South African Music Industry will find of invaluable assistance."
-- Chris Prior, 1994
Review:
A coin collector's saying is "Buy the book before you buy the coin." I bought the book 'The History of Contemporary Music of South Africa' by Garth Chilvers and Tom Jasiukowicz early on in my South African music enthusiasm because I needed to know more and more, even with the Internet. This book has been an invaluable purchase.

Here's what I got from One World for my dollars into 140 Rands: 172 slick pages of information about all kinds of South African bands: rock, pop, township, and more. Also included are two indices: one a list of international musicians mentioned in the book, the other a list of South African musicians and the bands they played with. Scattered throughout are dozens of black and white photos that put faces to the names. It's a nicely-made coffee table-sized book in softcovers.

I tell you what, it's helped me flesh out my I-wish-I-could-hear-that-album list. Fortunately and coincidently, some of that wish list is now coming back into print (éVoid, Via Afrika, Otis Waygood, Hawk, and others). The book still makes me curious about other groups that maybe someday will have their day again (No Friends of Harry, Staccatos, Snakeshed, John E. Sharpe and others).

The text is Just-the-facts-ma'am for the most part, though here and there flashes of opinion or sparks of humor shine. Much info is packed into these pages because Tom and Garth write informatively and in a condensed manner. They don't often ramble on with stories, anecdotes, and trivia (though these are present). These pages are long on valuable facts and information.

Want to know what bands Kevin Kruger played in? (Backtrax, Barons, Dickory, Foxy, Fuzz, Gentle People, Hot R. S., Kariba, Kynd, Julian Laxton Band, Music Corporation, Stone & Anvil, Tidal Wave).

How about Ken E Henson? (Abstract Truth, Antithesis, Borstal Boys, Collinson McBrian, Finch & Henson, Freedom's Children, Harambee, Leeman Ltd, Medium Wave Band, Neil Solomon and the Uptown Rhythm Dogs).

Those two paragraphs give an idea of how complete the book is, but it is not just a list of bands. The typical band or performer entry, such as Des and Dawn's, begins with a brief biography, lists singles and their labels, then lists albums and their labels. (In the case of Des and Dawn, the singles and albums are sub-divided into their solo work.) SARIES are listed, and quite often Tom and Garth have a closing paragraph or more about the subsequent career or activities of the performers or band.

I just regard it as The Book on South African Music and constantly learn from it. I flip through it and read a few pages here and there during the course of the week, and when I want to answer a question that has occurred to me. Whenever I receive a new CD order, especially one with a compilation CD in it, I check out what Garth and Tom say about the bands on the comp. This book adds fun knowledge to the music I'm hearing.

The fact that this first edition was published in 1994 means that tons of new bands don't have entries, but since this is, after all, a history, that's not a drawback, only an indication that there's material for a second edition. Come to think of it, parts of the South African Rock Files website nicely help to bridge the gap between 1994 and now. However, 'The History of Contemporary Music of South Africa' is sub-titled on the title page as "Part I", so, what do you think Garth? Tom?

This book is a companion to the Best of SA Pop series (six discs of great pop), but of course it is more than that. It is also a historical document, and it is companion of mine -- a valued part of my SA music collection.
- Kurt Shoemaker, November 2000
---


South African Rock Digest
South Africa's Rock Files