Hawk - Live And Well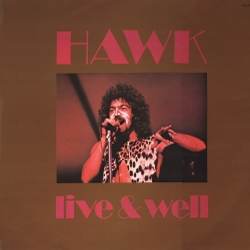 Tracks:
Kea Tseba Mokeago (I Know Where) (J Bahula) [3.56]
Slowly Towards The North (suite) [19.01, actually 14.48]

Bring Out The Wagons (R MacKay)
Limpopo (R MacKay)
Thaba Bosigo (R MacKay)
Deepest Darkest Africa (R MacKay/M Kahn)
Jungle Slumbers (R MacKay)

Mumbo Jumbo (R MacKay) [3.37] Listen
Hunter (D Ornellas) [4.04] Listen
Bona Bakweta (The Mountain Of Manhood) (P Kubheka) [3.15]
Mabaléle (R MacKay/M Kahn) [4.07]
In My Youth (R MacKay/D Ornellas) [6.02, actually 4.56]
Tracks 3, 4 & 7 have been released on CD as bonus tracks on the 2004 CD re-issue of Africa She Too Can Cry.

Musicians:
Dave Ornellas: Vocals, guitar, percussion
Mark "Spook" Kahn: Guitar
Brahm Malherbe: Drums
Les "Jet" Goode: Bass
Julian "Ipi" Laxton: Guitar


Julian Bahula: African drums, vocals
Billy "Knight" Mashigo: Percussion, vocals
Audrey Motaung: Vocals
Pete Kubheka: Vocals, percussion

A Geoff Lonstein Music production

Musicians not listed on LP cover, list supplied by Julian Laxton, January 2001

Release information:
1974, EMI Parlophone, PCSJ 12090
Buy Hawk CDs from Fresh Music
Comments:
Not a live album as the title might lead you to believe.

Listed on front cover as "Hawk" and on the back cover and actual disc as "Jo'burg Hawk".

'Slowly Towards The North' was originally recorded by Freedoms Children on their classic album Astra.

Thanks to Neil Daya from Vibes, N1 City, Cape Town for the loan of the original LP.
Webpages:
---


South Africa's Rock Classics
South Africa's Rock Legends