Hawk
Africa She Too Can Cry
This classic album has now been released 4 times with 3 different track listings. It was first released in 1972 in South Africa by Hawk. It was then released in 1973 in Europe with a slightly different track list and credited to JoBurg Hawk. In 1998 (or thereabouts) an unofficial CD was released by the Never Never Land label in Japan with a different cover and track list. And in January 2004 Retrofresh released a CD of the European version with bonus tracks.
South Africa | Europe | Japan | Official CD | Singles
2004 Official CD release (South Africa)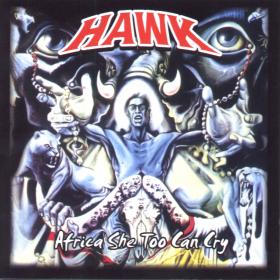 Tracks:

Uvuyo (D Ornellas/M Kahn/R Mackay) [3.14]
Elegy for Eden (R Mackay) [2.41]
The rolling of the bones (R Mackay) [2.44] Listen
Dark side of the moon (R Mackay) [2.58] Listen
War talk (Kahn/Ornellas) [2.43]
Africa (Ornellas) [2.50]
African Day Suite [16.26]

African sun (D Ornellas/M Kahn/R Mackay)
This elephant must die (R Mackay)
Beaters (R Mackay)
Hunt (Ornellas/Kahn)
The elephant is dead (R Mackay/A Lerfelo)
Nglovu ephili (Ornellas)
Yebo mama (R Mackay)
Sunset (Ornellas)


Bonus tracks:


Orang Outang (Mackay) [3.54] Listen
Kalahari Dry (Ornellas) [2.37]
Mumbo Jumbo (Mackay) [3.40] Listen
Hunter (Ornellas) [4.04] Listen
In my youth (Mackay/Ornellas) [4.56]
Track 7 is a re-recording of the 'African Day' suite from African Day with some extra sections.

Musicians:
Dave Ornellas: Vocals
Mark "Spook" Kahn: Guitar
Braam Malherbe: Drums
Les "Jet" Goode: Bass
Julian "Ipi" Laxton: Guitar
Ivor Back: Drums


Alfred "Ali" Lerfelo: African drums, vocals
Billy "Knight" Mashigo: Percussion, vocals
Audrey Motaung: Vocals, percussion
Pete Kubheka: Vocals, percussion
Release information:
LP 1973, Charisma, 6369 928 released in UK, Netherlands, Sweden and many other countries
LP 1984, Charisma, CHC 20 re-issue in UK
CD 2004, RetroFresh, freshcd137 South African CD re-issue
'Predictions' (from the original SA version, but left off the European release) is available on a Retrofresh compilation titled 'Astral Daze - Psychedelic South African Rock 1968-1972'. This CD features 18 classic, rare and obscure tracks (16 of which have never previously been released on official CDs before). This CD was compiled by Benjy Mudie and Brian Currin with major input from SA rock collector Tertius Louw.
Buy Hawk CDs from Fresh Music
Review:
Here is a quote from an email received in 1999 from Krister in Sweden:"I am 24 years old and a university student. When I was about 6 or 7 or soI got hold of this fantastic album, Jo'burg Hawk's 'Africa she too can cry'from 1973. This has haunted me thru the years and I find it an all timegreat. I suppose that the chance that their album ever got out on CD areminimal. That's unfortunate since my only vinyl is really torn down andscratchy."

OK, Krister, your wish (and that of many others) has been granted. At lastthis classic album from the 70's has been re-released on CD. This album hasactually been released in 3 different versions; the first was in 1972 ayear or so after the phenomenal 'African Day' album. In 1973 'Africa SheToo Was Cry' was released in the UK (and Europe) by the Charisma label(home of Genesis at the time) with a revised track listing and credited toJoBurg Hawk. In the late 90's an unofficial CD with the same title wasreleased by the Japanese Never Land label. Despite the fact that this was apirate CD, it was also more of a compilation than a re-issue, as itfeatured tracks from all 3 Hawk albums.

After much deliberation and discussion (and lack of master recordings)Benjy Mudie of Fresh Music decided to release the UK version of 'Africa SheToo Can Cry' with bonus tracks culled from some singles-only releases andthe elusive 'Live And Well' album, which was not actually a "live"recording, despite its title.

The 'African Day Suite' is a re-recorded and extended version of theside-long epic which originally appeared on 'African Day'. It tells thestory, in spoken words, lyrics and music, of a rampaging elephant thatthreatens to destroy a tribal village and has to be killed. The fact thatthe censors missed the analogy to the oppressive apartheid regime at thetime is amazing.

Freedom's Children's Ramsay Mackay wrote a major portion of the materialfor this album, and though he did not play on it, his influence is stronglyfelt. Mackay's compatriot in Freedom's, Julian Laxton, was a Hawk member bythis time and his guitar work here is subdued but legendary. The catchy'Dark Side Of The Moon' song has nothing to do with the Pink Floyd classicalbum, and in fact was released almost a year before that album's debut.

Bonus tracks include the original version of the much-covered 'OrangOutang' (Kenny Henson's Harambee, Margaret Singana, Brian Finch and morehave all recorded it) which was also penned by Ramsay Mackay and releasedas a single in the UK in 1973. The obscure 'Kalahari Dry' song was used aspart of an ad campaign for Groovy cooldrink (remember Groovy?) and releasedas a single in South Africa in November 1972. The original vinyl single wasfound lurking in Tertius Louw's extensive collection and digitallytransferred by him for this CD re-issue.

The Chicago-meets-Osibisa styled 'Mumbo Jumbo' is another Ramsay Mackaycomposition which deserves wider exposure. The closing track of this CDre-issue is the beautiful ballad 'In My Youth' (from 'Live And Well') whichsounds like it could have been written for the stageshow 'Hair'. AudreyMoutaung's voice soars on this one and is then balanced by the earthy tonesof Ornellas.

Excellent and detailed sleeve notes are provided by Raymond Josephincluding recent interviews with vocalist Dave Ornellas and guitaristJulian Laxton.

This is truly an album of Africa and a must-have for every music fanscollection. (Brian Currin, February 2004)


Sleeve Notes:
The Rise And Demise of Jo'Burg Hawk

The year is 1973 and in South Africa, the stranglehold of apartheid and the oppression of its opponents is increasing all the time, the noose growing ever tighter.These are dark and dangerous times and the watershed 1976 Soweto student uprising - which began a chain of events that would ultimately lead to the collapse of apartheid and the birth of democracy in South Africa – is still three years away.

These were strange and scary times, when the law forbade marriages across the colour bar, legislation enforced the separation of the different races – and having friends of different races could land you in trouble with the authorities.It was also a time of a huge surge in original local music, an era when South Africa produced some of its finest bands. And leading the charge was Hawk, who going against the trend, turned their backs on the music coming out of Europe and America and turned to their African musical roots.

Buoyed by the success of their first album, African Day – a thinly disguised commentary of South Africa and its insane politics - in 1971, followed by the seminal Africa She Too Can Cry, in 1972, Hawk had already established itself as one of the country's premier rock outfits.Explains Braam Malherbe, a member of the original Hawk line-up: "It (African Day) was political, you know. I mean there's the elephant destroying things left, right and centre – driving people from their land. We were making a huge comparison – if anyone had analysed the words then, they would have realised what we were all about."Like its predecessor, Africa She Too Can Cry, was a concept album, a social commentary on the madness that was South Africa in the 1970s.

"Hawk was a concept band and the album "Africa She Too Can Cry", came at the right time, it was meant to be," say Dave Ornellas, former lead vocalist and front man for Hawk, the owner one of the definitive rock voices of his era.It tells the story of a young African man, Kakawa and his village and the people who lived in it."It is a sad story of how the tribe was torn apart," explains Ornellas, remembering the lyrics that captured the mood of the album.

"They took me from my people,
Drove me from my home."

The album, not counting this latest reincarnation, has been released three times before, with three different track listings, first in 1972, then again in 1973 – with a slightly different track listing and credited to Joburg Hawk (redone in South Africa for European release). The final release, until now, was around 1998 as an cheap bootleg CD on Japan's Never Land Label.

The European release, which was a compilation of the band's first two album, saw the band progress from its original flute/sax/percussion and then, later, keyboard driven sound, to a new, more powerful twin guitar attack.Hawk, far from being social commentators who viewed the madness from the safety of a stage and then went home to the safety and isolation of a divided South Africa, were caught up in centre of the insane politics of the country.One of the few multi-racial bands on the scene at that time, Hawk were finding that, while there was much to write and sing about, it was becoming increasingly difficult for the band and its members to operate.Looking back today, Ornellas – now a preacher living in Muizenberg, near Cape Town - remembers those bizarre times, with the band finding it increasingly difficult to perform and grow creatively with the noose of apartheid tightening around their necks.

"I remember playing at the Klerksdorp Civic Centre. It was surreal: the black members of Hawk were not allowed to appear on stage with their white brothers. But a special concession was made and the black members were allowed to play as long as they were hidden behind a curtain on the stage."At the same time Paddock Farm, in Morningside, in Sandton, where the band had lived since 1969 had increasingly become the focus of police raids because black and white members of Hawk awHwere living there together."We wanted to develop the African side of our music but it was becoming increasingly clear that we could not do it in South Africa. We needed to spread our wings, break the shackles of apartheid and left the music come though."Overnight the band was thrown a lifeline when their manager, Geoff Lonstein, signed a deal for them with the London-based Charisma records.

With the world, and particularly the UK, focused on the injustices of apartheid South Africa, the people and the media in that country welcomed the band with open arms.With Charisma driving the band, they soon found themselves working hard in London, including three gigs at the legendary Marquee club, star billing at the Reading Festival and opening for hard rock group Budgie.And with Charisma, they found themselves part of an impressive stable of some of the biggest bands around, including Genesis, Lindisfarne and Van der Graaf Generator. From a struggling outfit from the southern tip of Africa, they were suddenly receiving star treatment, with the deal negotiated by Lonstein including tickets to the UK and accommodation in a magnificent three-storey house in the plush north London suburb of Highgate.

"We were treated like real stars, with a fleet of Bentleys at the airport to collect our 16 member party when we landed in London," says Ornellas. "We thought we had arrived."But the reality was somewhat different: despite their fancy house in one of London's best suburbs, the band was permanently broke. Their manager kept them on a shoestring budget. Both Ornellas and new guitarist Julian Laxton, who produced the album for European release, remember how they had to survive on a meagre handout of one pound a day from their management.

They had sold all their equipment before leaving South Africa and Lonstein supplied them with brand new equipment when they arrived.In hindsight, Ornellas says, the big mistake came when Lonstein signed them up to Charisma for the UK and Europe only, but kept control of South Africa and the United States for himself.Another big mistake, they say, was when they spurned a management offer from Clive Calder, then working out of a tiny office in Johannesburg. Calder went on to form Zomba Records, one of the world's biggest and most successful independent labels, which he finally sold in a multi-million pound deal in 2002.

"We backed the wrong horse and we paid the price," says Ornellas with the benefit of hindsight three decades later."But at the time the Charisma deal Lonstein signed was our ticket to freedom and we grabbed it with both hands."Unlike other South African bands that had tried – and failed – before them to crack it in the UK because of work permit problems, Hawk had no problem getting the right paper work because they were a multi-racial band. Their history of police harassment back home no doubt also helped smooth their entry in the UK."We arrived in London to great hype, the press all wanted to interview us and we believed we were on our way to the big time. All the journalists wanted to make our arrival political, but we just told them we were there for the music and it would speak for us," Laxton says.

"I remember the first big press interview we did in London. It was bitterly cold and we did a photo shoot for one of the papers wearing only the skimpy tribal regalia we wore during our stage act.The story appeared under the headline: The tribe who fled to freedom, neatly summing up the exhilaration and new found freedom Hawk found in London."It was a time of concept bands and big, powerful live acts, with outfits like Pink Floyd, Genesis and King Crimson leading the charge. Into this arena Hawk arrived with their fresh African sound and a stage act and presence that blew their British audiences away.For the boys from South Africa it was a whole new world and, under the expert guidance of Charisma, the band was launched into a whirlwind of gigs, playing the club circuit, concerts and festivals. It was an exciting time for the band as they began building a solid fan base and sales of their album took off, says Ornellas.

"We were playing gigs every day of the week. Our appearance fees were getting bigger and bigger and, as a band, we were growing all the time."The deal with Charisma had also included the release of an album as JoBurg Hawk, a compilation of songs from their first album, "African Dawn" and "Africa She too Can Cry". It also included some new songs by Ramsay McKay, the former bassist for Freedoms, which they had laid down in a studio in South Africa before setting off for London.The album, engineered by former Freedom's Children member, Julian Laxton, also saw Hawk take a new musical direction.

With the UK deal in the bag Julian agreed to join Hawk, with the band moving from its original keyboard, sax and flute sound, to the power of the two guitars of Laxton and founder member Mark "Spook" Kahn.Laxton, one of the finest rock guitarists and rock music innovators South Africa has ever produced, explains: "I was resident engineer at RPM and Geoff Lonstein, asked me to help record and produce the album for Hawk for overseas release.

Of Africa She Too Can Cry, Laxton says: "It is a very different production. It changes all the time and then reverts back. It was a good album."The challenge in producing the album for Hawk's assault on Europe, says Laxton, was to "capture the real sound of Hawk live in a recording. I also had to capture the visual side of the band without people seeing them, with the musical side - and bring it all to life on vinyl.For Laxton and McKay it was also a fresh chance to make it big in the UK after an attempt a few years earlier by Freedoms had failed because of work permit and visa hassles."Hawk was different. They were multi-racial and had been harassed by the police in South Africa for daring to have black and white in the same band. They got permits on that basisAlong the way Hawk was "discovered" by Belgium, leading to a tour to Brussels. Bizarrely, the band was entered as the Belgian entry for the Eurovision song festival, earning a credible ninth place and winning them an army of faithful new fans in that country.

Another highlight was touring Scandinavia at the end of 1973, where they had the audience eating out of their hands."Here we were in the frozen north, playing full blown African rock and the audience loved it. We were on such a high."The highly successful sell-out tour took them to Norway, Sweden and Denmark with their final appearance at Arhus in Denmark, where they were a highlight of a three-day festival held in an old airplane hangar."We were billed as "Joburg Hawk, out of Africa, direct from London."Dressed in "war paint" and full Zulu regalia, complete with shields and spears, Hawk were one of the hits of the festival.

Remembers Ornellas: "It was one of the most incredible concerts we had ever done. It was also the last real concert we did before things went horribly wrong."Until then things were starting to happen for the band and they were building a loyal audience in Scandinavia, Europe and the UK and the world, it seemed, was their oyster.They returned to London expecting to move on to the United States but Charisma – excluded from representing them in America because of the deal their manager had structured – by that time were starting to lose interest."Our gigs started drying up, we were having problems with visas and this caused hassles in the band. Things just ground to a halt," says Ornellas.

First the black members of the band, homesick and disillusioned because of the ending with Charisma deal and the lack of gigs, chucked in the towel and returned home."We were in serious trouble, we had no work and no money. We were literally starving, there was hardly any money to buy food and we were living on leftovers and handouts."We even had to sell our African drums just to get money to buy food. It was one of the most terrible times of my life, things were just disintegrating around us."

Says Laxton: "In the beginning we were really struggling and often had very little to eat, but at least we were getting places and the band was together and sounding great. There were nine of us living in this huge house in Highgate, it was a bit like big Brother, but then things started falling apart."Adds Ornellas: "I was so depressed that I cut off half my beard and half my Afro. I was down in the dump, it was a cry for help, an expression of just how low I felt." The end for Ornellas finally came when Scotland Yard arrived one morning and told him their (by then) former manager had laid a charge of theft against the band and was demanding they hand over their instruments, which he said was his property.

"He wanted the PA and all our other equipment back. I thought that after we had sold everything when we left South Africa the new equipment our manager bought was our's."Eventually I agreed to hand over the equipment to Scotland Yard until it was sorted out. I later learned that they had handed the equipment back to our ex manager and the subsequent case was thrown out of court. "Looking back now I wonder what they thought of me, this manic musician with half an Afro and half a beard."Soon afterwards Julian Laxton and Les Goode left for home and they soon followed by Spook and Ramsay McKay, who had also had enough.

Says Laxton:"I call it my great escape, but it was also sad because the band was getting more and more polished and we were being recognised in London. I mean, to play the Marquee three times and be invited to Reading would be a highlight for any band."Finally Ornellas, who was involved in legal disputes and becoming increasingly depressed, was the last member of Hawk left in London.

"I was stuck there for three more months until I could get out and go back home," he remembers."It was the end of a dream for all of us, a terrible way to end. But we gave it our best shot and I know now that we did not fail, it just didn't work out because of circumstances beyond the band's control."

And even know, in the 21st Century and 30 years later, Hawk's music has stood the test of time - and with this officially sanctioned re-release of Africa She Too Can Cry, a new chapter has been written in the short but influential life of the band, one of the most original and influential rock bands ever to come out of South Africa…
Raymond Joseph, Cape Town 2003
Webpages:
---


South Africa's Rock Classics
South Africa's Rock Legends