Abstract Truth
Silver Trees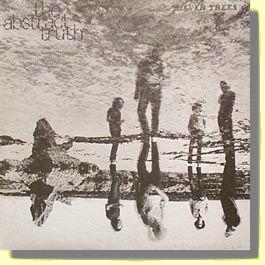 Tracks:
All The Same (Wolfaardt)
Original Man (Wolfaardt)
In A Space (Henson/Bergin)
Moving Away (Measroch)
Two (Henson)
It's Alright With Me (Wolfaardt)
Musicians:
Ken E Henson: Guitar, vocals
Peter Measroch: Piano, organ, flute, harpsichord, vocals
George Wolfaardt: Bass, flute, drums, vocals
Sean Bergin: Flute, saxophone
Release information:
1970, EMI, PCSJ 12065
2005, Fresh, freshcd146 (with Totum)
Buy this CD from Fresh Music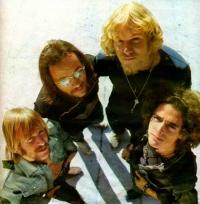 Sept 1970: Ken E Henson, George Wolfaardt, Sean Bergin and Pete Measroch.
Excellent early '70s melodic whistful freak rock blends with African sounds featuring assorted instruments keyboards, flutes, electric guitars, saxophone, percussion, etc. A refreshing approach.
-- Freak Emporium website
The Cover
The story behind that fuzzy looking cover is that the photo was shot by a Swiss photographer who was in SA for a while, Teak Glauser, I believe. Teak had been part of the group that had looked after Timothy Leary in Switzerland while he was on the run at one point apparently.

Anyway, he had come up with a photo technique where on a colour photo everything would appear normal except for objects that moved - these would get a rainbow aura around them, really trippy stuff. So the album cover was shot making sure that we all moved at the critical moment. EMI however refused to spring for a colour photo so it ended up just looking blurred in B & W. Oh well...the good ol' bad ol' days...
-- Peter Measroch, June 1999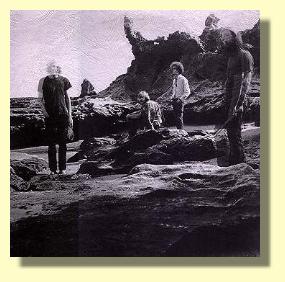 Review:

Last weekend I decided to explore London's Portabello Road, a road famous for it's street market. In amongst all the little stalls were a number of interesting record shops. These are the kind of record shops that cause wallets to tremble and have been known to bring platinum credit cards to their knees as they contain mostly rare and collectable vinyl (£750 for a picture disc of Wing's 'Back to the Egg' anyone?)

Most of the staff at the shops had either not heard of Rodriguez's 'Cold Fact' or were vaguely aware of it. However what I did find was a copy of Abstract Truth's 'Silver Trees'. It contained a small sticker saying 'Rare South African Heavy Prog Album'. Rare? yes, South African? of course, Prog Album? definitely, but heavy, I don't think so. This is somewhat psychedelic prog that is full of swirling organ, steady rhythmic bass and loads of flute. In fact 3 of the 4 members of the group are credited as playing flute and it this that gives the album a lightness to it.

Also of note is that there is only one song over the 4 minute mark, an unusual trait in a prog rock album. The long song is the title track that features some awesome guitar from Ken E Henson and intricate organ playing from Peter Measroch.

Another interesting touch is the African Jive sound on the opening track 'Pollution' and the harpsicord on 'Moving Away', the former placing the album in Africa, the latter placing the album in Medieval Europe, both giving the album a sense of timelessness and universal appeal.

It's this wonderful brew of psychedelic, rock, jazz, classical, blues, funk and jive that makes this a special album that should be sought out, and with the wind instruments playing a major role on the album, this could make a really good (Retro) Fresh Flute Salad.
-- John Samson, SA Rock Digest #144, February 2002
Webpage:
Cover scan supplied by Werner Regenthal, February 2000.
---


South Africa's Rock Classics
South Africa's Rock Legends