Petit Cheval
The Voice of Reason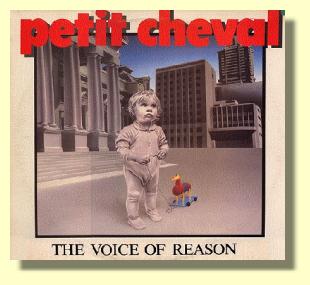 Tracks:
Young Lions
Once in a Lifetime
(not a cover of the Talking Heads song)
Dreams come True
It was the wind
Pray like a Child
Imagination
My Bleeding heart
Deep Blue
What took you so Long

Produced by Petit Cheval & John Shaugnessy (except 'Once in a Lifetime' - Greg Cutler & John Selby)

All songs written by Jonathan Selby
Musicians:
Jonathan Selby - Voice
Sheldon Thomas - Keyboards
Craig Else - Guitars
Johan Griesel - Bass
Danny de Wet - Drums and Percussive Toys
Release information:
1985, WEA International WIC 8024 (Cassette ZWI 8024)
Complete album available on Once In A Lifetime compilation CD released by RetroFresh in 2006.
Review:
John Samson, May 2000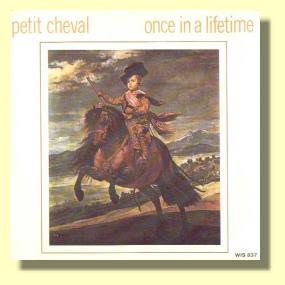 Spearheading the New Romantic movement in South Africa in the 80's Petit Cheval sound a lot like Spandau Ballet on this record. It is not only because of the remarkable similarity of Jonathan Selby's voice to Spandau's Tony Hadley, but there is a similar sound and feel to this polished pop album. Tunes like 'Once in a Lifetime' and 'It was the wind' blend guitars with the then popular synthesizer to create a sound not far from the big bands of the day. In fact, the saxophone is the only thing missing to make this a perfect Spandau record, although having said that, there is beneath the surface, a faint hint of "african" sound to remind the listener of where this band is from and set apart from it's UK counterparts.
Webpage:
Info and scans supplied by John Samson, April/ May 2000. Picture single scan by Stephan Forster, September 2001
---


South Africa's Rock Classics
South Africa's Rock Legends