Ballyhoo
Man On The Moon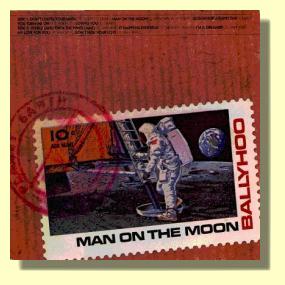 Tracks:
Don't Loose Your Music (R Martin/ D Drain) (5:20)
Man On The Moon (S Mahoney/ A van Wyk) (4:41)
Lesson For A Rainy Day (R Martin) (3:54)
You Turn Me On (F Ferguson) (3:41)
Loving You (D Drain) (4:23)
Venice (And Then The Wind Came) (A van Wyk) (4:37)
It Happens Everyday (D Drain/ R Martin) (4:44)
I'm A Dreamer (A van Wyk) (4:12)
My Love For You (A van Wyk) (4:50)
Don't Hide Your Love (A van Wyk) (4:21)
Arranged and Produced by Emil Zoghby
Recording & Mixing Engineer - Peter Thwaites
String Arrangements - Hennie Bekker
Recorded & Mixed at Satbel Studios
Musicians:
Ralph Martin: Lead and backing Vocals & Lead Guitar
Attie van Wyk: Keyboards & Backing Vocals
Fergie Ferguson: Lead Vocals, Bass Guitar & Backing Vocals
Derick Drain: Lead Vocals & Backing Vocals
Franco del Mei: Drums
Release information:
1981, Trutone Records, POLY 5526
Review:
The title track of this album was a huge hit, reaching the top spot on the Springbok Top 20, and deservedly so. It is a great track, with a strong tune, great vocals & harmonies and some excellent guitar work. Addressing the old problem of trying to "choose between one of two pretty ladies" to the Man on the Moon, this classic song should be familiar to most South Africans. But what about the rest of the album? It took me a few listens to realise this is worth listening to.

The opening track "Don't you loose your music" is a quite a funky tune with a similar feel to "Man on the Moon", while "Venice (And then the Wind Came)" has a early Billy Joel feel to it with it's slower verses and up tempo chorus. Another strong track is "I'm a Dreamer" which reverts to the "Man on the Moon" formula in sound and vocal quality. There are a few throw away tracks "Lesson for a rainy day" being a rather soppy piano led ballad, which, although being released as a single should probably have been a b-side. At times I was reminded of Morocko's "Bow Tie Boogaloo", and on "It happens every day", I found the vocals similar to the Beautiful South.

On the whole it is a solid pop album, with it's exceptional standout title track, but with enough meat to the remainer to make it worth owning.
-- John Samson, June 2000
Webpage:
All info supplied by John Samson, June 2000.
---


South Africa's Rock Classics
South Africa's Rock Legends