Morocko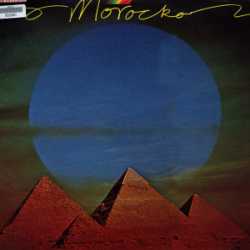 Tracks:
Giving It Up (JB Arthur) [4.12]
Bowtie Boogaloo (JB Arthur) [4.10]
Don't You Think That We Had It Right (Arthur/Butow/Faure) [3.46]
Come On And Do It (JB Arthur) [4.39]
Share My Life (Samson/Rose) [5.37]
One More Night (JB Arthur) [4.05]
Good Friends (Samson/Rose) [3.00]
Don't Leave Me Halfway (Butow) [4.09]
Legs (Samson) [3.34]
It Doesn't Show (J Galanakis) [6.13]
Musicians:
JB Arthur: Vocals, guitar
Jethro Butow: Guitars, vocals
Les Goode: Bass
Cedric Samson: Vocals, drums, percussion
John Galanakis: Keyboards, Sythesizers, vocals


Mike Faure: Sax

Produced by Emil Zoghby.
All tracks recorded at Villa Recorders, Modesto, California, USA.
Engineer: Greg Sesser.
Tracks 1, 2, 3, 8 & 9 remixedat Satbel Studios, Johannesburg.
Remix engineer: Peter Thwaites
Release information:
1981, Trutone, marketed by Polydor, POLY 5522
Comments:
Funky and polished, Morocko is a great album by a very tight and talented band.Influences include Steely Dan, Toto, Prince, Earth, Wind & Fire, etc. If you like your rock funky,or your funk hard, then this is for you.
---


South Africa's Rock Classics
South Africa's Rock Legends