Springbok Hit Parade: 1965 - 1971
No 1 Hit Records: SA Pressings

1968
The Bee Gees: Massachusettes

Tracks:


World/ And the sun will shine/ Demons never forget/ Really and sincerity/ Birdie told me/ With the sun in my eyes/ Massachusetts/ Harry Braff/ Day time girl/ The ernest of being George/ The change is made/ Horizontal
Release info:
Horizontal: Polydor LPHM 84711

# 8 UK Chart Album


Seven Single: Massachusetts/ Barker, Polydor PD 9289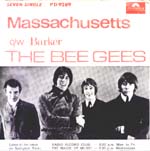 The Monkees:
Daydream Believer

Tracks:


Dream world/ Auntie's municipal court/ We were made for each other/ Tapioca tundra/ Daydream believer/ Writing wrongs/ I'll be back on my feet/ The poster/ P.O. Box 9847/ Magnolia Simms/ Valeri/ Zor and Zam
Release info:
The Birds, The Bees And The Monkees:
RCA Victor 32-378
Seven Single: Daydream believer/ Goin' down, RCA Victor 42.000




Four Jacks And A Jill:
Master Jack

Tracks:


I looked back/ You and me and happiness/ You're the boy I wanna marry/ Mama said/ Sugartown/ Let love come between us/ Baby's gone/ Master Jack/ All I have to do is dream/ Summer avenue/ Small talk/ Hamba Liliwam
Release info:
Four Jacks And A Jill, RCA Victor 32-335
Seven Single: Master Jack/ I looked back, RCA Victor 42.004


The Troggs: Love Is All Around

Tracks:


Little red donkey/ Too much of a good thing/ Butterflies and bees/ All of the time/ Seventeen/ Somewhere my girl is waiting/ It's showing/ Her emotion/ When will the rain come/ My lady/ Come the day/ Love is all around
Release info:
Cellophane: Fontana TL 645
Seven Single: Love is all around/ When will the rain come, Fontana TF 813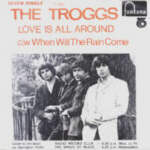 John Fred And His Playboy Band: Judy In Disguise

Tracks:

Up and down/ Judy in disguise/ Off the wall/ Out of left field/ She shot a whole in my soul/ Most unlikely to succeed/ Agnes English/ When the lights go out/ No good to cry/ Sometimes you just can't win/ Sad story/ AcHenall riot
Release info:
Agnes English: Pye PL 2135
Seven Single: Judy in disguise/ When the lights go out, Pye PY 173


Manfred Mann: Mighty Quinn

Tracks:


Big Betty/ Each and every day/ No better no worse/ Ha! ha! said the clown/ The vicar's daughter/ Mighty Quinn/ Country dancing/ It's so easy falling/ My name is Jack/ Cubist town/ By request - Edwin Garvey/ Feeling so good
Release info:
What A Mann: Fontana TL 652
Seven Single: Mighty Quinn/ By request - Edwin Garvey, Fontana TF 817


Paul Mauriat: Love Is Blue

Tracks:


Love is blue/ A man and a woman/ Fascination/ Winchester cathedral/ La vie en rose/ This is my song/ C'est si bon/ Puppet on a string/ Autumn leaves/ There's a kind of hush/ L'important c'est la rose/ Somethin' stupid
Release info:
Love Is Blue: Philips PSK 3303
Seven Single: Love is blue/ Seuls ad monde, Philips SSP 988


Tom Jones: Delilah

Tracks:


Delilah/ I'm coming home/ Things I wanna do/ And I tell the sea/ Key to my heart/ To wait for love/ Where do you belong/ The lonely one/ Smile/ I've got a heart/ Love is a burning thing/ The rose/ I need your loving/ I still love you
Release info:
Delilah: Decca SKL 4471

#1 UK Chart Album


Extended Play Single: Delilah, Decca DFE 6479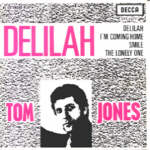 Tracks: Delilah/ I'm coming home/ Smile/ The lonely one


Seven Single: Delilah/ Smile, Decca FM 7387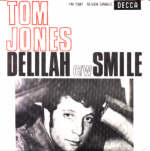 LM Hit Parade #17 - 23 June 1968 [no details available on highest chart position]


1910 Fruitgum Co: Simon Says

Tracks:


Pop Goes The Weasel/ Keep Your Thoughts On The Bright Side/ Magic Windmill/ The Year 2001/ Soul Struttin'/ Simon Says/ May I Take A Giant Step/ Bubble Gum World/ Happy Little Teardrops/ The Story Of Flipper/ (Poor Old) Mr. Jensen
Release info:
Simon Says: Kama Sutra, KSL 506
Seven Single: Simon says/ Reflections From The Looking Glass, Kama Sutra KSS 13

LM Hit Parade #6 - 23 June 1968 [no details available on highest chart position]


Louis Armstrong:
What A Wonderful World

Tracks:


What a wonderful world/ Bill Bailey/ You want someone to love/ Hapiness is hellzapoppin/ Caberet/ The sunshine of love/ I'll take care of your cares/ When the saints go marching in/ What a wonderful world
Release info:
What A Wonderful World: ABC-Paramount ABL 94

#37 UK Chart Album


ABC-Paramount also issued the album The Sunshine Of Love on ABC 100 during 1968.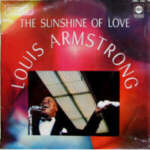 Tracks: What a wonderful world/ Cabaret/ The home fire/ Dream a little dream of me/ Give me your kisses/ The sunshine of love/ Hello brother/ There must be a way/ Fantastic, that's you/ I guess I'll get the papers and go home/ Hellzapoppin'


Seven Single: What a wonderful world/ Cabaret, ABC-Paramount ABS 39

LM Hit Parade #4 - 30 June 1968





Quentin E Klopjeager:
Lazy Life

Tracks:


Sad Simon lives again/ What a woman does/ Ain't gonna lie/ Dandy/ I can guarantee you love/ Lazy life/ 98.6/ I can hear the darkness/ Not going to mersey square/ Jane/ On the way up/ Lovers lane wednesday
Release info:
Sad Simon Lives Again, Troubadour, TRL-E-1319
Seven Single: Lazy life/ The long way home, Troubadour TRS - E - 9093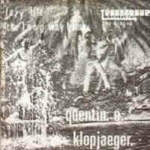 LM Hit Parade #3 - 14 July 1968


Hillary: Sunglasses

Tracks:


Sunglasses/ Just you, just me/ When I dance with you/ Don't break my pretty balloon/ I believe in love/ Halfway to paradise/ Under my beach umbrella/ Love of the common people/ My boy lollipop/ Lazy life/ Silly girl, silly boy/ Honey
Release info:
Sunglasses: Renown NLP 299
Seven Single: Sunglasses/ Love is blue, Renown N1420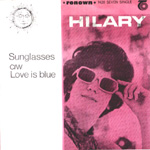 LM Hit Parade #1 - 28 July 1968


The Equals: Baby Come Back

Tracks:


Hold me closer/ Can't find a girl to love me/ Baby, come back/ Ding-dong/ My life ain't easy/ I'm a poor man/ I won't be there/ You lied just to save your name/ To the church/ Fire/ Hey baby, it's time you got going/ Can't you hear that melody
Release info:
Unequalled: Parlophone PMCJ 113

#10 UK Chart Album


Seven Single: Baby come back/ Giddy up a ding dong, Parlophone SPD ???

LM Hit Parade #1 - 18 & 25 Aug 1968


Tom Jones: Help Yourself

Tracks:


Help yourself/ I can't beak the news to myself/ The bed/ Set me free/ I get carried away/ This house/ So afraid/ If I promise/ If you go away/ My girl Maria/ All I can say is goodbye
Release info:
Help Yourself: SKL 4982

#4 UK Chart Album


Extended Play Single: Help Yourself, Decca DFE 6481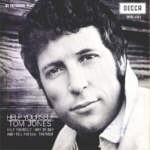 Tracks: Help yourself/ Day by day/ And I tell the sea/ The rose


Seven Single: Help yourself/ Day by day, Decca FM 7409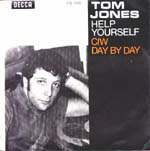 LM Hit Parade #1- 15 & 22 Sept 1968


The Flames:
For Your Precious Love

Tracks:


Lost/ If you think you're groovy/ For your precious love/ I was made to love her/ Useless illusions/ Try a little tenderness/ Restless/ A place in the sun/ Wishes/ Solitude/ You keep me hanging on
Release info:
Soul Fire: Rave RMG 1234
Seven Single: For your precious love/ A place in the sun, Rave R307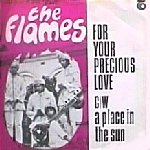 The Flames were the first non-white group who entered and achieved success on the national charts. The single became a massive hit and soon moved into the coveted #1 position on the Springbok charts. The song's success resulted in the Flames being short listed as nominees for a SARI award, but the organisers soon realised that the venue for the gala event, the Wanderers Club, was a whites only venue and decided not to proceed with an official nomination. Although the country's apartheid laws prevented the Flames


from becoming the first black recipients of a SARI award, their popularity grew internationally and their album Burning Soul was released in the UK and Australia. For Your Precious Love remained an all time favourite in South Africa and is still enjoying regular airplay on radio stations throughout South Africa. Let's hope Arts & Culture in South Africa someday recognise the phenomenal talent of these 4 men who hailed from Kwazulu-Natal and award them the "SARI" they thoroughly deserved way back in 1968!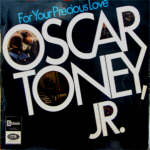 Both Oscar Toney Jr and the Flames charted with For your precious love and between them they kept the song in the Springbok charts for almost 4 months! Oscar Toney Jr's album was issued in South Africa by EMI on Stateside JSL 5037 and also featured his other local hit That's all I want from you.







For Your Precious Love

Oscar Toney Jr
Week
Chart Position
The Flames
Week
Chart Position
*
02.08.68
15
-
-
-
*
09.08.68
12
-
-
-
*
16.08.68
6
-
-
-
*
23.08.68
4
-
-
-
*
30.08.69
3
-
-
-
*
6.09.68
5
*
6.09.68
17
*
13.09.68
11
*
13.09.68
8
*
20.09.68
15
*
20.09.68
6
-
-
-
*
27.09.68
3
-
-
-
*
4.10.68
1
-
-
-
*
11.10.69
3
-
-
-
*
18.10.68
6
-
-
-
*
25.10.68
9
-
-
-
*
1.11.68
11
-
-
-
*
8.11.69
14
-
-
-
*
15.11.68
20
Cornelia: Picking Up Pebbles

Tracks:


Los pescador/ Men of steel, ships of wood/ Circle game/ Picking up pebbles/ Picture perfect/ That's my song/ I wanna live/ Suzanne/ Until it's time for you to go/ Give me besides my daily bread/ Master Jack in German/ There but for fortune
Release info:
I Wanna Live: RCA Victor 32-384

Seven Single: Picking up pebbles/ Men of steel, ships of wood, RCA Victor 42.049

LM Hit Parade #1 - 10 Nov 1968


The Bee Gees:
I've Gotta Get A Message To You

Tracks:


Let there be love/ Kitty can/ In the summer of his years/ Indian gin and whiskey dry/ Down to earth/ I've gotta get a message to you/ When the swallows fly/ I've decided to join the airforce/ I started a joke/ Kilburn towers/ Swan song
Release info:
Idea: Polydor LPHM 84169

#4 UK Chart Album


Extended Play Single: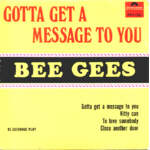 Tracks: Gotta get a message to you/ Kitty Can/ To love somebody/ Close another door


Seven Single: I've gotta get a message to you/ Kitty Can, Polydor PD 9406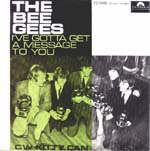 LM Hit Parade #2 - 20 Oct 1968


Percy Sledge:
My Special Prayer

Tracks:


The dark end of the street/ You send me/ I had a talk with my woman/ What am I living for/ I've been loving you too long/ Tell it like it is / My special prayer / Drown in my own tears/ Just out of reach (of my two empty arms)/ Pledging my love/ You don't miss your water
Release info:
The Percy Sledge Way: Atlantic ALA 9054
Seven Single: My special prayer/ Drown in my own tears, Atlantic ATS 421

LM Hit Parade #2 - 17 Nov 1968


The Tremeloes: My Little Lady

Tracks:


N/A

Release info:
Single not featured on album
Seven Single: My little lady/ All the world to me, CBS SSC 966

LM Hit Parade #3 - 1 Dec 1968



Tertius Louw, April 2005



---