The First
Springbok Hit Parade
album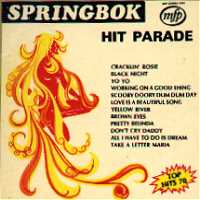 Remember those albums you loved to hate? The Springbok Hits series was started in 1970 by Ken Talbot who originated the idea. They were initially produced by Robert Schroder and later by David Gresham. These albums were intended to give people cheap and easy access to the hits of the dayas played on the Springbok Radio Top Twenty broadcast on Friday nights and hosted by David Gresham.

The Springbok Hits albums were recorded by various session musicians, including some very well-known artists such as Mutt Lange, Stevie Van Kerken and Mike Pilot, and released by MFP (Music For Pleasure).

The cover featured the original"Springbok Nude Girl"!
Original artists names in brackets.
Tracks:
Cracklin' Rosie (Neil Diamond)
Black Night (Deep Purple)
Yo Yo (Chris Andrews)

Working On A Good Thing (The Outlet)

Scooby Dooby Dum Dum Day (The Attraction)

Love Is A Beautiful Song (Dave Mills)

Yellow River (Christie)
Brown Eyes (Chris Andrews)
Pretty Belinda (Chris Andrews)
Don't Cry Daddy (Elvis Presley)
All I Have To Do Is Dream (Bobby Gentry & Glen Campbell)
Take A Letter Maria (Anthony Armstrong Jones)
South African hits are highlighted.
Release information:
1970, MFP
Complete list of Springbok Hits albums
Comments:

I was Chief recording Engineer at the EMI studios from about 1969 to 1971. I was also allowed to produce records myself and had my own record label.

When Michael Eve came along to EMI to start MFP I saw the opportunity of putting forward my idea of producing the Springbok Hit Parade series. I didn't think the SABC would allow us to use the name, but they did, and free of charge.

Springbok Hit Parade 1 has my write up on the back. I made a grammatical mistake, can you spot it? Not too good at grammar I'm afraid. It was Michael Eve's wife who pointed it out.

We formed a team, Robert Schroder, who did the music and basically produced it, Mr Frazer from Ardmore and Beechwood, who managed the finances and publishing and Peter Vee who did a lot of the singing on the first album.

The first record was a big success despite being not the best quality. But as one review put it ; "although the quality was not very good, it certainly got a party going."

The basis for the idea was a follow up on Dan Hill's Sounds Electronic series. The nude girl we ended up with was not what I had in mind, but in the end it seems to have worked quite well. I had wanted someting more like Dan Hill's nude girls.

When we later started the South African Hit Parade series on DJ records, we used my idea for a nude girl.

We stayed with the series up to, I think something like number 33, when EMI, who were a bit upset with us for starting another series in competition, decided to do it themselves. It was then given to Mike Pilot to produce.

We sold the rights to EMI for something like 60,000 Rands, if my memory serves me right.

I used to work with Clive Calder and Mutt Lange and Stevie (van Kerken, later Mrs Lange) did most of the vocals on the series while Robert produced it.

Robert Schroder is still very busy on the record scene in South Africa. He does a lot of TV commercials and has had a number of hit records. Stevie Lang (as she calls herself now) has been very successful as well as Mutt Lange and Clive Calder. She is the voice coach for Robbie Williams and I believe manager of Blue who have a number one single on the charts.

Ken Talbot, September 2001


---
Cover of the Springbok Nude Girls' Greatest Hits CD released October 2001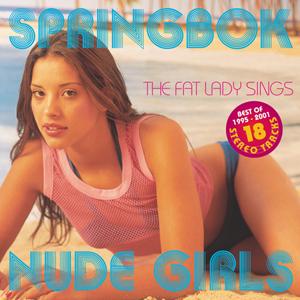 ---
South Africa's Rock Lists
South Africa's Rock Files