First all-female group:
The Amazons
No, Clout weren't the first all-female pop group in South Africa.In 1962 in Johannesburg the Amazons were formed. The original line-up was...
Cynthia Fourie: Vocals, guitar
Rochelle Fourie: Vocals. guitar
Josephine Levine: Guitar
Carole Stein: Bass
Leonie Levine: Drums
By 1964 the line-up had changed dramatically except for Carole who remained, but changed to lead guitar.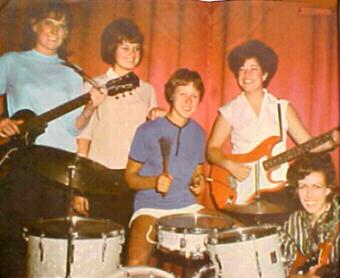 Carole Stein: Guitar
Eileen du Preez (aka Lee Conrad): Vocals, bass
Margaret Barkett: Rhythm guitar
Jill Pollard: Bass
Gill Marshall: Drums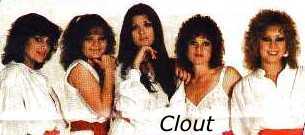 Group split in 1967, some members re-appeared in another all-female band, the Valentines.Lee Conrad (now Tomlinson) [right in picture] went on to join that very succesful South African group, Clout.So, you see, there is a connection between the Amazons and Clout.
See the Clout Family Tree for more info.
JILL POLLARD
I was Jill Pollard - bass player for the Amazons (Lee Conrad and Eileen du Preez are the same person - she became Lee Tomlinson). I left the Amazons with Gill Marshall to back Mercia Love & Love's Adoption then joined The Hustlers with vocalist Al Bentley and guitarist John Lindeman. John Lindemann, Greta Collier and myself then became the band for Jody Wayne called the Guys and Dolls. Still playing bass, John Lindeman, Peter Lynch (Cape Town) joined Brian Mulder and we were known as Brian Mulder & Rose Amongst Thorns - when I left for the UK they became Peanut Butter Conspiracy. When I came back I worked at bass player in the backing band for Lance James and Min Shaw - I worked in the orchestra for "The Follies" show. I joined Gavin Godfrey & Take Five - Then in 1984 joined Music Unlimited with Mario Monteregge and have done many shows big band and with 7 piece gigs - and am still playing bass today. At present doing shows with Trumpeter Brian Thusi, Gerry Kunene (sax), Eric Gabriel (Rockets), Ollie Hart ... several good muso's in the band.
-- Jill Murray Brown (neé Pollard), 21 July 2002
---
South Africa's Rock Lists
South Africa's Rock Files