Rouge - Eloise Concerto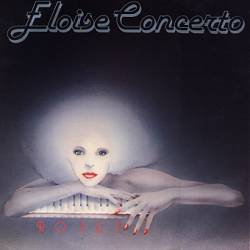 Tracks:
Eloise Concerto [17.22]

Eloise (Paul Ryan)
Love Lost (Zane Cronjé)
Eloise Finalé (Paul Ryan)

Don't Stop Singing (R Canes/H Rosenthal) [5.00]
Elenore (The Turtles) [3.56]
Set Me Free (R Canes/H Rosenthal) [5.20]
Let's Spend The Night Together (R Canes/Z Cronjé/H Rosenthal) [4.14]
Recorded at Gallo Johannesburg in 1978, it was co-produced by Hilton Rosental and Zane Cronje with Pete Ceronio as the Engineer.
Musicians:
Zane Cronjé (born 13 May 1938): keyboards, arranger, conductor
John Weddepohl: vocals
Tony Moore: drums
Irwin Keiles: guitar
Ashley Kelly: bass
John Davis: trombone
Braam Verhoef: String Section (4-2-1)
Malie Kelly, Rene Frangs, Avril Stockley: backing vocals
No musicians are listed on the album cover, but Zane Cronje supplied the info above in March 2004.
Release information:
1978, CBS, ASF 2088
The full-length version of 'Eloise Concerto' is available on the Disco Fever CD released by Gallo in 1999.
That LP was a nightmare to do.... the original vocalist on the album was Dennis East, but unfortunately he was signed to another record company who wouldn't give permission for him to feature on the album, so we hunted around and found John Weddepohl! John's voice was a lower range to Dennis's so we had to fiddle the backtracks to fit his voice! What a pallaver, but it turned out OK in the end... Hooray for analog tapes! --
A reliable source, March 2004
---


South Africa's Rock Classics
South Africa's Rock Legends