Radio Rats
Into The Night We Slide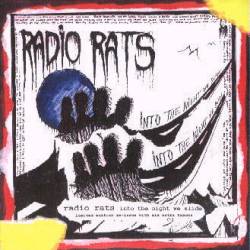 Tracks:
ZX Dan Listen
I'm not like that
Plague cafe
Bomb shelter blues
I'm in love
Law and order
A visit to the cinema Listen
Rocking
Stay in your rocking chair
Mucking about in the dungeons all day Listen

Bonus tracks on 1991 CD re-issue, 1999 Limited Edition CDR & January 2003 re-issue (recorded June 1979) :
Rocket Road Listen
Crazy Caroline

Additional bonus tracks on 1999 Limited Edition CDR (recorded 1990):
Big beat
Pest house
Diary of a diseased coke rep
Padded rooms
All songs written by Jonathan Handley
Musicians:
Jonathan Handley: Vocals, guitar, organ
Dave Davies: Vocals, sax
Herbie Parkin: bass
Leonard Dixon: drums
Recorded during the weekends of August & September 1978 and produced by Greg Cutler.
Release information:
LP: October 1978
LP: 1988, RPM, RPM 1243
CD: 1993, Radium Wreckords, WOND 119
CDR: September 1999, Radium Wreckords, Limited Edition with 6 extra tracks
CD: January 2003, RetroFresh, freshcd131
Radio Rats MP3s are available to buy online at
Rhythm Online Music Store.
Buy South African CDs from

Sugar Music Online Shop
ZX Dan went to Number 2 on the Radio 5 charts in 1979 and is still considered one of South Africa's greatest pop/rock songs of all-time.
Review:
We all relate new entertainments (books, movies, music) to similar items we already know, but I can't do that with this album. I cannot think of any performers or groups to compare the Radio Rats to, so I'm left with the conclusion that in rock this is original stuff. Additionally, while possessing a distinctive style, each song is different from the others. The album doesn't sound like the same song played over and over. Many bands confuse style with the repetition of a sound so their albums sound like twelve versions of one song -- but not so in this case. This is fun and original and rollicking rock that doesn't lend itself to analogy.

Stand-out tunes for me: "ZX Dan", "Plague Cafe", "I'm In Love", "Rocking", "Mucking About In the Dungeon All Day", "Rocket Road" and "Padded Rooms"-- though I don't know why I mention these songs separately because I usually just put on the disc and let the music play through from the first track to the last.
-- Kurt Shoemaker, Texas, USA, October 1999
Sleeve Notes:

The Radio Rats - Turn Up Your Radio

They had more drummers than Spinal Tap; they combined punk's raucous energy with melodic tunes about off-the-wall subjects; and they released one of South Africa's greatest rock albums - 'Into The Night We Slide'.

Ladies and Gentleman… the Radio Rats.

The protagonist behind the Radio Rats was Jonathan Handley, a man with an unusual (some people might say "warped") view on life and music. Handley was the chief songwriter for the band, played guitar and bass, and sang.

He was born in Tanganyika (now Tanzania) on 5 June 1954. His family moved to Springs when he was almost three. Handley explained: "Being a geologist, my father oscillated between Welkom and Springs from the Fifties to the Seventies".

Handley learnt to play guitar in Springs and Welkom. After leaving Welkom High School, he studied Medicine at Wits University. His first band in 1977 was known as the Warehouse Rats (because they rehearsed in an old warehouse). This band evolved into Slither with the addition of fellow medical student John Griffith. Griffith went on to record under the name John Ireland.

Slither drummer Niall Bell introduced Handley to vocalist Dave Davies and the two have remained close friends ever since. It was then that the band changed its name from Slither to the Radio Rats. When their first bassist Dion Coetzee (known as "Shorty", because he was tall) left for a banking career, David Parkin joined and stayed until October 1981. Dave Davies gave Parkin the nickname "Herbie", because he didn't want a band with 2 "Daves", and it stuck.

The Rats (as they are affectionately known) had many influences including John Cale (not JJ Cale!), David Bowie, Iggy Pop & The Stooges, The Rolling Stones, The Sex Pistols and even the early Dr Feelgood, although live they performed mostly their own songs.

Cheryl van Blerk was the PRO for Gramophone Record Company when she first heard the Radio Rats' demos, including an intriguing song titled 'ZX Dan'. When GRC ignored them she recommended the band to her brother Patric, the owner of Jo'Burg Records. Cheryl later left GRC to become the Rats' manager.

Jo'Burg Records was very active at the time following the success of artists like Rabbitt and Margaret Singana. Patric van Blerk remembers that he absolutely loved the band when he first heard them: "Jonathan is a wizard, and Dave Davies the greatest undiscovered rock leader singer in the world (alongside Brian Davidson ...!). The whole album was oh-so right – and 'ZX Dan' just screamed hit".

The Jo'burg Records' offices were situated on Rockey Street in Yeoville, above The Casablanca. Rockey Street, and the characters that populated it at the time, were name-checked on 'Yeoville Canticle', which was recorded in 1996 by "The Glee Club", another Jonathan Handley band. Ramsay MacKay, Patric van Blerk, Cheryl van Blerk, Linda Dawson (from The Insisters), Ronnie Robot and many others all got a mention on that song.

The Album:

The Rats spent August and September of 1978 recording with producer Greg Cutler at Satbel Studios in Johannesburg. Herbie Parkin remembered that the album was recorded over the weekends, starting on Friday evenings and then working 12 hour stretches (or as long as the wine lasted!).

The band had a string of drummers over the years including Niall Bell, Julian Platt, Gordon Tricker, Bubbles Steventon, Pierre de Sade, O' Henry, Steve Howells & Riaan Esterhuizen. But it was Leonard Dixon, who was only in the band from July until October 1978, who was the drummer fortunate enough to appear on this classic Rats' album.

'Into The Night We Slide' was released in October 1978 by Jo'Burg Records and received very favourable reviews.

Among the album's many attractions is the songwriting skill of Jonathan "Rat" Handley. In his Radio Rats retrospective on SAFM radio in January 2000, Nigel Vermaas asserted that Jonathan is one of the unsung heroes of South African music: "He's funny, he's witty and he's dedicated. And he's disarmingly self-deprecating".

SA music journalist Patrick Lee explained: "Jonathan was one of the rare ones who was doing more than ride a trend, I think, and he was what we would today call"a strategic thinker" – he understood what was going on and what spin he could put on it from his own world of experience".

CD Wherehouse's Doug Simpson was a young, impressionable teenager when 'Into The Night We Slide' hit the shelves. He discovered Jimi Hendrix and the Radio Rats at about the same time and he remembers that a whole new world of raw rock opened up for him. 'Into The Night We Slide' remains one of his all-time favourite SA rock albums alongside those by éVoid and Via Afrika.

Texan Kurt Shoemaker, who has never even visited South Africa, first heard 'Into The Night We Slide' in 1999. He began with an internet search for Four Jacks and A Jill and not only found 'Master Jack' but a whole wealth of "undiscovered" South African music.

In a review for the SA Rock Digest e-mag (www.sarockdigest.com) in October 1999, Shoemaker wrote: "We all relate new entertainments (books, movies, music) to similar items we already know, but I can't do that with this album. I cannot think of any performers or groups to compare the Radio Rats to, so I'm left with the conclusion that in rock this is original stuff. Additionally, while possessing a distinctive style, each song is different from the others. The album doesn't sound like the same song played over and over. Many bands confuse style with the repetition of a sound so their albums sound like twelve versions of one song - but not so in this case. This is fun and original and rollicking rock that doesn't lend itself to analogy."

Patric van Blerk had this to say about the album: "It's a lovely adventure, which never caught fire mainstream, but has enjoyed the sort of passionate niche loyalty that made a treasure out of Freedom's Children's 'Astra'. I always thought of it as the Jo'Burg Records equivalent to other gems which took decades to go gold and platinum, such as Van Morrison's 'Astral Weeks'".

The South African Rock Lists website (www.rock.co.za/rocklists) lists 'Into The Night We Slide' as one of the Top Ten Rock Albums of the '70s' alongside such greats as Hawk's 'African Day', Freedom's Children's 'Astra', and Rabbitt's 'Boys Will Be Boys'.

'Into The Night We Slide' also made the "Essential South African Albums" list, which was based on votes from a survey of various people in the SA Music industry and compiled by John Samson in 2002. (www.sarockdigest.com/essentialalbums)

'ZX Dan':

'ZX Dan', the album's opening track, is a wonderful piece of new wave space-rock whose similar lyrical theme is a nod to David Bowie's 1972 smash hit, 'Starman'. The song was also inspired by the 1977 Stephen Spielberg film 'Close Encounters Of The 3rd Kind', and has a more polished production than the rest of the album, which is a closer reflection of the band's raw live energy.

'ZX Dan' is still considered one of South Africa's greatest pop rock songs of all time. In "The SA Rock Digest/Amuzine End Of The Century Big Vote" held at the end of 1999, 'ZX Dan' received the second most number of votes in the "All time favourite SA song" category, just behind Bright Blue's classic, 'Weeping'.

'ZX Dan' was released as a single (backed by 'I'm In Love') and it entered the Radio 5 (now 5FM) charts at number 15 on New Year's Eve 1978. The song implores the listener to "turn up your radio, and play me that rock and roll", and it seems that is exactly what the public did. The song scuttled up the charts until peaking at No. 2 on 28 January 1979, where it stayed for two weeks. It was kept off the cherished No. 1 spot by Michael Jackson.

The original album version of 'ZX Dan' featured a brilliant, lengthy play-out guitar solo by Jonathan Handley, but sadly this was edited on the single version, which later appeared on the 'Best Of SA Pop Volume 2' CD.

All the songs on 'Into The Night We Slide' were generally written by Handley in the Wimpy Bar, The Palladium, and a café in Springs. The album contains references to some very weird and wonderful characters and places, based on his observations of life in this East Rand town. 'Plague Café' is about a real place on 3rd Street and 'A Visit To The Cinema' is a reference to the old movie house 'The Palladium'.

Bonus tracks:

'Rocket Road' and 'Crazy Caroline' were both recorded at Satbel Studios in Johannesburg during June 1979. It was around that time that Handley stole a bubble-gum machine from outside a café in Germiston (which he still has!). The musicians on those two tracks include Lloyd Ross on guitar and Pierre de Sade (neé Vos) on drums. 'Crazy Caroline' was released as a single in July 1979 with 'Rocket Road' on the flipside, but it didn't bother the chart-compilers at all.

It was basically downhill from there, and though the Radio Rats never recaptured their former glory, the band's core of Jonathan Handley and Dave Davies continues until today. Davies and Handley, and various friends (sometimes including Jonathan's brother Graham), have released more music over the years under various guises. Besides The Radio Rats, there is The Pop Guns, The Chauffeurs, Titus Groan, and The Glee Club. A new Radio Rats album titled 'Modern Cake Decorating' may be released sometime this millennium (or maybe not).

Re-issues of 'Into The Night We Slide':

The album was re-issued in 1988 (on vinyl) by RPM, ten years after its initial release. In 1993 it was released on CD by Radium Wreckords (in conjunction with One World Entertainment, distributed by Tusk Music), and included two bonus tracks ('Crazy Caroline' and 'Rocket Road'). It was also available for a while as a limited edition CDR, released in 1999 by Radium Wreckords, and included four more bonus tracks (taken from 1991's 'Big Beat' album).

What you are now holding is the November 2002 remastered CD, released on the RetroFresh label by Benjy Mudie.

Where are they now?

Herbie Parkin is living, working, and playing in Sweden. Dave Davies still lives in the same house in Springs where he has always lived. Jonathan Handley is a doctor in Cape Town and continues to record and archive in his home studio in the shadow of Table Mountain. Leonard Dixon lives in Germany and is still drumming.

Closing words from Jonathan Handley, November 2002:

"This album is really the story of a dying town (post-World War II Springs). But although I wrote all the songs, it was the combination of all the band members that gave the album its raw, rough energy."

Thanks to:

Jonathan Handley, Herbie Parkin, Jannie "Hanepoort" Van Tonder, John Samson, Kurt Shoemaker, Nigel Vermaas, Patrick Lee, Patric van Blerk, Doug Simpson, Benjy Mudie, and Stephen "Sugar" Segerman.

And a special thanks to my late mother, Joan, who encouraged and supported my passion for music from an early age.

Brian Currin
Cape Town, November 2002
Webpages:
---


South Africa's Rock Classics
South Africa's Rock Legends