Peach
On Loan For Evolution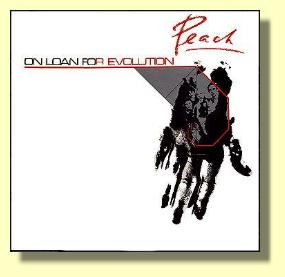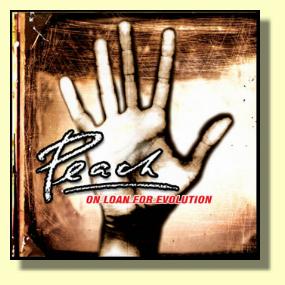 Tracks:
Look Sharp (Peach) (1:09)
A Lot Of Things (Peach) (2:42)
Springbok #7 in January 1981
Tonite (A Rose) (4:50)
Stop That (Peach/A Rose) (2:51)
Nobody Loves You (Peach) (3:12)
Complicated Game (A Partridge) (5:04)
Brilliant cover of a classic XTC song
Nightmare (Peach) (2:30)
Springbok #6 in June 1981
The Trick (Peach/A Rose) (2.58)
Middle of the Road (Peach) (2.33)
Competition (A Rose) (3:19)
Roller Coaster (A Rose) (3:59)

Bonus track on CD:
Out Of Time (A Rose) [3:22]

Session track (not on LP or CD):
Return To Sender b-side of 'Nightmare' single
Produced by Alan Rose & Peach, except 'A Lot Of Things' and 'It's So Luvverly' produced by Malcolm Watson
'It's So Luverly' remixed by Alan Rose
All titles arranged by Alan Rose

Executive Producer - Roddy Quinn
Recording Engineer - Ian Martin
Recorded & Mixed at EMI Studios, Music Centre, Johannesburg.
Musicians:
Angie Peach (Evangelia Chazimarkou) - Lead Vocals
Pennie Power (Panagoula Borsis) - Drums
Tini Tims (Fotini Borsis) - Lead guitar
Carol Wood-Greene (Cocona Chazimarkou) - Bass
Allan Rose (Allan Rosenberg) - Rhythm Guitar and Vocals
Release information:
LP: 1981, EMI, EMCJ (D) 11578
CD: March 2002, RetroFresh, freshcd 123
Buy this CD from Fresh Music
Review:
John Samson, June 2000
This record really rocks. South African's own Siouxie Sioux, Angie Peach,captures all the anger and aggression of the late 70's punk movement. Thealbum announces itself with the 1 minutes 9 second 'Look Sharp' with aroaring guitar and this is quickly followed by the catchy 'A Lot of Things'(SA Top 20 no 7). 'It's so Luverly' is a brilliantly punky ska tune and whichdeviates a bit from the pure punk feel of the record. The second side openswith a dark cover of XTC's 'Complicated Game' which is available on the SharpCuts vol 3 Compilation CD. It's followed by 'Nightmare' (SA Top 20 no 6)which I think is the standout track on the album with a superb vocalperformance by Angie. I do think that Peach ran out of ideas a bit on thelast 5 tracks of the second side as they seems to meander somewhat. Still,this side and a half of brillant punk tunes is worth having in anycollection. Pity there was no follow up album.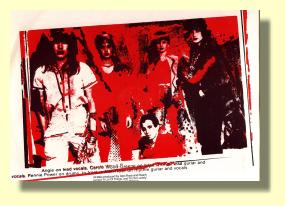 Info and pics supplied by John Samson, May 2000.
CD info thanks to Benjy Mudie, April 2002.
Webpage:
---


South Africa's Rock Classics
South Africa's Rock Legends