THE NEWS
Cape Town new wave rock band (1980 – 1982)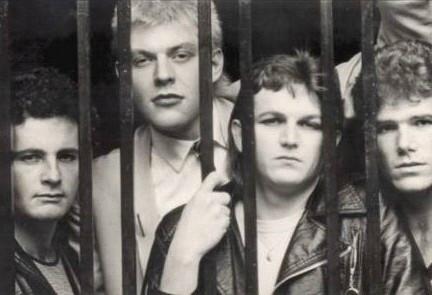 'Dish' Devey 'Stretch' Schoonraad 'Mac' MacDonald Paul Jarvis
Discography:
Single:
Up To No Good/ Station Road Rhythm (1981) Mountain Records, MOUNT 202

Album:
Mountain Rockers (1982) Compilation, Mountain Records, MOULP (L) 14
Tracks:
African Sunrise (Paul Jarvis)
Switchboard Operator (Robert Schoonraad)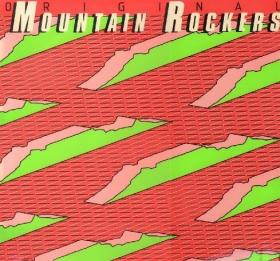 Members:
Robert 'Stretch' Schoonraad: guitar, vocals
Malcolm MacDonald: bass
Paul Jarvis: guitar
Richard 'Dish' Devey: drums, vocals
Biography:
Born out of the remnants of Cape Town's original new wave band, The Safari Suits, The News was formed when Richard 'Dish' Devey and Paul Jarvis teamed up with long standing friends, Malcolm MacDonald and Robert 'Stretch' Schoonraad. Jarvis and Devey were determined to carry on with the momentum that The Safari Suits had created, and The News continued experimenting with a mixture of rock, reggae and local South African rhythms. With the rapid-fire guitar of 'Stretch' Schoonraad, the crisp rhythms of Paul, backed by the solid bass lines of 'Mac' and the tight drumming of 'Dish', The News were able to put all their previous influences together and create some exciting original music. And when it came to original music, they were uncompromising. 'We are trying to get a sound that can be exported from the country. There's a British sound and an American sound that are identifiable, so why can't there be a valid South African sound?' , said Richard. Refusing to do a single cover, and all four members writing material, they soon had enough songs between them to sustain an evening. Their music, described by the media at the time as 'Afro-rhythm', rapidly gained popularity on the countries campuses such as UCT, Wits and Stellenbosch, and they also set out to expose their material in pubs, clubs and even traditional disco venues such as Club 604 and Charlie Parkers.
De Akker, a popular student pub in Stellenbosch, was perhaps the venue where they gave some of their most memorable performances. Their uncompromising originality often impressed students at the time, some of whom would one day become well known themselves, such as the late Nico Burger of The Blues Broers and Steve Louw of Big Sky. Strangely enough, Paul had met Steve Louw at school and they had played in their first schoolboy band together, using an old converted 'chicken shack' as a band room! Other gigs at which The News performed would often include bands from other parts of the country such as The Asylum Kids, The Gents and Peach who were promoting similar musical styles.
The News released two tracks on the compilation album 'Mountain Rockers', produced by Paddy Lee Thorpe of Mountain Records. They also released one 'seven single', 'Up To No Good/ Station Road Rhythm', which went to number one for a number of weeks on the UCT and Wits campus radio hit parades. It reached number twenty seven on the SA hit parade, and 'Station Road Rhythm' was nominated best local single of 1981 by The Cape Argus. On a country-wide tour to promote the single, they played for 1,500 eager Wits university students, at the 'Free Peoples' concert, as well as a number of clubs in Johannesburg and Durban.
After three tireless years of playing, sometimes up to three different venues a week, Stretch and Dish felt the need to spread their wings and have a taste of the international music scene. Stretch made his home in Hollywood, California where he played the Sunset Strip for years with a number of successful bands and became a sought after session guitarist. After doing a stint with Steve Louw's All Night Radio, Dish moved to London where he played with éVoid and other successful British bands.
Mac and Paul live in Cape Town where they also both still play in bands.
Some lesser-known facts:
Paul, Richard and Mac met each other at school and, in the early '70's, practised regularly in Richard's garage.
Rob lived next door to Richard at the time.
For some reason, Rob never played in Richard's garage.
Charl Avenant, who was the first bassist of The Safari Suits, played in Richard's garage.
Rob's nickname was 'Stretch' because he was 'very tall'.
Richard was given the nickname 'Dish' by his schoolmates because of the imaginary cymbal sound he'd make whilst doing his umpteenth drum solo on his school desk ('and not because of his looks', he's quoted as saying).
'Dish's' first real drum set had been salvaged from a fire and cost him less than R30.
Paul's L series 1963 Fender Strat, which he still plays today, was found in a second hand music shop in 1978. It cost him R300 at the time.
All four members of The News still play in bands in various parts of the world
Family Tree:
Part of the Steve Louw family tree.
---
South Africa's Rock Legends
South Africa's Rock Classics