Little Sister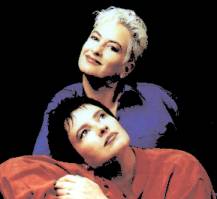 Discography:
Albums:

Ready And Willing (1990)
More Than Meets The Eye (1992)
Along The Way (1993)
Heart Of The Matter (1996)
While No One Was Looking (1999)
Biography:
Little Sister are one of South Africa's hottest, most exciting and professional acts ever to emerge on the pop/rock scene. The two sisters from Pretoria are a tight, matured unit. They have a polished acoustic show, presenting a special blend of their original and cover version songs.

Over the years Debbi (born 15th August) and Jenni (born 8th October) Lonmon have absorbed many musical influences to form the unique Little Sister sound – acoustic folk, blues and hard edged rock 'n' roll. They have put together an exciting harmonious performance featuring both girls on acoustic guitar and vocals.

Winners of numerous Music Awards, they have toured all corners of South Africa and bordering countries, been on innumerable TV shows and extravaganzas and have been the support artist for various huge international acts, amongst them Bryan Adams, Indecent Obsession, and UB40. Also invited to play on the inauguration for President Nelson Mandela. Little Sister have 5 albums to their credit with many original No. 1 national hits including 'Dear Abbie,' 'Peace on Earth,' and 'Mystery of Life.' In 1993 the girls travelled to the Far East to promote the album release of 'Along The Way.'

Debbi and Jenni successfully performed their highly entertaining "unplugged" show entitled "In Acoustic Mood" at the 1997 Grahamstown Festival. In 1999 the retrospective album 'While No One Was Looking' was released.
Taken from the Little Sister website
Webpage:
The Official Little Sister Website
---


South Africa's Rock Legends
South Africa's Rock Classics