Led Zeppelin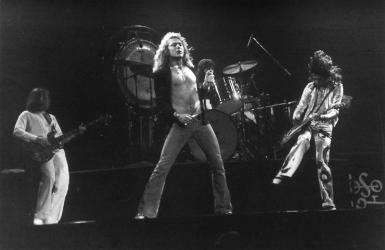 Biography:
In October 1968, out the remnants of the Yardbirds, arose a Zeppelin, a Led Zeppelin, in fact. Like their name, which contrasted "heavy" and "light" (like Iron Butterfly), the music had shades of light and dark, sometimes rocking hard, other times light and gentle. Often referred to as a "heavy metal" band, Led Zeppelin went far beyond that label to explore new musical terrorities and set standards that still stand today.

A Zeppelin concert was an event that would stay burned on the senses of anyone who saw them live. For those legions of fans who have never seen a Zeppelin concert there is very little in the official catalogue to satisfy the desire to hear Led Zeppelin's dynamic on stage performances. Page himself admitted that the 1976 THE SONG REMAINS THE SAME soundtrack album was lack-lustre. The 1997 BBC SESSIONS CD, however, gave us some idea of the early days of an experimental blues-rock band that would go on to become one of the biggest rock bands in the world.

Formed by British guitarist Jimmy Page (born James Patrick Page, 9 January 1944, Heston, Middlesex, England) following the demise of his former band, the Yardbirds. Jimmy had been a respected session musician during the 60s in the UK. He has forgotten most of those sessions, but it is well-documented that he played on the Who's "I Can't Explain", The Kinks "You Really Got Me", Joe Cocker's "With A Little Help From My Friends" and many other great 60s hits for acts like Donovan, Petula Clark and even Val Doonican!

John Paul Jones (born John Baldwin, 31 January 1946, London, England; bass/keyboards), was also a respected arranger and session musician and had worked with Cliff Richard, Lulu, Jeff Beck and many more. Robert Plant (born 20 August 1948, West Bromwich, West Midlands, England), was the frontman for struggling Midlands act Hobbstweedle. Robert recommended drummer John "Bonzo" Bonham (born 31 May 1947, Birmingham, England, died 25 September 1980) when first choice B.J. Wilson opted to remain with Procol Harum. The quartet jelled immediately and having completed outstanding commitments under the name 'The New Yardbirds', became Led Zeppelin. The Who's Keith Moon, had remarked that this new band would probably go down like a lead Zeppelin, and the name stuck.

Led Zeppelin were never a singles band. In fact, at manager Peter Grant's insistence, no UK singles were ever released. They were out-and-out an album band and all their albums achieved million-seller status, often going multi-platinum.

The group toured the USA supporting Vanilla Fudge prior to the release of their explosive debut LED ZEPPELIN, which included several exceptional original songs, including; "Good Times, Bad Times" and "Communication Breakdown", and skilled interpretations of blues standards "How Many More Times?" and "You Shook Me." The album took only 30 hours to record at Olympic studios close to the River Thames in Barnes in West London.

Jimmy's staggering dexterity was matched by Plant's expressive, beseeching voice, a combination that flourished on LED ZEPPELIN II. The group was already a headline act, drawing sell-out crowds across the USA, when this propulsive collection confirmed an almost peerless position. The introductory track, "Whole Lotta Love," a thinly-veiled rewrite of Willie Dixon's "You Need Love," has since become a classic. In concert "Whole Lotta Love" could stretch to over 20 minutes and would include a number of references to rock and roll's past. Plant would cry "Let That Boy Boogie" and Pagey would let rip with some bluesy boogie guitar.

"Livin' Lovin' Maid" and "Moby Dick," Bonham's exhibition piece, were a staple part of the quartet's early repertoire. Elsewhere, "Thank You" and "What Is And What Should Never Be" revealed a greater subtlety, a factor emphasized more fully on LED ZEPPELIN III. Preparation for this set had been undertaken at Bron-Y-Aur cottage in Snowdonia (immortalized in "Bron-Y-Aur Stomp") and a resultant pastoral atmosphere permeated the acoustic-based selections "That's The Way" and "Tangerine". The original blues work-out of "Since I've Been Loving You" featured some lovely organ from John Paul Jones and "The Immigrant Song" and a reworking of Leadbelly's "Gallows Pole" reasserted the group's traditional fire, and the album's release confirmed Led Zeppelin's position as one of the world's leading attractions. In concert, Plant's sexuality and Adonis-like persona provided the perfect foil to Page's more mercurial character, yet both individuals took full command of the stage, the guitarist's versatility matched by his singer's unfettered roar.

Confirmation of the group's ever-burgeoning strengths appeared on LED ZEPPELIN IV, also known as 'Four Symbols', the 'Runes Album' or 'Zoso', in deference to the Runic symbols on the inside cover. The album cover bore no band name or title at all, yet it went to UK#1 and made #2 in the US. It was a guaranteed million-seller even before its release.

Consult any radio station or music magazine "All-time greats" poll, and you are sure to find "Stairway To Heaven" at the top or very near to it. "Stairway," a group tour-de-force is arguably THE definitive heavy-rock song, and it continues to win polls today. Unable to be edited, this track is always played to its full 8 minute length. Truly, a classic.

The energetic "When The Levee Breaks" is now also lauded as a masterpiece, particularly for Bonham's drumming. "Black Dog" and the anthemic "Rock n Roll" saw Zeppelin at their immediate best, while "The Battle Of Evermore" was marked by a vocal contribution from Sandy Denny of Fairport Convention.

HOUSES OF THE HOLY followed, again with no branding on the album cover whatsoever. Critics queried its musically diverse selection the set embraced folk ballads, reggae and soul, yet when the accustomed power was unleashed, notably on "No Quarter," the effect was inspiring.

A concurrent US tour broke all previous attendance records, the proceeds from which helped finance an in-concert film, issued in 1976 as THE SONG REMAINS THE SAME, and the formation of the group's own record label, Swan Song. Bad Company, the Pretty Things and Maggie Bell were also signed to the company, which served to provide Led Zeppelin with total creative freedom.

PHYSICAL GRAFFITI, a double set, gave full rein to the quartet's diverse interests with material ranging from the compulsive hard-rock of "Custard Pie" and "Sick Again" to the desert wasteland experimentation of "Kashmir".
The irrepressible "Trampled Under Foot" joined an ever-growing lexicon of peerless performances while "In My Time Of Dying" showed an undiminished grasp of progressive blues. Sell-out appearances in the UK followed the release, but rehearsals for a projected world tour were abandoned in August 1975 when Plant sustained multiple injuries in a car crash.
A new album was prepared during his period of convalescence, although problems over artwork delayed its release. Advance orders alone assured PRESENCE platinum status, yet the set was regarded as a disappointment and UK sales were noticeably weaker. Its 10-minute maelstrom, "Achilles Last Stand," was indeed a remarkable performance, but the remaining tracks were competent rather than fiery and lacked the accustomed sense of grandeur.

In 1977 Led Zeppelin began its rescheduled US tour, but on 26 July news reached Robert Plant that his six-year-old son, Karac, had died of a viral infection. The remaining dates were cancelled amid speculation that the group would break up.

They remained largely inactive for over a year, but late in 1978 flew to Abba's Polar recording complex in Stockholm. Although lacking the definition of earlier work, IN THROUGH THE OUT DOOR was a strong collection on which John Paul Jones emerged as the unifying factor. Two concerts at Britain's Knebworth Festival were the prelude to a short European tour on which the group unveiled a stripped-down act, inspired, in part, by the punk explosion. Rehearsals were then undertaken for another US tour, but in September 1980, Bonham was found dead following a lengthy drinking bout. On 4 December, Swan Song announced that the group had officially retired, although a collection of archive material, CODA, was subsequently issued. Included on this album was "Wearing And Tearing", Zeppelin's answer to the Punk statement about "the dinosaurs of rock".

Jones later became a successful producer, notably with the Mission, while Plant embarked on a highly successful solo career, launched with PICTURES AT ELEVEN. Page scored the film Death Wish 2 and, after a brief reunion with Plant and the Honeydrippers project in 1984, he inaugurated the short-lived Firm with Paul Rodgers. He then formed the Jimmy Page Band with John Bonham's son, Jason, who in turn drummed with Led Zeppelin on their appearance at Atlantic's 25th Anniversary Concert in 1988. A brief re-union at Live Aid on 13 July 1985 saw a short set of classics including "Stairway" with Bonzo's drumstool taken by Phil Collins and Tony Thompson.

Page recorded an unsatisfactory album with Deep Purple's David Coverdale in 1993, but then 1994 saw Page and Plant two-thirds of the way to a reformation with their ironically titled UNLEDDED project, though John Paul Jones was conspicuous by his absence (for want of an invitation). Page & Plant's NO QUARTER album in 1994 featured Morrocan and Egyptian influences and musicians. The WALKING INTO CLARKSDALE album in 1998 re-affirmed Page & Plant's place as rock's flame-keepers.

Although their commercial success is unquestionable, Led Zeppelin are now rightly recognized as one of the most influential bands of the rock era and their catalogue continues to provide inspiration to successive generations of musicians.
Discography:
Led Zeppelin (1969)
Led Zeppelin II (1969)
Led Zeppelin III (1970)
Led Zeppelin IV (1971)
(aka 'Four Symbols', 'The "Runes" Album', 'Untitled' or 'Zoso')
Houses Of The Holy (1973)
Physical Graffiti (1975)
Presence (1976)
The Song Remains The Same (Live 1973 - Soundtrack) (1976)
In Through The Out Door (1979)
Coda (Compilation of outtakes) (1982)
Remasters (Compilation) (1990)
Led Zeppelin (4CD Box Set Compilation) (1990)
Boxed Set 2 (Compilation) (1993)
The Complete Studio Recordings (10CD Box Set) (1993)
BBC Sessions (Live 1969 & 1971) (1997)
Early Days (Compilation) (1999)
Latter Days (Compilation) (2000)
The Very Best Of Led Zeppelin (Re-issue of 'Early Days' & 'Latter Days') (2002)
How The West Was Won (3CD - Live 1972) (2003)
Written by Brian Currin and originally published on the Images Of Rock website in 1999.
---
Fantasy collections:


These CDs are part of my series of imaginary compilations, where official CDs are non-existent or inadequate in my opinion.
Wearing And Tearing - The Very Best Of Led Zeppelin
Train Kept A-Rollin' - Live Through The Years
---
Cover versions:


The following is a list of cover versions available to download at the Rhythm Online Music Store.
Immigrant Song - Not My Dog
Tangerine - Jack Hammer
Stairway To Heaven - Gregorian
---
Webpage:
Led Zeppelin

This website is part of the
South African Rock Encyclopedia.