John Ireland
Thinking Aloud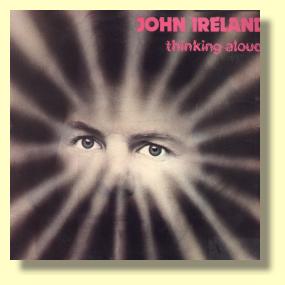 Tracks:
You're Living Inside My Head (6:30)
Nicole (4:48)
Stars (7:29)
Remember June Last Year (6:04)
With A Bit Of Lu-lu-luck (4:27)
Sunshine Of Your Love (4:10)
Out Of My Mind (4:40)
All songs by John Ireland except 'Sunshine Of Your Love' (Jack Bruce/Peter Brown/Eric Clapton)
Produced by Peter Hubner/M.S.C. Productions
Recorded at Videosound Studios, Blairgowrie June/July 1978
Produced and Engineered by John Lindemann
Recorded at RPM Studios
Musicians:
John Ireland: Vocals, keyboards, synthesisers
Jethro Butow: acoustic & electric guitars
Gerald Stockton: bass guitar & trombone
Richard Pickett: drums
René Veldsman: Female vocals on 'Stars' and 'With A Bit Of Lu-lu-luck'
Mike Scott & Peter Hubner: trumpets
Francoise Bax: Female voice on 'Nicole'
Maurice Tostee: French translation of 'Nicole'
Release information:
1978, Teal, JIC9999 (South Africa)
1978, Ariola Records 200 289 - 320 (Cassette 400 289 - 352) (Germany)
Comments:
'You're Living Inside My Head' reached #8 on the Springbok charts in December 1978. This song is a wonderful adaption of the Greensleeves melody, supposedly composed by Henry VIII (he of the 6 wives).
Review:
Opening with the disco classic 'Living inside my Head', John Ireland's 'Thinking Aloud' is a great album moving from pure disco to pure rock to rock ballad and back to disco with ease. Released in 1978, the disco themes fitted in well with the then current international music scene with 'Saturday Night Fever' having been released the previous year.
'Living inside my Head' adapts the tune of 'Greensleeves' and puts it to a disco background. An epic song clocking in at over 6 minutes. Shades of Jean-Michel Jarre show through as SA's master of the keyboard transports you on a space flight with the haunting oboe sound carring the old Henry VIII tune just below the surface of the disco beat.
'Stars' is another disco track, with the lyrics concentrating on star signs of the ladies, something which seemed to be important at that time. This is pure hardcore disco as opposed to 'Living..' which is more flighty and spacey.
'Nicole' and 'Remember June last year' are rock ballads. Both are well executed. The latter does at times border on becoming quite cheesy, but a strong guitar throughout keeps it from falling into that trap.
The pure rock comes in the form of 'With a bit of Lu-Lu-Luck' and a cover of Cream's classic 'Sunshine of your Love'. The guitar work on both tracks is great stuff and I am sure prompted a few air guitar solos in a few bedrooms of 1970's South Africa. Jethro Butow is responsible for keeping the record rocking. Interestingly the traditional guitar lead of 'Sunshine..' seems to have been substituted with a heavy rock synth sound, while the guitar is left to ably fill in the background. This is all done to the background of a disco beat. Not the greatest cover version I've heard of this classic but it still rocks.
The album closes with 'Out of my Mind' parts of which seem to have been inspired by early Kraftwerk material with the funky bass sound coming from the keyboard in the "plink plonk" style of the early electronic pioneers. Fortunately a strong vocal over the top keeps this from becoming an embarrassing imitation.
This is a much stronger album than the later 'John Ireland' which featured 'I Like...'. and for it's time should have contended for chart placing worldwide. It did get a release in Germany (with no references to South Africa other than that it was recorded at Videosound Studios, Blairgowrie... that must be Blairgowrie in Middlesex [grin]).
Perhaps with the disco sound enjoying a bit of renewed popularity, this would be a good time for a re-release of possibly the best album from South Africa's keyboard wizard.
- John Samson, November 2000.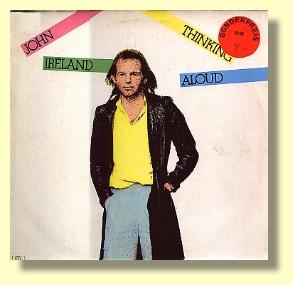 Album cover for German release
Webpage:
All info supplied by John Samson, October 2000.
---


South Africa's Rock Classics
South Africa's Rock Legends