Immediate Albums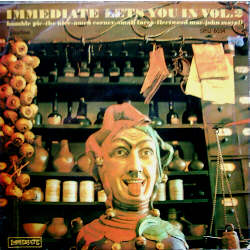 Discography: South African Pressings
Immediate Let's You In

Tracks:


Afterglow [Small Faces]/ Handbags and gladrags [Chris Farlowe]/ Happy freuds [The Nice]/ Telephone blues [John Mayall and the Bluesbrakers]/ Draggin' my tail [Eric Clapton with Jimmy Page]/ Rondo [The Nice]/ Someday baby [Cyril Davies and the All Stars]/ God only knows [PP Arnold]/ The death of Neil [Duncan Browne]
Release info:
Immediate, IMLJ 001, 1969
Above album was issued in UK on Immediate IMLYIN 1. UK Immediate assigned number 001 to the McCoys' album "Hang on sloopy". Please note that EMI SA did not issue the complete Immediate singles and album catalogue in South Africa.






Frank Allen, bassist of the Searchers, sold his unissued copy of the Billy Nichols album on Ebay for 1750 GBP [source: RC, April 2004]


In South Africa the McCoys' singles were issued on the Stateside label. Their album was not released locally, but the single "Hang on sloopy" was hugely popular and peaked at #2 on the Springbok charts in 1966. Two more singles "Fever/ Sorrow" and "Ko Ko/ Don't worry mother your son's heart is pure" were released in SA but without any commercial success.


Andrew Loog Oldham also signed Fleetwood Mac to his Immediate label in 1969. They only recorded one single "Man of the world", IMJ 080, for the Label. The b side of the single "Somebody's gonna get their head kicked in tonite" was credited to Earl Vance & the Valiants. The track was composed by Jeremy Spencer and not Jeremy Taylor as stated on the Immediate singles web page. Ag pleeze daddy!!


Chris Farlow: 14 Things To Think About

Tracks:


Think/ My colouring book/ Lipstick traces/ Summertime/ That's no big thing/ Don' play that song/ Looking for you/ It's all over now, baby blue/ I just don't know what to do with myself/ Rockin' pneumonia/ Why don't you change your ways/ My girl Josephine/ Yesterday/ Don't just look at me
Release info:
Stateside, JSL 5029, 1966
Album issued on Immediate ILMP 005 in UK.



Trutone SA also issued an album entitled " The fabulous Chris Farlowe and the Thunderbirds" on CBS, ALD 8003, 1967. The album included the a & b sides of four singles Farlowe recorded before he was signed to Oldham's Immediate label.





Chris Farlowe: The Art Of ...

Tracks:

What becomes of a broken heart/ We're doing fine/ Life is but nothing/ Paint it black/ Cuttin' in/ Out of time/ You're so good for me/ It was easier to hurt her/ I'm free/ I've been loving you too long/ Reach out I'll be there/ Ride on baby
Release info:
Immediate, IMLJ 006, 1969
Chris Farlowe's single "Out of time/ Baby make it soon" was issued on Stateside, JSS 1102, in South Africa. His follow up single "Ride on baby/ Headlines", Stateside, JSS 1113, failed to chart in SA.


The Small Faces: Ogdens' Nut Gone Flake

Tracks:

Ogdens' nut gone flake/ Afterglow/ Long agos and worlds apart/ Rene/ Song of a baker/ Lazy Sunday/ Hapiness Stan/ Rollin' over/ The hungry intruder#/ The journey/ Mad John/ Happydaystoytown
Release info:
Immediate, SA OO7, 1969
Note catalogue prefix SA. UK Immediate cat no: IMSP 012

Album later reissued with EMI logo on front cover


The Small Faces: "Small Faces"

Tracks:

(tell me) Have you ever seen me/ Something I want to tell you/ Feeling lonely/ Happy boys happy/ Things are going to get better/ Green circles/ Become like you/ Get yourself together/ All of our yesterdays/ Talk to you/ Show me the way/ Up the wooden hills to Bedfordshire/ Eddie's dreaming/
Release info:
Immediate, IMLJ 008, 1969
PP Arnold: Kafunta

Tracks:

Letter to Bill/ God only knows/ Eleanor Rigby/ Yesterday/ Angel of the morning/ It'll never happen again/ As tears go by/ To love somebody/ Dreamin'/ Welcome home
Release info:
Immediate, IMSJ(D) 017, 1969

This album was re-issued by EMI SA on Brotherhood label, RTL (M) 714, 1983. The album was arranged and conducted by the ex- Shadows drummer, Tony Meehan.


Tony Meehan and ex- Shadows bassist, Jet Harris, issued this Decca EP [rare SA pressing valued at 1200 ZAR] in 1963.


The Nice: Ars Longa Vita Brevis

Tracks:

Daddy, Where Did You Come From?/ Little Arabella /Happy Freuds/ Intermezzo From The Karelia Suite/ Don Edito El Gruva/ Prelude: 1st Movement Awakening: 2nd Movement Realisation: 3rd
Release info:
Immediate, IMSJ(D) 020, 1969
Amen Corner: The National Welsh Coast Live Explosion Company

Tracks:

introduction:Macarthur park/ Baby do the philly dog/ You're my girl/ Shake a tail feather/ So fine/ [our love]Is in the pocket/ Penny lane/ High in the sky/ Gin house/ Bend me shape me/ [if paradise is] Half as nice
Release info:
Immediate, IMSJ(D) 023, 1969



The single "Bend me shape me" was issued on the Deram label in South Africa. The song also featured on various local Decca compilation albums.


Humble Pie: Town and Country

Tracks:

Take me back/ Sad bag of Shaky Jake/ Light of love/ Cold lady/ Down home again/ Ollie Ollie/ Every Mother's son/ Heartbeat /Only you can see/ Silver tongue/ Home and away
Release info:
Immediate, IMSJ(D) 025, 1969
The Nice: "The Nice"

Tracks:

Azrael revisited/ Hang onto a dream/ Diary of an empty dream/ For example/ Rondo (69)/ She belongs to me
Release info:
Immediate, IMSJ(D) 026, 1969
Chris Farlowe: The Best Of ...

Tracks:

Out of time/ The last goodbye/ Ride on baby/ My way of giving/ Think/ Satisfaction/ Handbags and gladrags/ Reach out I'll be there/ Moanin'/ Yesterday's papers/ Dawn/ Paint it black
Release info:
NEMS Immediate, IML 1005, 1975
Recommended Website
UK Immediate singles and album discography
Tertius Louw, April 2004
---


South Africa's Rock Legends
South Africa's Rock Lists