Forces Favourites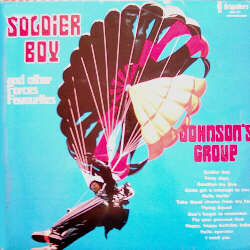 Tracks:
Soldier Boy (Dixon-Green) [1.53]
Forty Days (Berry) [3.00]
Don't Forget To Remember (B&M Gibb) [3.27]
I Need You (Knights) [2.22]
Hello Operator (Stewart-Alridge) [2.43]
Take These Chains From My Heart
(Heath-Rose-Williams) [2.23]
Hello Darling (C Twitty] [2.15]
Happy Birthday Baby (Stepping Wolf) [2.26]
Flying Squad (Viljoen) [2.32]
Gotta Get A message To You (Gibb) [3.09]
For Your Precious Love (Brooks-Butler) [2.49]
Goodbye My Love (Rosseau-Celest) [2.47]
Musicians:
Johnson's Group
Release information:
Soldier Boy and other Forces Favourites, 1 November 1971, Brigadiers, BRS 311, Stereo
Liner Notes
by Patricia Kerr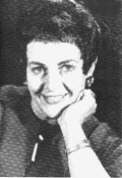 It was with some trepidation that I approached the task given me by Brigadiers Records of selecting what I thought were the most popular tunes in "Forces Favourites" . Although I have been presenting this programme for a number of years on the English Service of the South African Broadcasting Corporation and have come to know the tastes of the young people who listen to this programme (which is broadcast to the young men doing their National Service, their families and girl-friends) it is always difficult to pick a short list of favourite songs. But I am hoping that this record will become so succcesful that another "Forces" L.P. will be considered, and I can have a ball choosing more favourite melodies.

On those particular Saturday afternoons, in the not-so-distant past, the top tune has always been "Soldier Boy" ...a number which was recorded by a group called the Shirelles. As I have never seen another disc by this group, I can only surmise that they must have retired from the record scene, having been put in the millionaire bracket by the frequent plays of their particular song! Ricky Nelson's hit of some years back, "I need you", has also had a very good innings, and so has the Flames recording of "For your precious love". Once the Bee Gees came on the record scene, so many of their lovely songs were requested, that it hasn't been easy to pinpoint the most popular, but I think that "Don't forget to remember" must take pride place over "Gotta get a message to you".

A song which marks the duration of training let while doing National Service, is naturally "40 Days", so this song had to feature on an L.P. of this nature. I am grateful that songwriters haven't come up with songs that might mark 7 days, 60 days or even 365 days, as there just wouldn't be room in the programme for any other songs! [ Pat did play Dave Clark Five's "Nineteen Days" as well ] On this L.P. you will find many other songs, which I am sure will be on the record scene for a very long time to come. The boys do their National Service every year, and there are so many men in the Permanent Defence Force, to whom these songs mean a great deal. I hope you will all enjoy the selection, whether you are in uniform, or not, and that my special friends in the Flying Squad, the Police Forces everywhere, the Army, Navy and Airforce personnel, and Top Brass, will remain listeners to this record "Soldier Boy, and other Forces' Favourites" as long as the grooves last.
Tertius Louw, May 2003
---


South Africa's Rock Legends
South Africa's Rock Classics