The Finders Keepers
Stained Glass Sun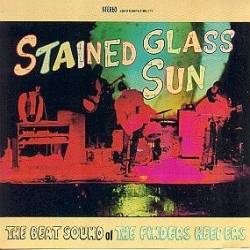 Tracks:
Stained Glass Sun (2:57)
Man Of The Sea (2:23)
Catch The Wind (3:10)
Your Lovin' (2:01)
Urban Spaceman (1:43)
Sometimes (2:07)
Sailor Go Home (2:35)
Orient Green (3:01)
With The Wind (2:02)
My Little Lady (1:42)
The Folk Singer (3:16)
Reflections (3:08)
Musicians:
John Allison: Vocals
Chris Anderson: Vocals on "Man of the Sea" and "Orient Green"

Produced by Pierre Lombard and Dries Lombard
Release information:
1968
Comments:
Sleeve Notes:
Something old, something new, something borrowed and something blue - applies to this record by the Finders Keepers, except that the "something blue" are mostly new compositions by various members of the group. Vocal is by John Allison, who comes from England, and we are wondering whether we detect something of Tommy Steele's influence in some of the numbers? Chris Anderson sings "Man of the Sea" and "Orient Green".The Finders Keepers perform in the Northern Suburbs of Johannesburg and are tremendously popular wherever they appear. We are confident that something of this record will appeal to you. Remember, there are no fewer than seven new numbers of which any one can become tomorrow's hit tune. Add this record to your collection now and prevent later disappointment when stocks run low.
All info and cover scan supplied by Werner Regenthal from Brazil.
---


South Africa's Rock Classics
South Africa's Rock Legends