éVoid
Here Comes The Rot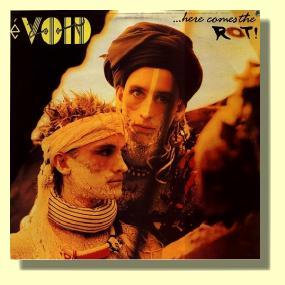 Tracks:
Fashion War
Under My Feet
Sgt. Major
Altar Pop
Shelter Me
Sangoma
Shuffle in the dust
Winter
Here comes the Rain

Bonus tracks on CD re-issue:
Kwela Walk from 12" single in 1984
Telem and Godon from 12" single in 1984
Civil Servant
Shoes
Ordinary Life
Produced by Greg Cutler & éVoid

All songs written & arranged by Erik and Lucien. Additional lyrics on "Sangoma" - Kay

All songs published by Tan Music

Recorded at SAV Studios, London - Summer of '86
Musicians:
Lucien Windrich - Guitar, Vocals
Erik Windrich - Keyboards, Vocals
Ethnotronic Programming - Lucien & Erik
Drums on 'Sgt. Major' - Wayne Harker
Release information:
LP: 1986, WEA International, WIC 8027 (Cassette ZWIC 8027)
CD: September 2001, RetroFresh, freshcd 117
Buy éVoid CDs from Fresh Music
Review: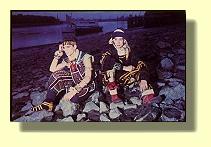 After the runaway success of their debut album 'éVoid', the Windrich brothers left SA for London and began work on 'Here comes the Rot'. This album starts where they left off with 'Dance the Instinct' which has a similar sound & feel to 'Shadows', but you soon realise that this is a more mature sound, musically & lyrically.

The album also benefits from a tighter production, but does not lose the essence of éVoid. 'Altar Pop' is a thrashy, punky number that ends the first, up beat side. The b-side is more melancholic and finds the Windrich's in a more reflective mood. 'Shuffle in the Dust' is a gem of a song. Think 'Taximan' played in a minor chord and at half the speed.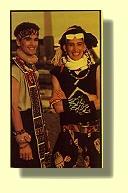 An instrumental track 'Winter' is a sad sounding piece of music that leads into the closing track 'Here Comes The Rain'. Listened to back to back, this is definitely the superior of éVoid's albums. It may not have the catchy singles of their debut, but is a more coherent work.

Get your hands on a copy if you can.

"Well it comes as no surprise
Swimming in a bottomless ocean
Further away from a middle ground
From the place that is my home"

From "Shuffle in the Dust"

-- John Samson, May 2000
Well now you can get your hands on this classic along with some previously unreleased tracks, thanks to Benjy Mudie from Retro Fresh. Despite Benjy disagreeing with my verdict on the production and I suspect he also disagrees with my conclusion on which is the superior album, I stand by what I've said. I think though that whatever one thinks about which is the better album, 'éVoid' or 'Rot', few would disagree that as both albums bear the name éVoid they stand for South African pop of the highest order.

Apart for the great album that 'Rot' is, it's worth owning the re-release purely for the bonus tracks. 'Kwela Walk' remains my favourite éVoid song and it's great to upgrade from my scratchy old 12" single to CD remastered quality. 'Shoes' is another of my favourites and along with 'Kwela Walk' are closer to the sound of the first album than the rest of 'Rot'.

Once again Retro Fresh have come up trumps, allowing those who missed out the first time an opportunity to hear this classic, while allowing those who have owned and lost, or owed and treasured to replace in style.
-- John Samson, October 2001
Webpage:
All info and pics supplied by John Samson, May 2000
---


South Africa's Rock Classics
South Africa's Rock Legends