Dog Detachment
Fathoms Of Fire
"Falling through the mists of time
I fathom the fires of my mind"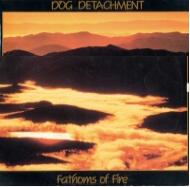 Tracks:
Touch The Sky
Paper Ships
Cheri Amour (A Thousand Beds)
Blind Mice
Bop Till You Drop
Kings Of The Beast
Battle's Cry
It Never Ends
Ice Cold Love
What Spring Will Bring
Musicians:
Brian Armstrong: vocals, guitar
Mike Adams: keyboards, rhythm guitar, vocals
Terry Armstrong: bass, vocals
Alan Armstrong: drums, percussion
Composed, arranged, recorded, engineered and produced by Dog Detachment.
Recorded at Universal Studios.
All words and music published by MPA - 1985.
Release information:
1985, Rampant, DDT100 (Cassette: DDTC100), marketed and released by Rampant. Distributed by Gallo.
Buy Dog Detachment CDs from Fresh Music
Reviews:
SA Rock Digest, 15 May 2000
John Samson
This has to be the South African album of the 80's. There is a feeling of desolation to this record, enhanced by the tortured vocals. The 2 singles 'Touch the Sky' and 'Waiting for a Miracle' open the album and are great pop rock tunes with some excellent guitar work. The piano scales on 'Waiting' are simplistic but effective, and can even leave you whistling this "tune". Every track is brilliant, although some took a little while to grow on me. The a-side ends with an upbeat feel with the far too short 'Bop till you drop' which for some obscure reason is recorded at a much quieter level than the rest of the album. The b-side is features the haunting 'It never ends' while 'Ice Cold Love' really rocks. How long do we have to wait for the records companies to wake up and re-release such classics as this on CD?
---
Sunday Times 9 June 1985

THE CALL OF SOUTH AFRICA Part TWO
by Gus Silber

What's this? The Four Houndsmen of the Apocalypse have discovered......love? Not arf they haven't, if the plangent musical and yelpingly yearning lyrical content of "Fathoms of Fire" (Rampant Records) is to be believed.

But is it? Have Dog Detachment really forsaken their post-nuclear protopunk paramilitarism for a new concern with the wet-nosed macho ache of adolescent love and the rabid bite of young lust?

Er, I think so. Certainly the first side of this elpee (independently recorded after DDT's breakaway from the nervous David Gresham stable) is electrically effervescent with optimism and tender passion.

The guitar-drive is now soaraway acoustic in the manner of REM; the heroic harmonies now wear the spiritual shiver of a swoon; the synth sings an octave closer to heaven; and even the Apocalypse becomes a metaphor for love's thermo-nuclear assault:

"Take my arm and atom bombs and blazing comets fall,
and tanks and armies roll deep inside me..........."

This is the fifth dimension all right: you even get a Parisian pavement ballad called "Cheri Amour (A Thousand Beds)", complete with synthesised accordion, Gallic gargling and a plaintive whistling chorus.

This is almost too much to bear from a combo whose scowls and burning torches scythe the night on the back cover, and it comes of something of a relief when the boys burst back into awkward adolescent existentialism on "Blind Mice", a bad Iron Maiden-type parable of sin and purgatory.

And this is but a hint of the darkness to come, for on side two the Dogs appear to be mortally overcome with embarrassment for their earlier soppy pre-occupations

"It never ends! Hearts get torn and no-one wins!"

This is okay; schizophrenia enlivens art. What is not okay is when that schizophrenia turns to blind hate, as it does in a jackboot Judgement Day diatribe called "Kings of the Beast".

If my paranoia serves me correctly, this catchy little ditty is all about the "International Zionist Conspiracy" and the "Lie of the Holocaust":

"Revolutions once a day,
keep the bomber boys at play,
keep the goyim masses tame,
fool the whole world once again......
so fall and pray to those who hold sway".

You don't have to be Jewish (or paranoid) to get the message. And you don't have to take it seriously, either. It's only a song, right? And maybe it's meant to provoke in an ironic, rather than an iron-fisted, way.

But it also makes you wonder whether Dog Detachment know what kind of fire they're playing with. Fathoms or fascists? Not arf.
Webpage:
Info supplied by John Samson, April 2000. Additional info and Sunday Times review from Martin Probert, May 2000.
---


South Africa's Rock Classics
South Africa's Rock Legends