David Kramer
Die Rooi Velskoen Man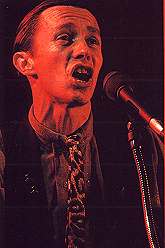 Discography:
Download David Kramer albums at:


Rhythm Online Music Store
Biography:
David Kramer was born in Worcester in the Cape in 1951. He played in a band called The Creeps in the 60's, and moved to England in 1971 to study textile design at Leeds University. He released is first half live/half studio album 'Bakgat' in 1981, most of which was banned by the SABC. His follow up album 'Die Verhaal van Blokkies Joubert' came later that year and produced the chart topping 'Hak Hom Blokkies' and the top 10 hit 'Die Royal Hotel'. The album reached number 11 on the LP charts. His only other singles chart success was with 'Stoksielalleen' from the 'Kwaai' album, however he did chart with 'Delicious Monster', 'Hanepootpad' and 'Kwaai' in the albums charts.

In 1986 he collaborated with Taliep Petersen on the highly acclaimed stage musical 'District Six' It was also with Petersen that he produced 'Fairyland' and 'Kat & the Kings' all to critical acclaim, the latter having successful runs on Broadway and in London's West End.

With his trademark red velskoene, bicycle and guitar, he has been an enduring figure on South Africa's music scene. His songs are mostly stories about ordinary life in South Africa life and are usually very funny, and almost always have a deeper, more serious message.
---


South Africa's Rock Legends
South Africa's Rock Classics