Clout
20 Greatest Hits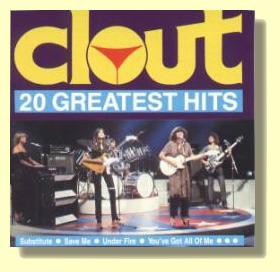 Tracks:
Substitute
You've Got All Of Me
Save Me
Under Fire
Oowatanite
Portable Radio
The Best Of Me
Let It Grow
Since You've Been Gone
Wish I Were Loving You
Feel My Need
A Threat And A Promise
Hot Shot
Without Love
Oh How I Long To Be With You Again
Don't Stop
Tom-morrow
When Will You Be Mine
Gimme Love
Lovers On The Sidewalk
Musicians:
Glenda Hyam: vocals, keyboards (1977)
Lee Tomlinson: bass, vocals (1977-78)
Ingrid "Ingi" Herbst: drums, vocals (1977-81)
Cindy Alter: lead vocals, guitar (1977-81)
Jenni Garson: guitar, vocals (1977-81)
Ron "Bones" Brettell: keyboards (1978-81)
Sandy Robbie: guitar (1978-81)
Gary van Zyl: bass (1980-81)
Release information:
1992, Gallo, CDCLOUT 1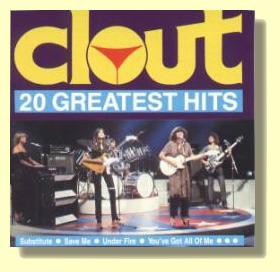 Buy this CD from Kalahari.net
Review:

I've always enjoyed girl groups. And I use that term only as a handle, not to pigeon-hole a fine band of musicians who happen to be female. (Okay, they were a girl group only until 1978 when Bones Brettell and Sandy Robbie of Circus joined them).

Taken individually, these 20 songs are creative. Each one strives to sound different from the one before and the one after, yet still possess the Clout Sound. They succeeded, and apparently lots of people worldwide thought so, too. Here in the States we didn't get to enjoy them, but on eBay their singles and various picture sleeves pop up regularly.

The names of Clout's musicians also pop up frequently, in the SA Rock Digest, in relation to Clout and other bands the ladies were in such as: McCully Workshop, Pendulum, Cindi Alter Band and Tarzan. The ladies are: Glenda Hyam (keyboards and vocals), Cindi Alter (vocals), Lee Tomlinson (bass and vocals), Jenny Garson (guitar and vocals), and Ingi Herbst (drums). That's a lot of microphones.

So here I am reviewing an album by a group that SA Digest readers are probably more familiar with than I am. What do I think of this album?

I think it's a fine slice of world-class pop-rock. These are rock numbers with the strong melody and hook associated with pure pop, but in true rock fashion, the lead guitar throws in strong, hard riffs, and the back beat never gets lost in the mix. The harmonizing lead singers make for an interesting sound, the Clout Sound.

There are many fine pop-rock songs on this Greatest Hits package and who knows which song you'll be humming later -- and you will have one find a home in your mind. Will it be 'You've Got All of me'? 'Portable Radio'? 'Don't Stop'? 'A Threat and a Promise'? Or their biggest hit, 'Substitute'? Any one of them could come back to you like a reverie accompanied by a fond smile.

This being a greatest hits album is a minor drawback, however. I suspect the pacing on the original albums set the songs apart more. Creative as each individual song is, it is preceded and followed by another wonderful pop-rock song. And most are mid- to up-tempo, so some blurring begins about halfway through the 68 minute CD. To counter that, I sometimes start with track 11 and play it from there.

Like Creedence Clearwater Revival and The Yardbirds, Clout was a singles group -- but what a string of singles and selected albums cuts there are here. Despite the fact that Clapton allegedly left The Yardbirds because they wanted to go in a more singles-oriented direction, there is nothing wrong with a band trying to sell hit songs. In fact, unless one is Zappa or Pink Floyd, it's required, isn't it? According to 'The History of Contemporary Music of South Africa' book, Clout sold 7 million records worldwide!

Someday I'll hear the original Clout albums. I suspect each one is a gem in its own right, including fine album tracks that didn't happen to be hits, or weren't included on their fine '20 Greatest Hits' package. I'll let you know when I do, and that's a promise.
-- Kurt Shoemaker, Texas, June 2001
Website:
Thanks to Derek Smith from Gallo for this CD.
---


South Africa's Rock Classics
South Africa's Rock Legends