Carte Blanche
Far Cry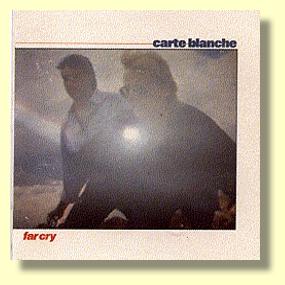 Tracks:
Crossing the Great White Ocean
Killer in the Crowd
Beautiful day
Feel so sad
Walk Away
Stranded in the Rain
The Laboratory
I Wish you Well
Produced by Kevin Kruger & Keith Berél
Tracks 1,2,3 & 6 by Keith Berél
Tracks 4,5,7 & 8 by Keith Berél & D Smith

Musicians:
Keith Berél: vocals, guitars
Dieter Smith: bass
Release information:
1986, Priority, ZHOP 203 (cassette)
Review:
Not a well known record, but one of the tighest productions on an SA album of the 80's. Carte Blanche is in essence Keith Berel, a former member of Flash Harry who was rated by Garth Chilvers and Tom Jasuikowicz as one of South Africa's best songwriters in the History of Contemporary Music of South Africa. When listening to this, it's not hard to realise why he has achieved this acclaim. The album opens with "Crossing the Great White Ocean" which is a strong Pop/Rock song which has a reggae feel to it. "Killer in the Crowd" starts with a killer guitar intro and rocks from thereon in. This track was allegedly banned by the SABC due to it's title and the spate of bomb attacks in South Africa at the time. This and "Walk Away" were the 2 singles lifted from the album, the latter also being a powerful rock song. Overall this is a great album with strong melodies, polished production and relevant lyrics. ("I'm just a killer in the crowd/Stop the fighting" - from 'Killer in the Crowd'). Unfortunately this is also not available on CD.
-- John Samson, London, England, May 2000
Webpage:
All info and cover scan supplied by John Samson, May 2000.
---


South Africa's Rock Classics
South Africa's Rock Legends