Bright Blue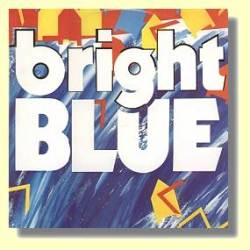 Tracks:
Who's That Girl
Window On The World
Drop In The Ocean
Living In Africa
Japanese Samba
Any Way Out
2nd Avenue
Who Is The Enemy
Lyrics by Robin Levetan, music by Bright Blue.
Musicians:
Robin Levetan: vocals
Tom Fox: guitar
Ian Cohen: bass
Peter Cohen: drums
Dan Heymann: keyboards

Produced by Greg Cutler.
Release information:
1984, Jive Wire, POLY 5639
Webpage:
Thanks to Stephen Segerman for loan of original LP.
Review:

The musically inclined residents of the white townships of South Africa have always been fascinated by the sounds they heard coming from the black suburbs. Many have tried to merge these earthy rhythms with their own rock music sounds, some even coming from far off lands to have a dose of the infectious beats. The results varied from really good to really embarrassing, but one group who managed to blend these sounds to near perfection was Bright Blue

Although the best of Blue was to come on their second album, 'The Rising Tide', their eponymously titled debut was, and still is an essential part of any serious SA music collection. Opening with the deliciously funky jive guitar led 'Who's that Girl' the music is fresh and feel good throughout. Whether it's the jazzy piano intro to 'Window on the World' that melts wondrously into the bouncing body of the song, or the glorious refrain of 'Living in Africa' on the song of that name, the album is full of moments.

This album is not nearly as political as later material, but does feature the anti conscription/anti apartheid 'Who is the Enemy' and is probably the most straightforward rock tune on the album. For the most part though the songs are about life and generally feeling good about it.

Three tracks from this album were omitted from the 'Every Now and Then' best of CD released last year. Of these 3, only the brooding 'Japanese Samba' can't feel aggrieved as I would regard this as the weakest Bright Blue track. However 'Drop in the Ocean' and 'Anyway Out' would certainly have stood their ground on the CD, especially the former with it's sunny steel drum addition.

This album is not available on CD, but as mentioned above, you can hear most of it on the 'Every Now and Then' collection. The Best of CD is highly recommended but you would do well to lay your hands on a copy of 'Bright Blue', as it is in itself a great record. These guys mixed black music with white rock sounds and the result is anything from grey, it's Bright Blue.

John Samson, SA Rockdigest #161, July 2002
---


South Africa's Rock Classics


South Africa's Rock Legends