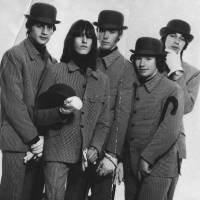 The A-Cads were a great South African rock and roll band formed in Johannesburg in 1965. They had a Springbok #1 hit in January 1966 with a cover of the Johnny Kidd and the Pirates' 'Hungry For Love'.
This website is a fan site created by Brian Currin with major input from Tertius Louw (a South African vinyl collector) and Richard "Dick" Laws, the original guitarist.
These pages form part of the South African Rock Legends website... where the legends of SA rock still live...
Thanks to Dirk Kahler (Man's Deep Purple Page) for the design idea. Used with his kind permission.
---
[ Home | Biography | Discography | Interview | Family Tree | Contact us ]